Bell's Oberon Release Week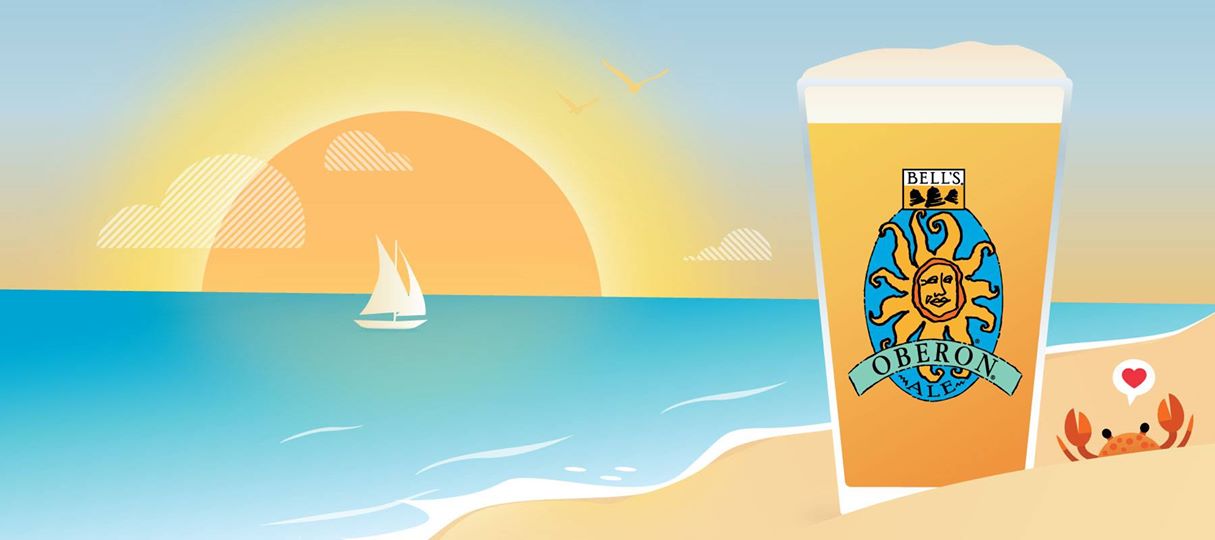 Over 25 years ago, Bell's Brewery released its first batch of Oberon. Little did they know, beer drinkers of all types would come to love this American Wheat Ale and anticipate its annual springtime release year after year. Monday, March 27 has officially been deemed this year's Oberon Day and we've compiled a list of Oberon events throughout the week for you to get your fix.
---
Ceremonial Oberon Tapping - Binny's
Monday, March 27 @ 5pm
Binny's Lincoln Park | 1720 N Marcy St.
Join us for Oberon Opening Day at Binny's in Lincoln Park. Bell's give-aways will be available while supplies last! Enjoy an Oberon and pick some up to take home.
---
Oberon Day - Sheffield's
Monday, March 27 @ 5pm
Sheffield's | 3258 N Sheffield Ave.
Sheffield's will be hosting the official Bell's Brewery Oberon Day party at 5pm on Monday, March 27th! Come party with the Bells Brewery crew and score some sweet Oberon swag!
---
Oberon Release Party - HopCat
Tuesday, March 28 @ 3pm
In addition to Oberon, HopCat will be pouring Two Hearted Ale, Consecrator Dopplebock, Third Coast Old Ale, and Brett Berliner Weiss. But wait, there's more! Bell's will raffle off a grand brewery tour prize including an exclusive brewery tour, Bell's gift card, and hotel stay in Kalamazoo!

---
Oberon Launch Party - Poag Mahone's
Wednesday, March 29 @ 5pm
Poag Mahone's | 333 N Wells St
Attention Loop workers: head to Poag Mahone's on Wednesday, March 29 and snag yourself an Oberon pint glass! Limited supply available so get there before they're gone.
---
Oberon Live Painting - Emporium
Wednesday, March 29 @ 8pm
Emporium Logan Square | 2363 N Milwaukee Ave.
Paint your own Oberon sun at Emporium Arcade Bar in Logan Square on Wednesday, March 29 starting at 8pm. We'll have canvases and paint and Oberon and Two Hearted cans will be on special. Beer + Art = Super Fun Times, Guaranteed!
---
Oberon Release Party - Beer Shop
Thursday, March 30 @ 7pm
Beer Shop | 1026 North Blvd, Oak Park, IL
Baseball is right around the corner and with baseball comes Oberon. Join us at Beer Shop in Oak Park for their Oberon release party! There will be food trucks, giveaways, good times, and friendly faces.
---
Bell's Tap Takeover - Hopsmith
Friday, March 31 @ 6pm
Clock out and head to Hopsmith Tavern for a special Bell's tap takeover featuring Oberon, Two Hearted, Boon Companion (Bell's taproom only beer), and 2014 Third Coast Old Ale. Bell's will also be on hand to raffle off a brewery tour prize that includes an exclusive brewery tour and Bell's gift card!
---
Oberon Party - Palmer's Place
Friday, March 31 @ 6pm
Palmer's Place | 56 South La Grange Road, La Grange, IL
If you're in the 'burbs on Friday night, join us at Palmer's Place in La Grange for an Oberon tapping! Grab a pint and stock up on Bell's swag like stickers, koozies, and more from the Bell's crew!
---
Oberon Wrigleyville Pub Crawl
Sunday, April 2 @ 1:00pm
Get ready for a Sunday Funday unlike any other with the Bell's Oberon Wrigleyvile Pub Crawl! Guests will receive a raffle ticket at each participating bar (no purchase necessary) for a chance to win a grand prize trip for four people to Bell's Brewery! Other prizes will be available along the way including baseball tickets, koozies, and more. The crawl will begin at 1pm at Houndstooth and head north, ending at Smokeshow at 7pm. The grand prize winner will be announced at the final bar.
Houndstooth Saloon (starting at 1pm) | 3369 N Clark St
Dark Horse Tap | 3443 N Sheffield Ave
Graystone Tavern | 3441 N Sheffield Ave
Country Club | 3462 N Clark St
Roadhouse 66 | 3478 N Clark St
Irish Oak | 3511 N Clark St
Sluggers | 3540 N Clark St
Murphys Bleacher | 3655 N Sheffield Ave
Smokeshow BBQ (ending at 7pm) | 3801 N Clark St