Online Retailer Training
You're Invited!
We've been thinking of how we can continue to stay engaged with our friends and customers and have put together a series of virtual trainings where we will cover a range of topics from beer styles to wine tasting to mixology and draft training. Space is limited and restricted to employees of our retail partners.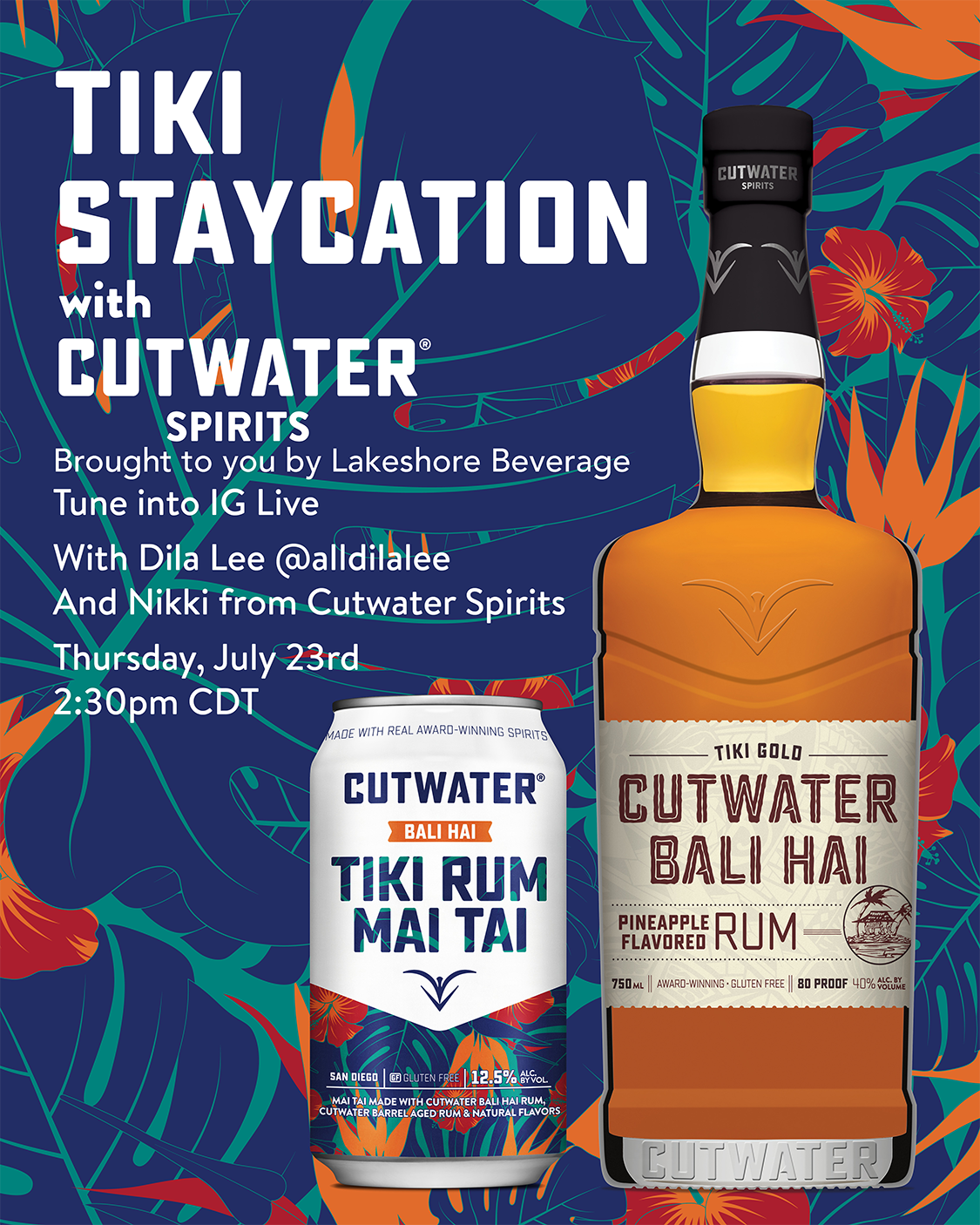 Tiki Staycation: This training will be hosted on Instagram Live instead of Zoom! Please join us for Tiki Staycation w/ CutWater to learn about tropical cocktails perfect for your rooftops, patios and beer gardens.
Date: Thursday July 23rd
Time: 2:30pm
Instagram Account: @alldilalee
UPCOMING TRAININGS



August
Non-Alcoholic Portfolio Deep Dive: Did you know that Lakeshore Beverage has nearly 2 dozen non-alcoholic brands including La Croix, Essentia, Sparkling Ice, Nesquik, and Jarritos? Eric our Non-Alcoholic Sales Manager will take you through a deep dive of our non-alcoholic portfolio and highlight brands that make sense in the on-premise.

Fall Seasonal & New Brand Preview – As the season changes so do consumer drinking habits. We'll highlight our must have fall beer seasonals including Oktoberfests, harvest ales and pumpkin beers, wine and spirits, and new non-alcoholic brands.
September

How to Properly Store and Serve Beer, Wine, and Spirits: Learn how to properly store product to maintain the highest level of freshness for your customers. We'll also cover tips to keep draft systems running smoothly and limit waste.

Cider 101 & Portfolio Review: The end of September is the heart of the apple harvest across the US. It's the perfect time for cider education and a review of our hard cider portfolio including Virtue, Blake's, Magners, and Woodchuck.
October

Our Must Have Brands for Your Account: Whether you're a pizza place, fine dining restaurant, hotel bar, shot-and-a-beer bar, a grab and go kiosk or something entirely different; we'll highlight some of the best Lakeshore Beverage brands for you.

Winter Seasonal and New Brand Preview: As the season changes so do consumer drinking habits. We'll highlight our must have winter seasonal beers including porter, stout, and winter warmer, red wines, brown spirits, and new non-alcoholic brands.
November

Holiday Food Pairing Guide:Guidelines and tips for pairing food and beverage, a review of Lakeshore Beverage's best brands for holiday pairings, plus ways to upsell your customers and increase basket sizes with holiday cross-merch opportunities.

Holiday Gift Guide:

The holiday gift shopping season is here... are you ready to capitalize on incremental sales? This is the Lakeshore Beverage guide to gift packs and specialty brands that make great holiday gifts.
December
NYE Party Planning: As we get ready to say goodbye to 2020 spend a moment with us as we review our guide to NYE Party Planning with Director of Wine and Spirits James Feeley.

Previous Trainings