I will admit we are quite spoiled when it comes to choices in what we want to drink. Our portfolio alone encompasses hundreds of different choices from over 170 breweries and supplier partners. We have gotten so used to getting things year-round that when things are only available for a limited time, it makes me stop and pay attention to it.
In the beer world, there are very few moments that are as anticipated as Oktoberfest beers. Keeping a tradition like this going brings us closer together as we become a part of the history and connects us deeper with the past. When the season comes around, it makes us nostalgic for the celebrations we've had in the past and excited for what's to come this time. It's quite interesting to me that we could, hypothetically, brew these exact beers to drink any other time of the year but it wouldn't be "Oktoberfest" because it's more than just the liquid in our steins, it's about the festivities, the ambiance, the weather, and most importantly, the people.
If you already know the history of Oktoberfest and want to skip to our offerings this year, feel free to skip ahead to the next header but if you're interested in how all this started, grab your favorite Oktoberfest beer, pour it out into your favorite glass/stein/horn/Stanley tumbler and gather around as we talk about a royal wedding.
The History of Oktoberfest
The year is 1810 and we are in Munich to celebrate the marriage of Prince Regent Ludwig of Bavaria (who would later go on to be King Ludwig I) and his bride Princess Therese of Saxony-Hildburghausen. A Bavarian National Guard member by the name of Andreas Michael Dall'Armi suggests having a large horse race to celebrate this royal marriage and with King Max I Joseph of Bavaria's backing, the horse race was held on October 17th that year.
The celebration was so amazing that the following year, they wanted to party again but with no royal wedding (and royal funding) available that year, the Landwirtschaftlicher Verein in Bayern (Bavarian agricultural society) was formed. This group used this occasion to showcase their wares and what better way to show off Bavarian agriculture than bier? This started a tradition of holding an annual celebration because it was such a crowd pleaser.
It took several decades for this celebration to transform from a horse race to what it is now. The demand and importance of beer and breweries grew with every year and soon, the breweries were creating huge tents to make sure they could fit and serve all the thirsty patrons.
The atmosphere of Oktoberfest is electric! I had so much fun during Oktoberfest in Munich learning about all the quirks and traditions. It almost feels like going back in time when you enter the fairgrounds and find a spot at the table. If you have a chance to go, you definitely should. Just make sure you know how to chug properly if you decide to stand on a table!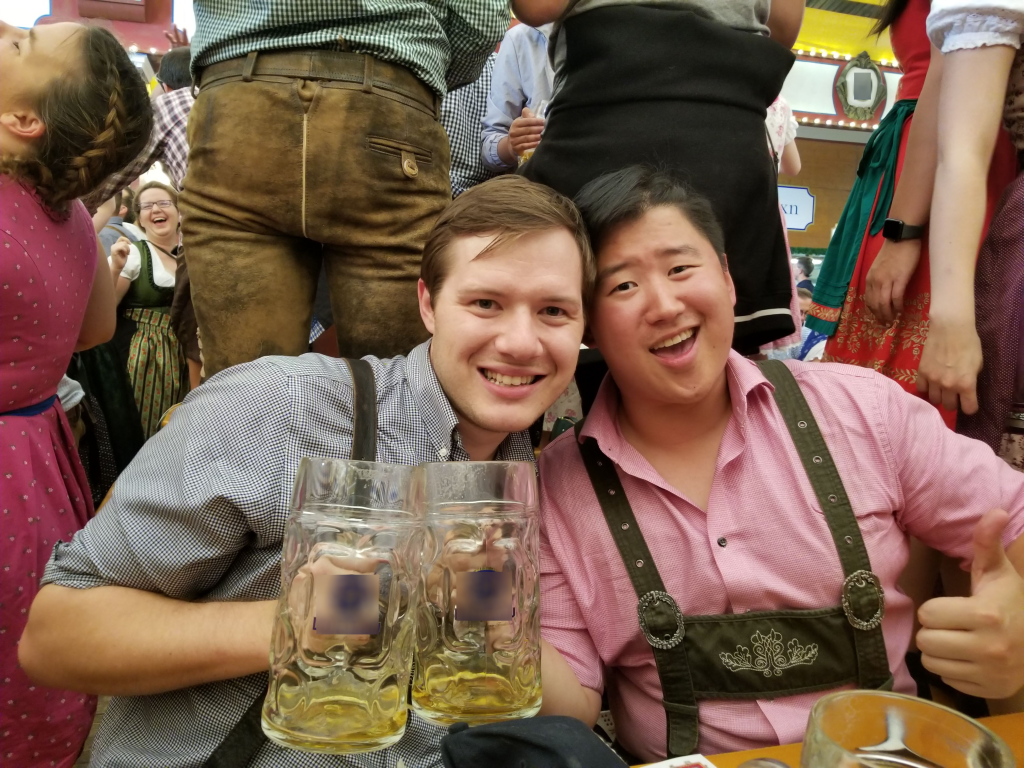 Without further ado, here are our Oktoberfest beers!
Illinois Beers
Alter Brewing Co.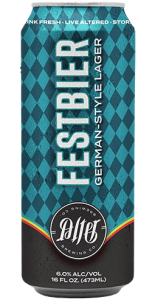 "Festbier is THE drink of choice at Oktoberfest festivals around the world, and much like its European inspiration, we brewed this beer to be the life of your next fest. Say "Prost!" with our Festbier.
Buckledown Brewing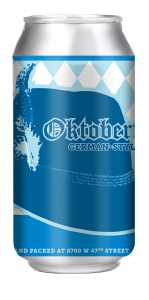 Beautifully amber and crushable. Delicious and malty. Made with four different malts and noble hopped for a subtle grassy aroma. 5.2% ABV so you can enjoy multiple steins!
Burnt City Brewing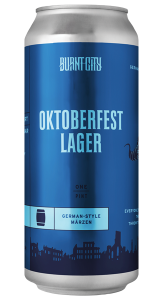 Oktoberfest Märzen celebrates the wonderful German tradition as respectfully as possible. Fancy German malt and hops were used in this flavorful, quaffable amber lager. Malt notes are prominent, but the beer finishes dry. Hop character is subtle, adding a gentle floral aroma.
Goose Island Beer Co.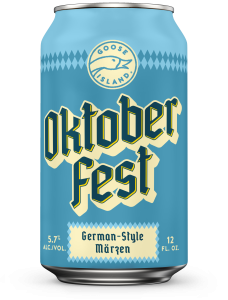 Goose Oktoberfest is brimming with notes of toasted malt and freshly baked rye bread. This light-bodied German lager is clean and crisp with a fine noble hop character and mild earthy bitterness that is the hallmark of Hallertau hops. Raise a few steins of Goose Oktoberfest this fall and celebrate this time-honored tradition. Prost!
Haymarket Brewery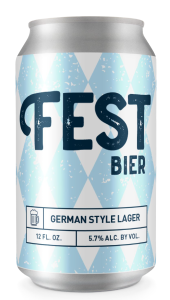 Fest Bier. This clean and easy drinking German style lager has a deep copper color with mild hop flavor, a firm malt middle, notes of toasted malts, cherries and a spicy dry finish. Meant to be consumed with friends during celebrations of all sorts of occasions.
Hopewell Brewing Company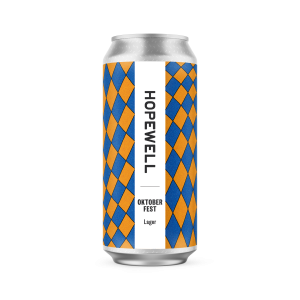 This Märzen-style Oktoberfest lager is built to help you usher in the fall season. Rich and malty at the get-go, kept in balance with a hint of noble hop spice and a clean, effortless finish.
Moody Tongue Brewing Company

In celebration of one of our favorite beer holidays, we are introducing the Moody Tongue Oktoberfest. Every year, the release of Oktoberfest beers inspires us to turn on our grills, watch the leaves change color and enjoy steins of a delicious German amber. The Moody Tongue Oktoberfest is our favorite German-style dark beer to pair with pork – whether roasted, grilled or fried – with a body able to stand up to the rich flavors of indulgent fall dishes while refreshing the palate between bites.
Spiteful Brewing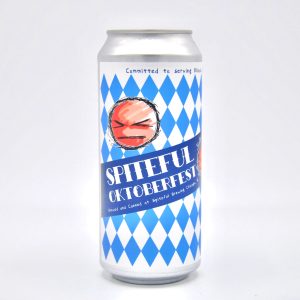 Brewed in the classic Munich tradition with actual German ingredients, this Oktoberfest is made for drinkability. Pour into a stein or use the aluminum one it comes in.
American Beers
Founders Brewing Co.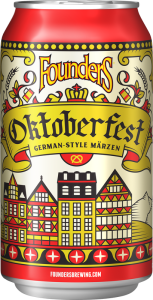 Blink and you'll think you're in Bavaria. We went all in on tradition with our Oktoberfest, using imported German malts and hops with a beautiful lager yeast for the finish. Pours a gorgeous copper hue with a rich, malty and slightly sweet backbone. Our version is akin to the beer poured in the early days of Oktoberfest and, yes, it adheres to the Reinheitsgebot. Prost!
Golden Road Brewing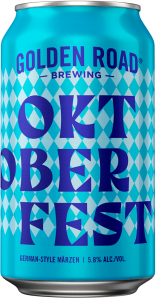 A traditional German-style Oktoberfest Märzen (The Southern California Way) with a blend of Vienna and Munich malts as well as German hops. This amber bier has wonderful notes of caramel and a nice smooth, toasty finish.
Partake Brewing (Non-Alcoholic)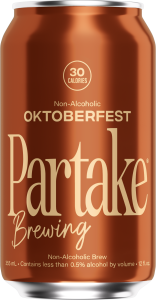 Oktoberfest is crafted with Munich and Vienna malts providing a semi-sweet, toasted malt flavor perfectly balanced by German hops. Smooth and easy drinking, it's reminiscent of changing leaves and autumn crisp air.
Shiner Beer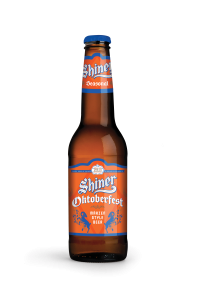 Made with the highest quality malts, along with German-grown Hallertau Tradition and Hersbrucker hops.
Surly Brewing Co.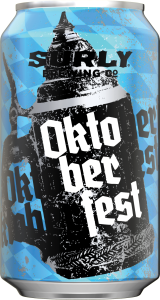 Oktoberfest lagers are the ultimate party beer. Up front, they're rich, sweet, and malty, but they finish dry and clean with an ever-so-slight touch of hops. Prost!
Imported Beers
Erdinger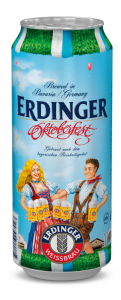 Specialty for the festival season.
As hearty as a Bavarian beer festival: our ERDINGER Oktoberfest. This masterpiece of the brewer's art is ideal for parties! ERDINGER Oktoberfest expertly combines smooth malt aromas with a pronounced hop bitterness. This well-balanced flavour is complemented by gently sparkling carbonic acid to give it the typical liveliness of a genuine wheat beer. Smooth, strong and irresistible – brewing tradition at its finest.
As a full-bodied specialty for the festival season, it whets the appetite for Bavaria's famous drinking song "Prosit der Gemütlichkeit".
"Bayerische Edelreifung" – for perfect enjoyment. Brewed according to the Bavarian Purity Law.
Brewed according to the Bavarian Purity Law.
Spaten

World's First Oktoberfest Beer
The beer of Munich's famous Oktoberfest: aromatic, savory, gold-colored.
Oktoberfest Ur Marzen. Its impeccable taste balances roasted malt flavor with the perfect amount of hops and an underlying sweetness, true to tradition.