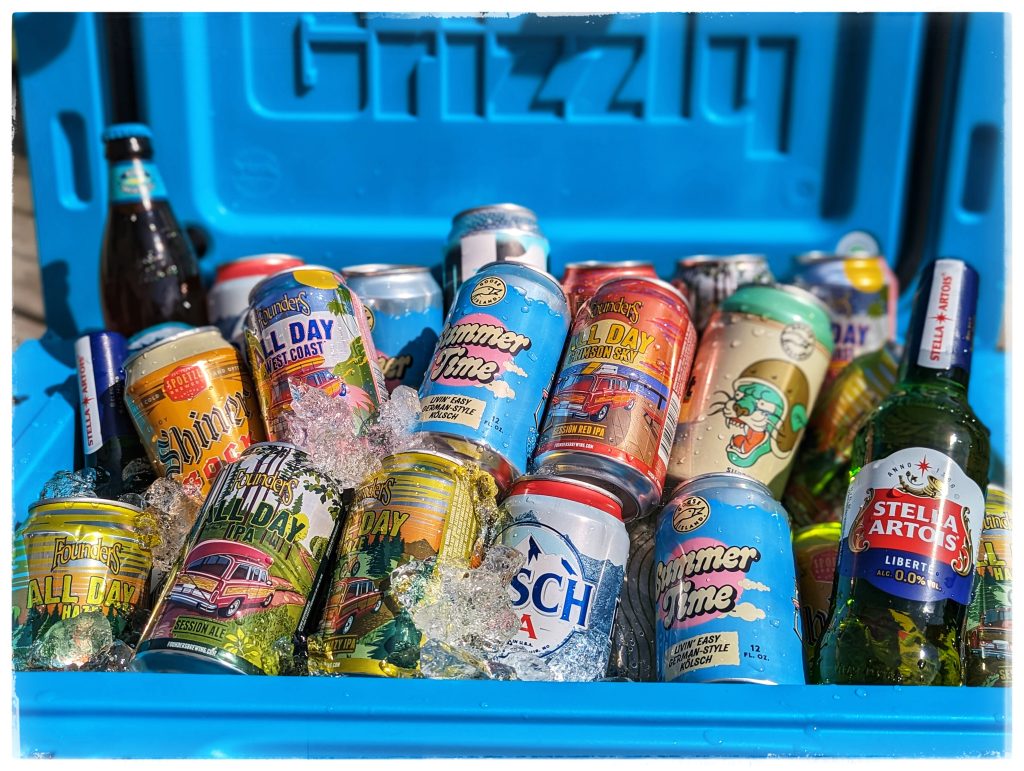 It's often said that Chicago has two distinct seasons – winter and construction. And as you can tell by the traffic and hi-vis vests, we're no longer in winter. Construction season or "summer" as many outside of Chicago call it, is a great time to enjoy our marvelous beaches, patios, and street fests. You can and should drink whatever you want any time of year but there are drinks that are so quintessentially summer however, I thought I should share them with you.
First – what makes a drink a "summer drink"? There's no one answer to this but when I think something is a summer drink, I like to think about its history, its taste, and how refreshing it is. So with that in mind…
Bock & Maibock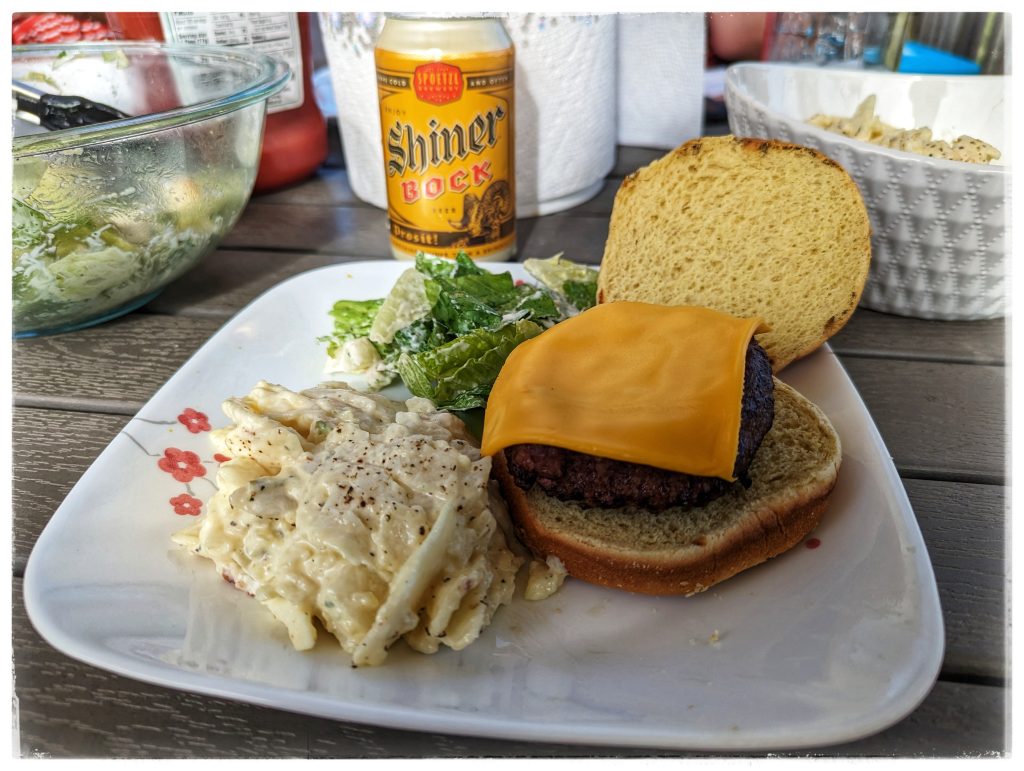 Shiner Bock & Classic Cheeseburger
I wanted to start this list with Maibocks because historically, this was a sign of the warmer months coming. And no, we're not talking about a Mercedes-Benz. We're talking about maibock, translating to May bock, aka a bock made for consumption in May. It is similar to bock beers but usually paler and more hop-centric than its counterparts. They are the kickoff of summer for me but it has been rarer to find in stores every spring. You will occasionally find some from breweries such as Founders if they brewed it that year.
Bocks, on the other hand, are very easy to find all year round. They are a strong ale that was traditionally brewed for special occasions and it's one of my favorite styles of beer because it's one of the styles that really got me into craft beers. I always felt that this is a style that is very approachable because it is not intimidating for newer craft drinkers. It's slightly sweet, has low bitterness, and isn't dry. I think it feels like drinking a nice craft soda that's not overly sweet. The toasted malts bring a smooth taste with a soft mouthfeel making them easily drinkable and when served ice-cold, they are a perfect beer for the hotter months. If you're not a fan of the bitterness hops bring (like in an IPA) and you enjoy a sweeter beer, this might be it for you. Michelob Amberbock is a classic no frills bock sure to satisfy but if you want to go craft, Shiner's flagship beer, Shiner Bock, is probably one of the best examples of bock made in America. 
Pilsner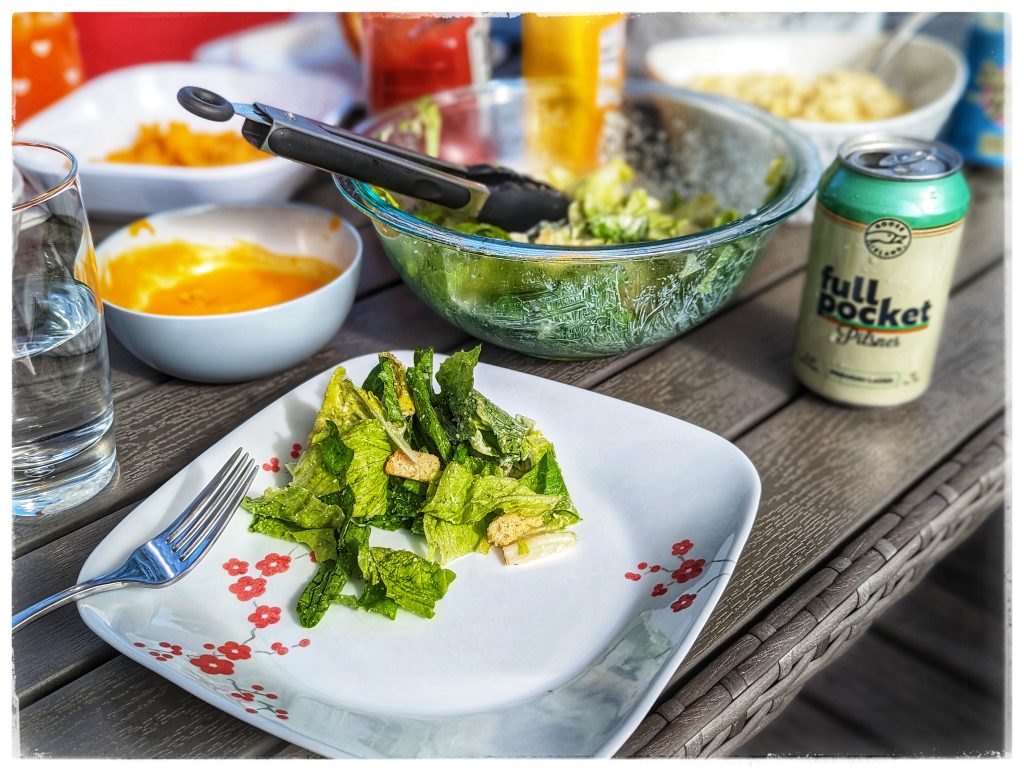 Goose Island Full Pocket Pilsner & Caesar Salad
If easy drinking sounds good to you but you would like something crisper, less sweet, and untoasted – pilsners are probably exactly what you're looking for. This style originated in Pilsen (the German city, not the Chicago neighborhood) and is a type of pale lager. Known for being crisp and refreshing, it's something I like to drink on the hottest days or as a palate reset when trying lots of beers or eating because it's less filling. 
When it comes to pilsners, for me, less is more. Pilsners are all about the minimalist aesthetic. If other beers were sandwiches, Pilsners are plain toast to me. But do not get me wrong, I'm not saying that pilsners are boring. When you pile on meats and cheeses with oils and vinegar on bread, what goes in between the bread steals the show. If you give me a piece of toast, all I'm getting are the flavors and smells of the bread. Pilsners are a great way to showcase brewing skill and talent because there are very few ways to mask imperfections. If you are new to drinking beers, this style may seem boring but the lack of flash is what makes it so unique and desirable. One of the best examples of a pilsner is Trumer Pils. The brewers painstakingly traveled all around the U.S. to find a water source similar to Pilsen to brew a pilsner as similar to the original as possible. I often use this beer as a reference point for all other pilsners I taste. Many craft breweries in Chicago also brew a pilsner like Hopewell's First Pils and Goose Island's Full Pocket and showcases their skills as brewers. 
Saison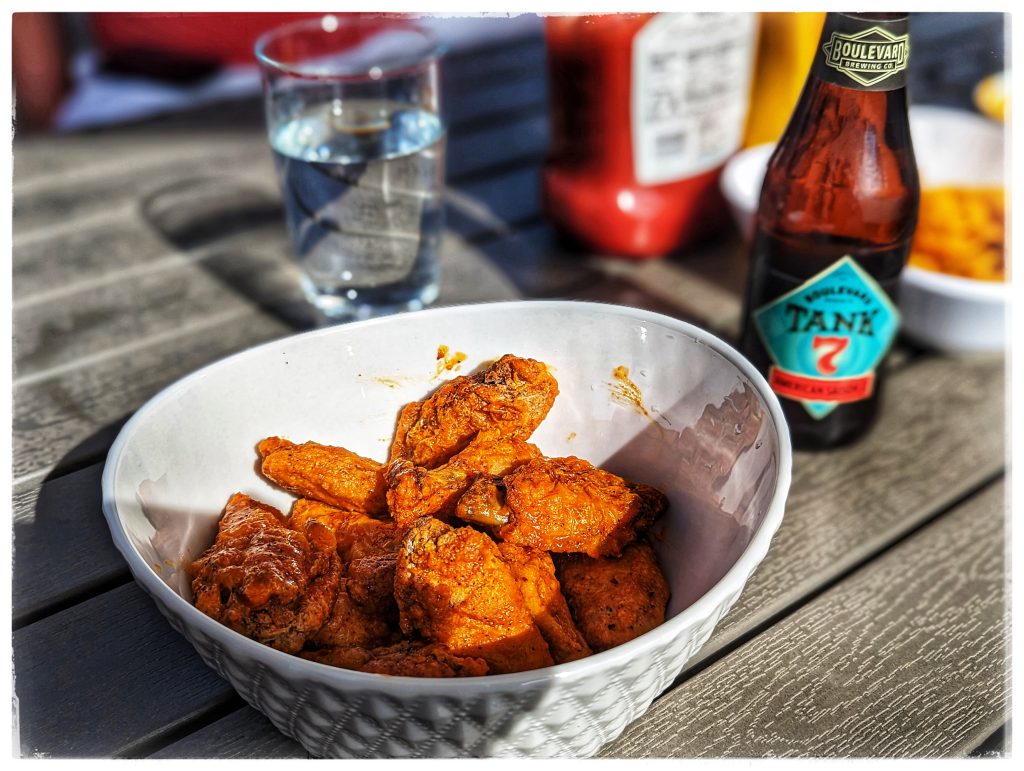 Boulevard Tank 7 Saison & Crispy Buffalo Wings
Possibly the best example of a seasonal beer, saisons (French for "season"), were created to help quench the thirst of hardworking farmers in Belgium during the hottest months. The style is very open to interpretation because it was traditionally brewed with what was available. Ingredients could include spices like coriander and ginger, pilsner malts or wheat, and they can be fermented with different types of yeast.
Unlike pilsners that go for minimal adjuncts, saisons range wildly on what goes into the beer. At the heart of this style, it's about experimentation. This is what makes this style so fun. If you want a unique experience, pick a random saison at your local liquor store and try to figure out what you're tasting before reading the label. No two saisons are quite the same and it's an exciting way to test your palate.
Even though the style is up for interpretation, there still are exemplars of the style such as Boulevard's Tank 7 which has won several medals at the Great American Beer Festival. 
Kölsch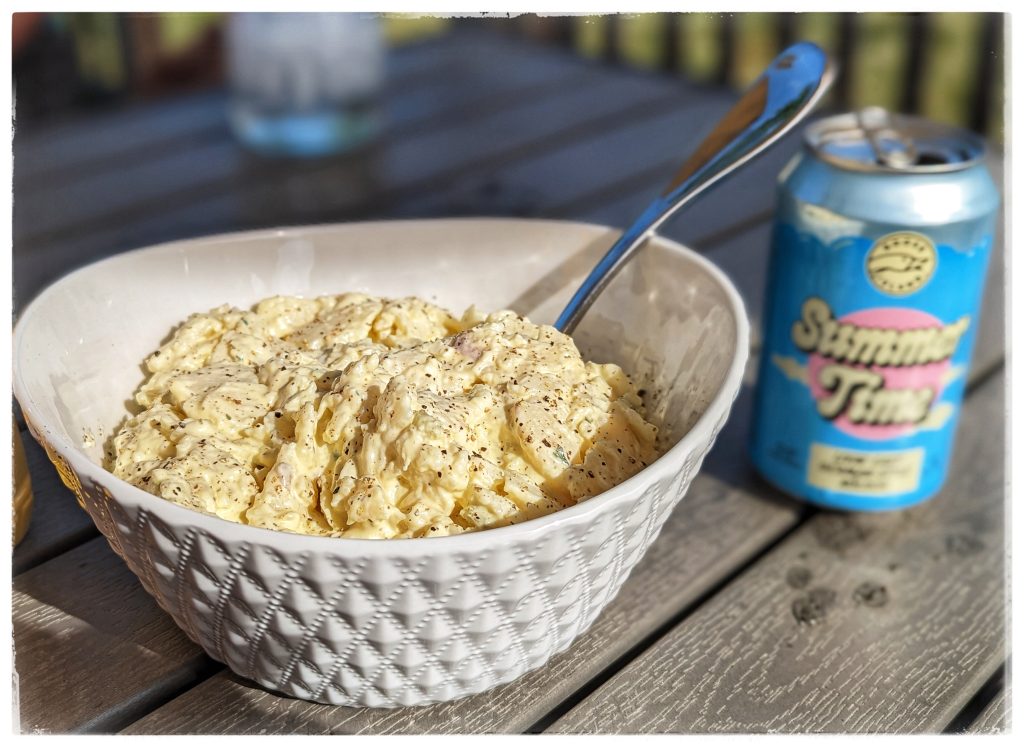 Goose Island Summer Time Kölsch & German Potato Salad
To really understand Kölsch beers, we need to take a dip into some beer science. For most beers, they can be distinguished by what type of yeast is used during fermentation. Ales are top-fermenting with higher temps; lagers are bottom-fermenting with cooler temps. Ales tend to be more flavorful and lagers skew towards crisper and cleaner (think pilsners). Now with that out of the way, a Kölsch is unique because it uses the top-fermenting yeast but is finished cold like a lager. This results in a flavorful brew like an ale but with the crisp, lighter body of a lager.
This beer drinks so easily in the heat like the pilsners I mentioned before but they can be much more fruity or hoppy depending on the recipe. Some great examples of Kölsch beers are Goose Island's Summertime and Buckledown's Cannonball Kölsch. A great non-alcoholic version exists too from Best Day Brewing but more on non-alcoholic beer a little later on.
IPA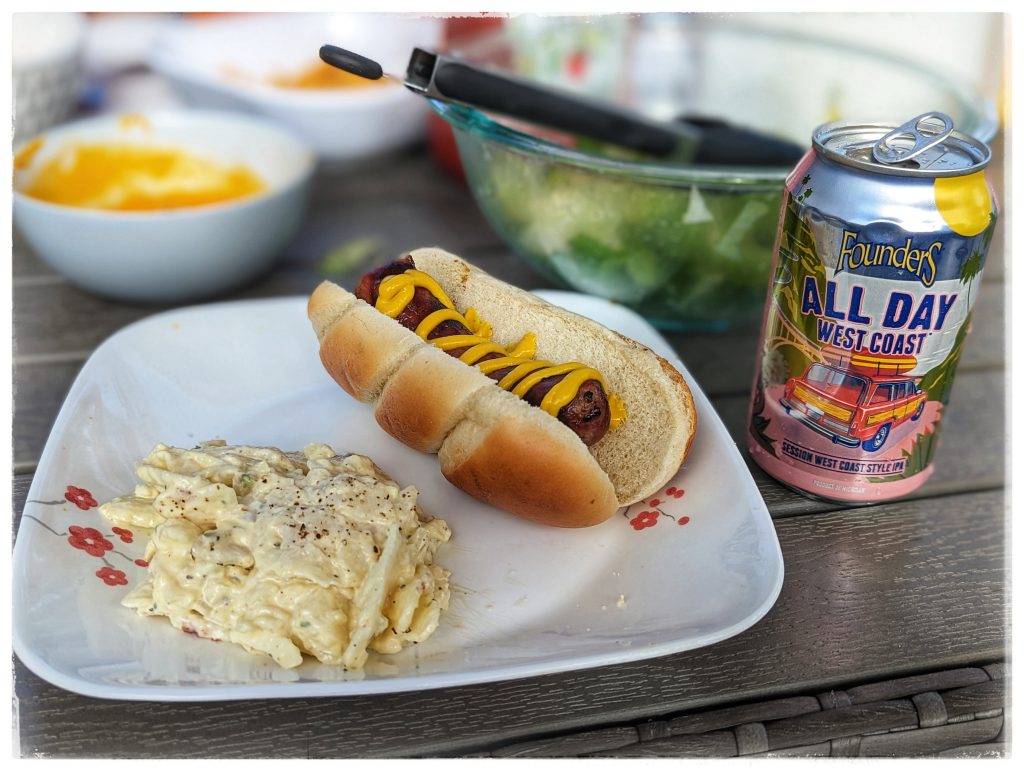 Founders All Day West Coast Session IPA & Grilled Brats
I had to put this style in the back, not because I don't like them, but IPAs have dominated the craft scene and there are so many substyles within that it can get very overwhelming. IPAs (India Pale Ale) are named so because hops were a preservative for the beer British sailors kept onboard while sailing to India. Classic British IPAs tend to be maltier and more bitter than American IPAs because the hops were kept in the beer for a very long time during a voyage. For me, that doesn't really scream "summer". The kinds of IPAs I love to drink during the summer tend to fall within the session IPA distinction or the West Coast IPA style.
Session IPAs are just lower ABV IPAs. Named so because they are "sessionable", aka you can drink more of them before feeling the effects of alcohol. One of the best examples of a session IPA is Founders All Day IPA. As the name implies, you can drink them all day because it comes in at just below 5% and incredibly well balanced on the palate. They extended the All Day lineup to include session versions of a Hazy IPA, Red IPA, and West Coast IPA.
West Coast IPAs are great for the summer because the hops that are used in brewing tend to express many fruity and tropical flavors and aromas. Even if you're tasting tropical fruits in the beer, there is no fruit actually added to the beer (unlike fruited IPAs). They tend to be less bitter than traditional IPAs and a bit more crisp. This is a great celebrating or relaxing beer for the summer because the ABVs tend to rise with this style. Stone IPA from Stone Brewing is a great example of the West Coast style. The hops are citrusy, tropical, and piney with an intense lemon rind aroma. 
Non-Alcoholic Beer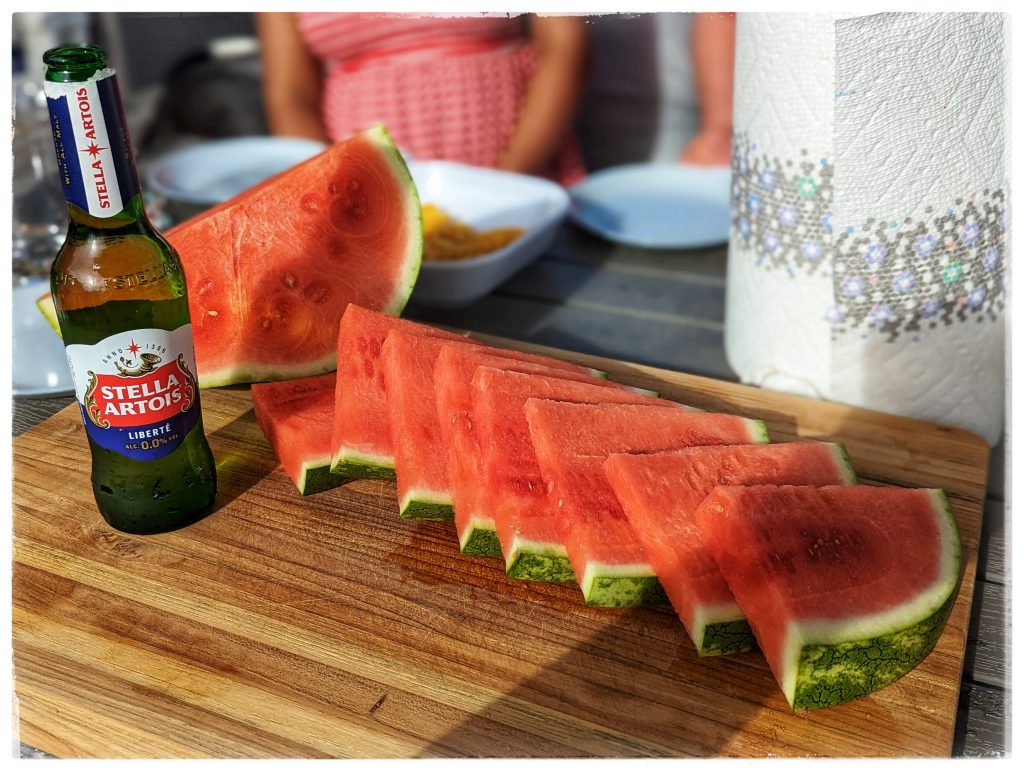 Stella Artois Liberte Non-Alcoholic Beer & Watermelon
While this isn't a "style" of beer, non-alcoholic beers have soared in popularity. While many attribute the growing interest in non-alcoholic drinks to a generation of more health conscious consumers, it's not just athletes and fitness enthusiasts buying these beverages (I'm buying them too!).
Drinking a crisp beer is a wonderful experience but there are times when I want to experience that sensation without the alcohol. Mowing the lawn and doing yardwork is a lot more enjoyable and safer with a NA beer. Enjoying NA beers at a BBQ when I know I have a long drive home lets me enjoy the day with friends without worrying about getting home. Even on a casual Sunday evening with an early Monday meeting, it makes sure I can keep the camera on or ditch the sunglasses in person.
NA Beers have been around for a long time, O'Doul's for example, but there is a renaissance for them recently. Many historic brands are making NA's like Budweiser Zero, Stella Liberte, Busch NA, Erdinger NA, and Guinness 0 to keep up with the surge in demand. Some craft breweries are also making NA beers like Brewdog with their AF (Alcohol Free) series or Omission's Bright Eyed IPA and Good to Go Golden. Then we have breweries that only make NA beers like Partake. For me, the most important thing about NA beers is that they taste like real beer. There are many NA beers out there that distinctly taste off to me but there are many brands that nail the experience in my opinion. Although there are many examples of this, I'm currently drinking a lot of Stella Liberte. It is one of the best I've tasted (including alcoholic beers) and I'm looking forward to drinking a ton of it this summer.
These are my summer beer styles and I hope I was able to convince you to try some of these if you haven't tried them before. As I said at the beginning of this blog – drink what you want, when you want. We live in a wonderful era where we eat and drink things regardless of what season it is and we should definitely utilize that. So even if you decide to drink a porter after reading this, I hope this was still informative and you enjoyed reading it.