Make sure to check out the video companion piece to this blog for the full experience!
If you haven't visited the Riverwalk yet because you're unsure of what's there, this might be the perfect guide for you. The Riverwalk is one of the best parts of the city that gives us a little refuge away from the hustle and bustle of the Loop. So come on down – relax, eat, and drink with me on this guided tour of the Riverwalk bars and restaurants.
Tiny Tapp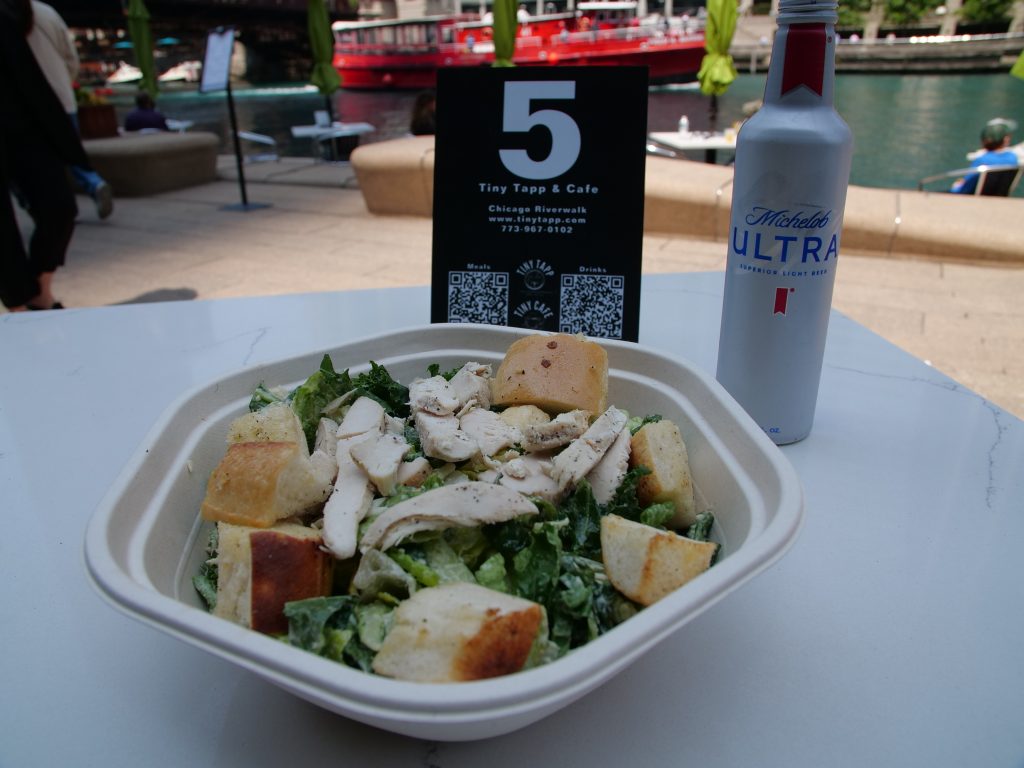 Michelob Ultra + Chicken Caesar Salad
I had a long day ahead of me with lots of drinks and food to enjoy so I wanted to start off light and fresh. Michelob Ultra is the perfect beer for this because it's not filling and is refreshing. The Chicken Caesar Salad here was perfectly dressed and the chicken was juicy and the croutons looked homemade.
This is just a great combo for a guilt-free power lunch with a little bit of beer. The flavors work well together and at only 90 calories and 2.6g of carbs for the beer, it won't weigh you down the rest of the day.
City Winery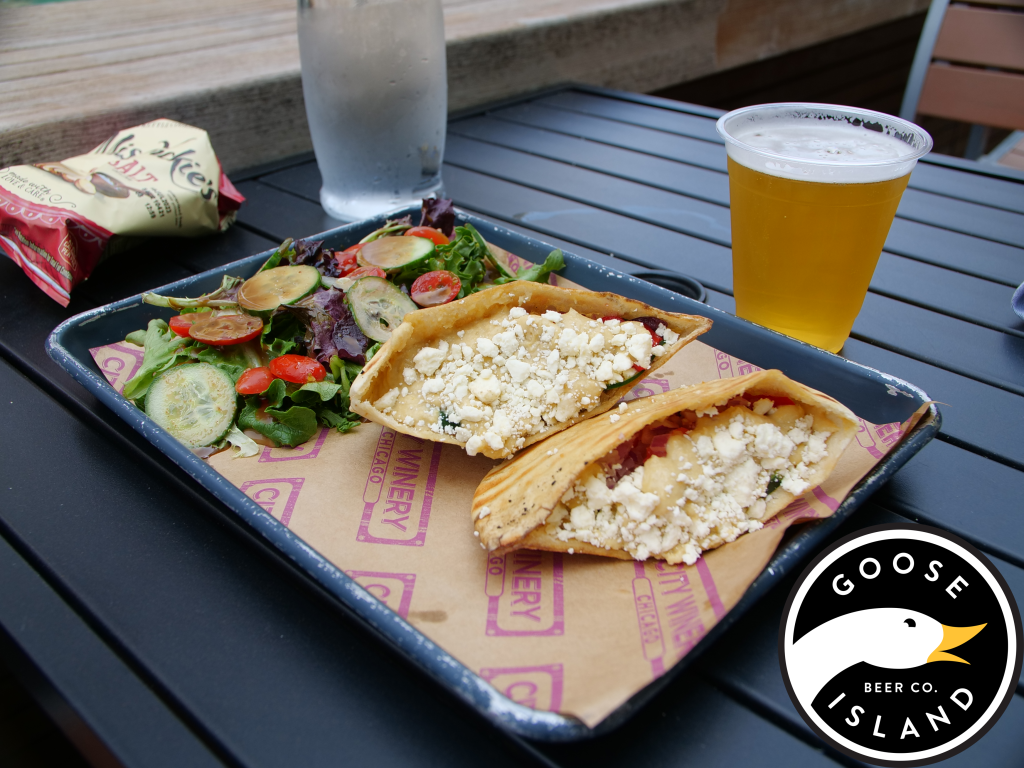 Goose Island Full Pocket Pils + Greek Pita
I am very much a carnivore but I was very intrigued by the Greek Pita here. The veggies were fresh and vibrant (a combo of red onion, cucumbers, tomatoes, red peppers, and olives) and the hummus had a great consistency in the pita. The crumbled feta and the Full Pocket Pils worked so marvelously together on the palate and made each mouthful a pleasure. The slight tang and acidity from the pita contents really uplifted the beer's clean and crisp qualities. The side salad was wonderful too.
Chicago Brewhouse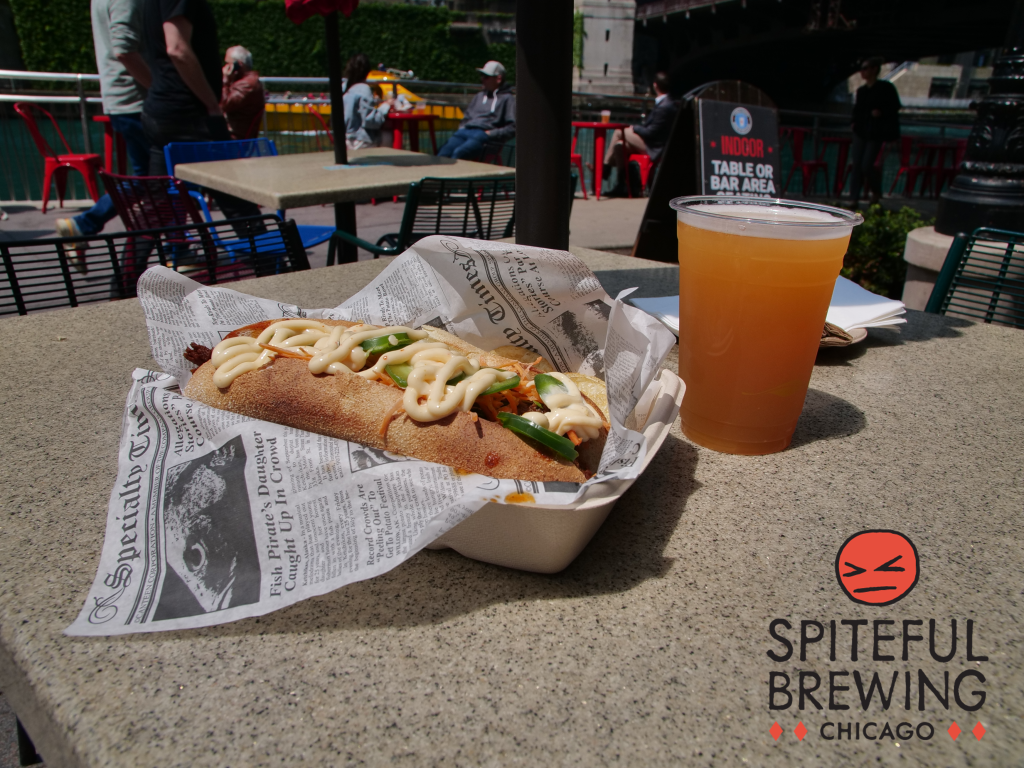 Spiteful Bleacher Bum Blonde Ale + Banh Mi
The french roll on the Banh Mi was lightly toasted and the meat was really packed in there. It was beautifully garnished with cilantro, carrots, and jalapenos and it all worked really well together. There was certainly a spicy kick to it but it paired so well with the Bleacher Bum because the spice really made the peach notes in the beer explode. It also helped cool my mouth between bites. There's just something about sweet and spicy that really works for me.
Beat Kitchen Riverwalk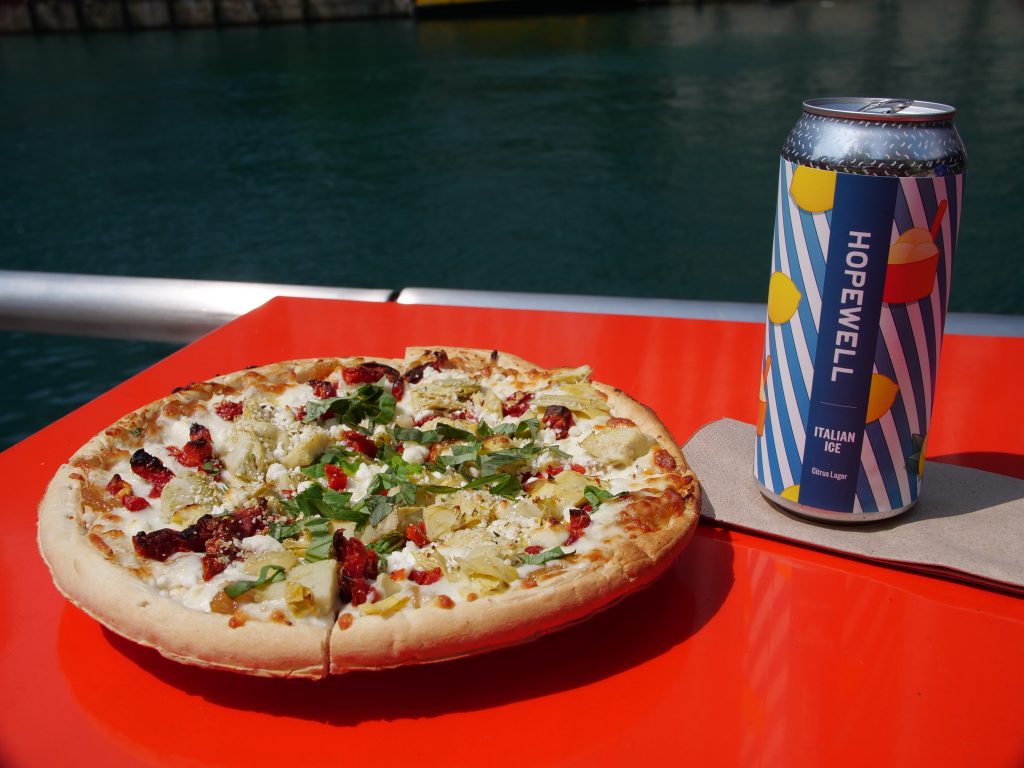 Hopewell Italian Ice Fruited Lager + Goat Cheese & Sundried Tomato Pizza
When I planned out my day, I was really looking forward to this combo. I'm a big fan of goat cheese and I wanted to see how it would be to pair these two together. I'm so glad I did because it was like having a charcuterie board with the Hopewell Italian Ice. Artichoke and sun dried tomatoes bring a little tang to the pizza and the goat cheese really stands out. Instead of tomato sauce, it uses a caramelized onion jam that helps balance out all these big flavors 
Pairing is all about complimenting flavors with opposing ones but you need to match intensity with intensity. The Italian Ice pierces through on each sip but makes it easier to distinguish each component of the pizza. Due to its sorbet-like flavor profile, it can be a great palate cleanser between bites so you're not fatiguing your palate with the intense flavors of this pizza.
The Northman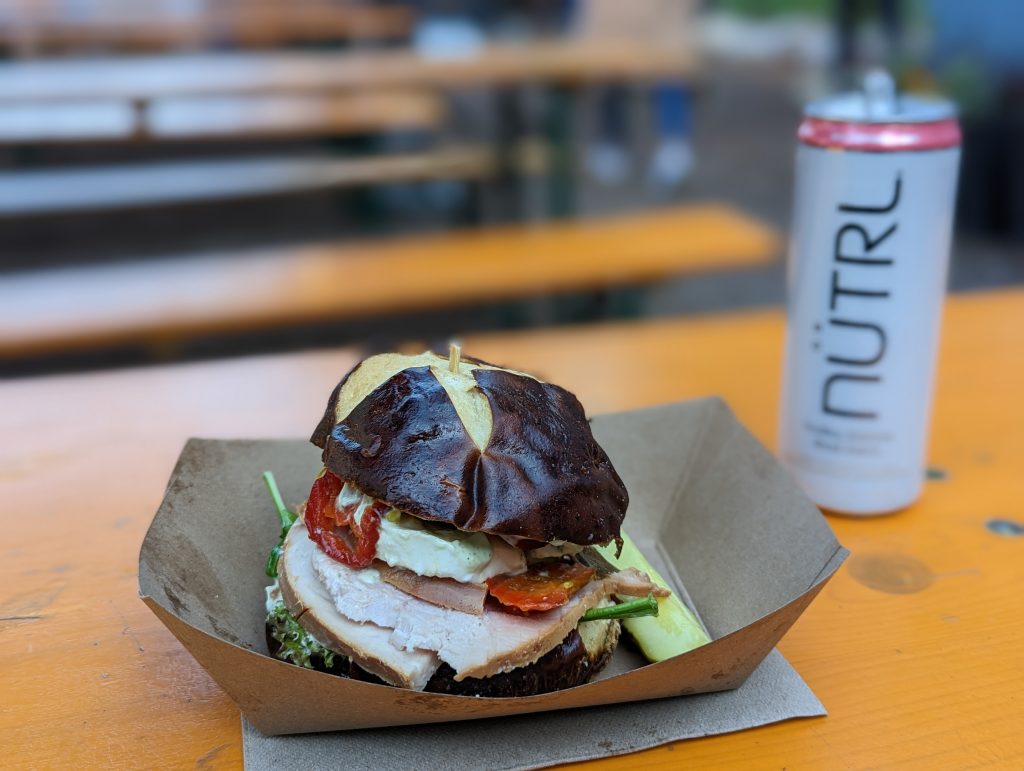 Nutrl Watermelon Vodka Seltzer + Turkey Sandwich
To mix it up a bit from all the beers I've had today, I decided to try Nutrl's Watermelon flavored Vodka Seltzer. The turkey sandwich here is much more than simple lunch meat between bread. It comes on a pretzel bun piled high with thick slices of turkey breast and topped with a delicious sauce. It also has slices of fresh mozzarella and slices of canned jalapenos to give it an extra kick of flavor.
The Nutrl seltzer really helped keep my mouth cool and when eaten together, it was a very pleasant experience that I wasn't expecting with all the extra toppings on the sandwich. If you're looking for a quick bite but don't want to settle for boring, this is a great sandwich and drink combo.
Island Party Hut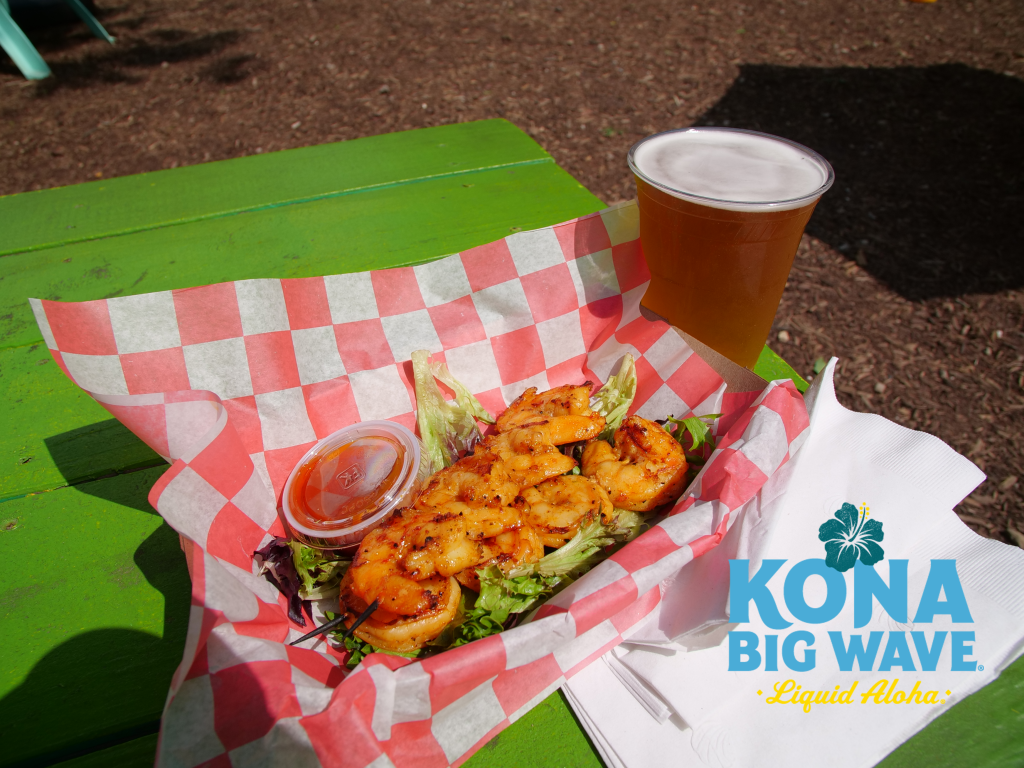 Kona Big Wave + Shrimp Skewers
As I said in the video, why wouldn't I go with one of Hawaii's best beers for a tiki-themed spot like this. I had just reached my final destination and it was the perfect sit down and relax beer for me. It was bright, refreshing, and had a very subtle sweetness that I expect from something tropical. The shrimp skewers were perfect to eat because I could eat them one handed while I had my feet up at the end of the Riverwalk watching the boats float on by.
The shrimp are tail-off on a bamboo skewer and are very flavorful. The seasoning is great and not overpowering and the grilled taste is unmistakable. The shrimp flavors bring the hops forward which is very interesting because Kona on its own doesn't have much bitterness at all. If we dip the shrimp in the spicy sweet sauce that comes on the side, the beer tempers and quenches the heat beautifully. I also taste a lot more of the maltiness of this beer. The shrimp is also enhanced because the carbonation of the beer helps the flavors spread all across your palate.
*For those who have been to the Riverwalk before may have noticed that I don't have O'Brien's Riverwalk Cafe on the video or this article. They were not open yet for the season when I was putting this all together but I hope I can add on to this blog when I get a chance to visit them later this summer.
If you liked the video and guides like this, please make sure to like and comment so I can make more for you all.