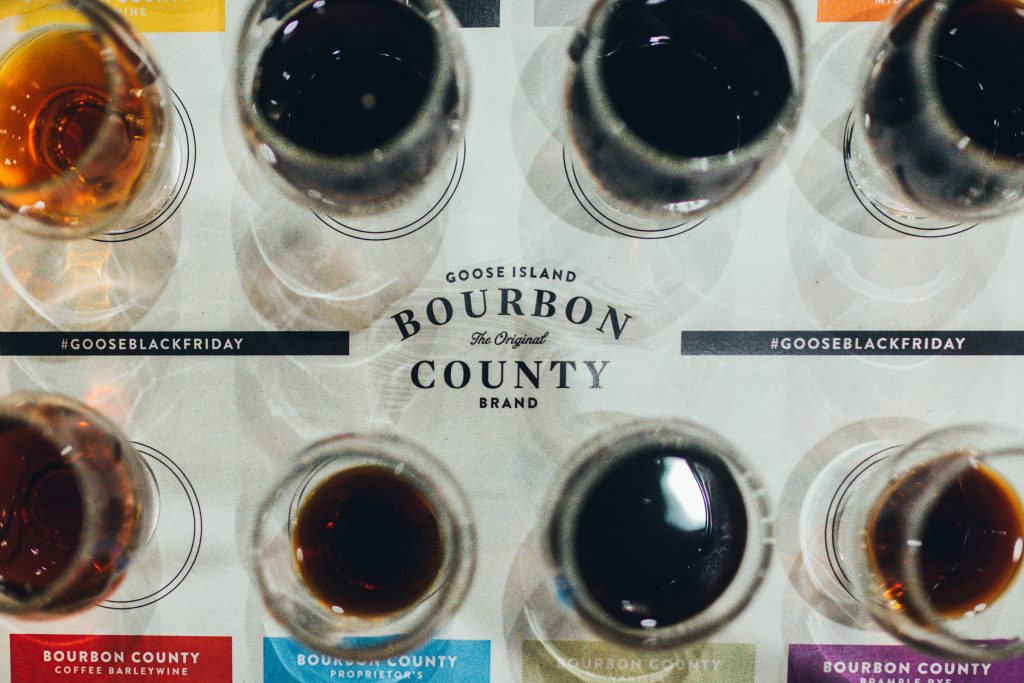 November is here and that means barrel aged beer season is upon us. And as Black Friday approaches, we have our sights set on one of Goose Island's most ambitious years of Bourbon County Stout yet. 2018's lineup features eight — yes, EIGHT — variants of the beloved Imperial Stout, each with its own distinct taste and character.
We were fortunate enough to sit down and taste through each of the variants with Goose Island's brewing team and come up with this handy guide. Be sure to check out Goose Island's Black Wednesday and Black Friday events right here.
---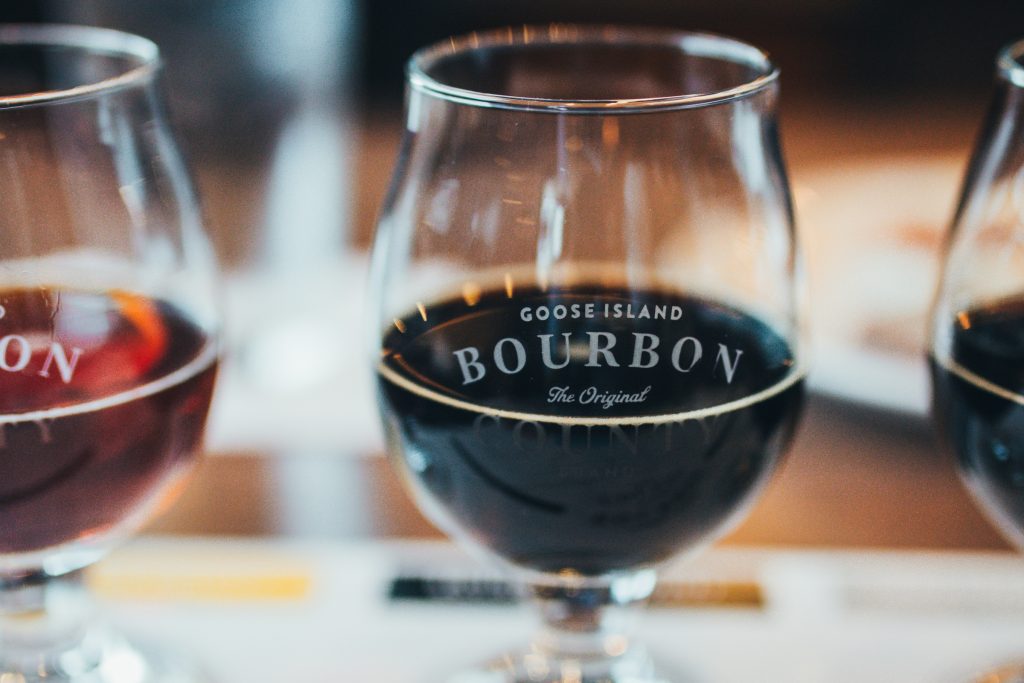 Bourbon County Original
If it ain't broke, don't fix it. This year's Bourbon County Stout Original is delicious as usual with lots of fudge and dark chocolate characteristics, along with a hint of malt roast. That classic stone fruit aroma comes through as well in addition to notes of oak and vanilla. Cellar it or don't — Original is ready to drink right away.
This is Bourbon County Original and in my humble opinion, this is another fantastic year.

– Jared Jankoski, Goose Island Brewmaster
---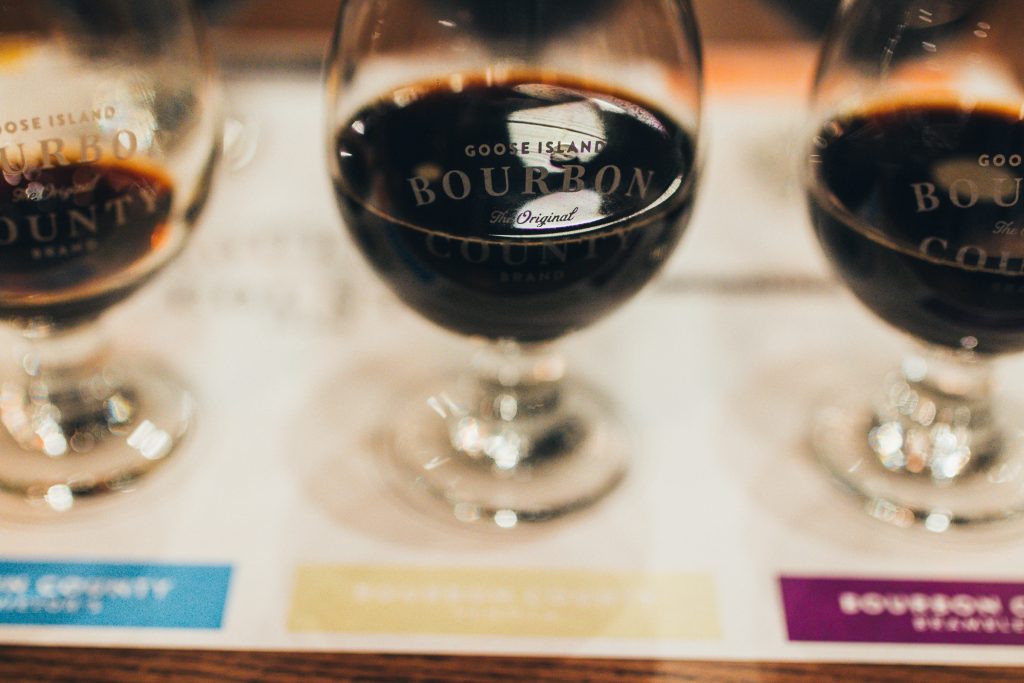 Bourbon County Vanilla
Longtime fans of Bourbon County will appreciate the resurrection of this variant with Bourbon County Vanilla. Different from previous years like Vanilla Rye in 2014 and Vanilla in 2010, this year's Vanilla features shredded Madagascar vanilla beans. Nice toasted marshmallow aromas along with a layer of leather and fruit come through on the nose, followed by sweetness on the palate. This variant will be highly sought after so be sure to make a plan to locate one on Black Friday.
---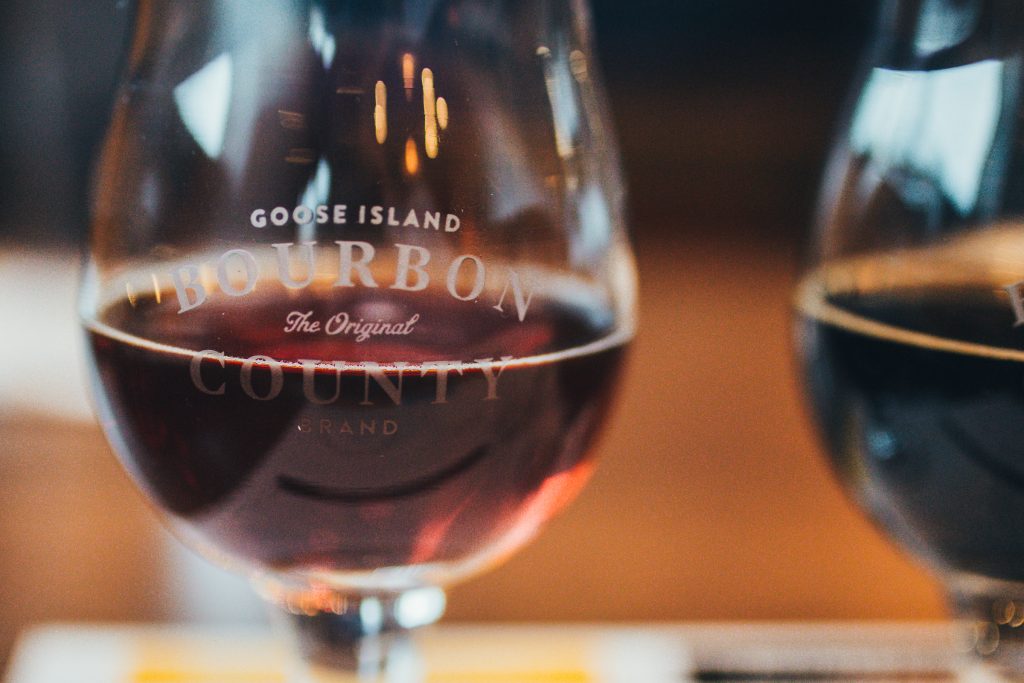 Bourbon County Wheatwine
Brand new this year, Goose Island is introducing Bourbon County Wheatwine to 2018's lineup. This beer is different from each of the other variants in that its grain bill calls for 2-Row, malted barley, and malted wheat, opposed to combination of darker malts and roasted barley. It also undergoes an extended boil which helps generate the dark amber mahogany color.
Wheatwine is rich in flavor and very smooth on the finish. Aromas of sweet caramel and marzipan add to the delicious treat. This is certainly not a variant to sleep on.
---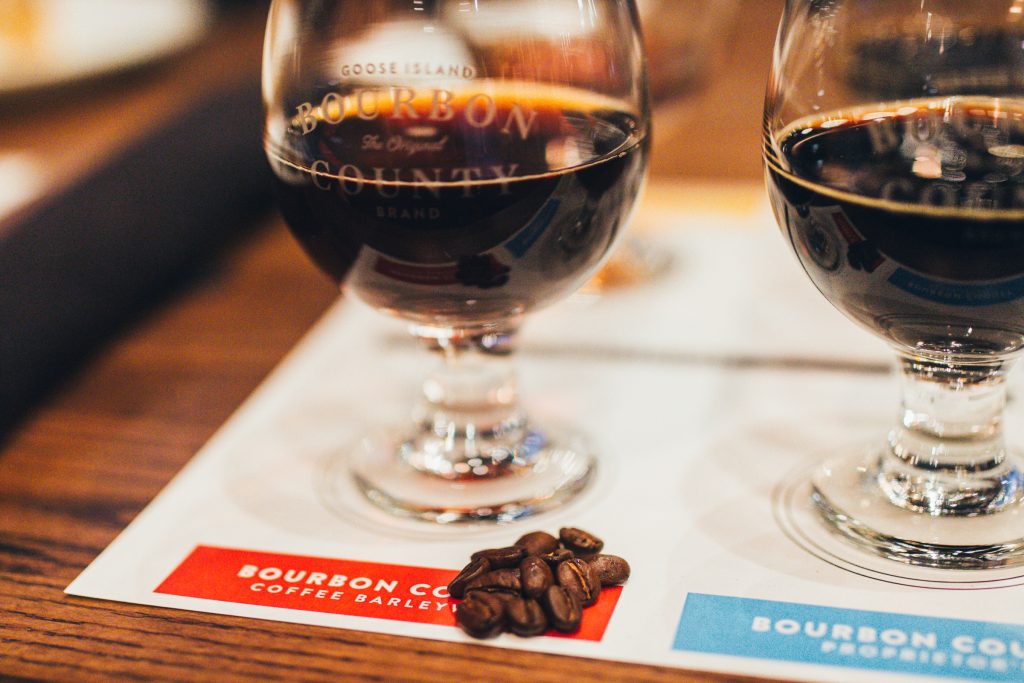 Bourbon County Coffee Barleywine
Many BCS fans were saddened when they found out BCS Coffee would be replaced with BCS Coffee Barleywine. Let us reassure you in saying that this variant, while unique, is equally as good. Coffee Barleywine uses 2200-meter altitude grown bourbón coffee sourced from Intelligentsia. If you didn't know (like me), high altitude coffee beans are harder and more dense, thus adding a different depth and complexity to their flavor than lower altitude coffees.
Whole roasted beans are added to the beer and recirculated using an infusion tank, essentially "dry-beaning" the beer. BCS Coffee Barleywine has that classic coffee roast on the aroma and taste, along with stone fruit and subtle sweetness. Don't forget, Barleywine is life.
---
Bourbon County Midnight Orange
And the hits keep coming. Another new variant in the 2018 lineup will feature Bourbon County Midnight Orange. This beer is the brainchild of Goose employees, Paul Lievens and Oscar Sanchez.
One of the things I came up with was this childhood treat of mine that my grandma used to always put in my Christmas stockings. A little chocolate orange that you smack and there's little slices of chocolate.

– Paul Lievens
Think orange zest, not orange juice with this variant. Cocoa nibs are added to the beer as well to accentuate the chocolate sweetness found in Bourbon County. If you're a fan of those orange chocolate candies, you will love Midnight Orange.
---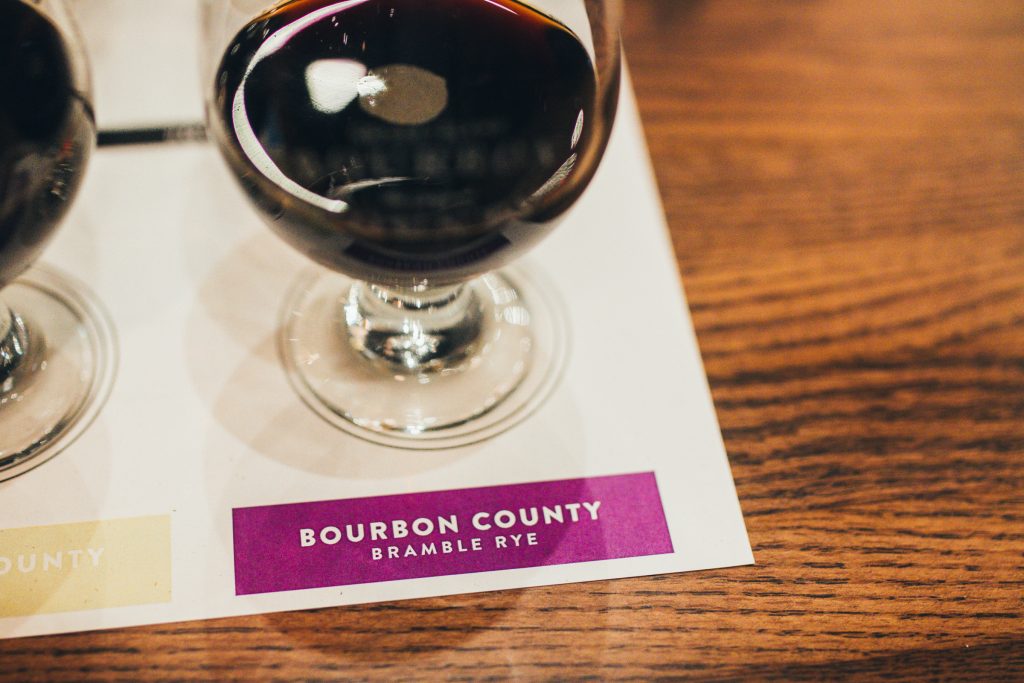 Bourbon County Bramble Rye
Another brand that makes a reappearance in this year's lineup is Bramble Rye. First debuted in 2011, Bramble Rye combines the worlds of rye whiskey and fruit to create a very unique variant. You get lots of tannins from the bramble seeds and skins along with a nice jammy and slight raisin character. This variant certainly has the boldest attributes of any of the eight with strong flavors from the fruit, stout, and rye all combining together.
Sharp fruit acidity, earthy, pungency from the rye cask, but also some of that mellow fruit jam — integrating well with the imperial stout.

– Bill Savage, Lead Brewer
---
Bourbon County Proprietor's
The coveted Proprietor's variant makes its Chicago-only return this year and it showcases one shining attribute of Bourbon County: chocolate.
Using actual chocolate for the first time, Proprietor's emphasizes the dark, sweet, fudgy characteristics that's been a stable of Bourbon County from the start. Each barrel used 12 pounds of cocoa nibs and chocolate for a decadent beer that will be highly sought-after this year. Hint: that's a lot of chocolate.
---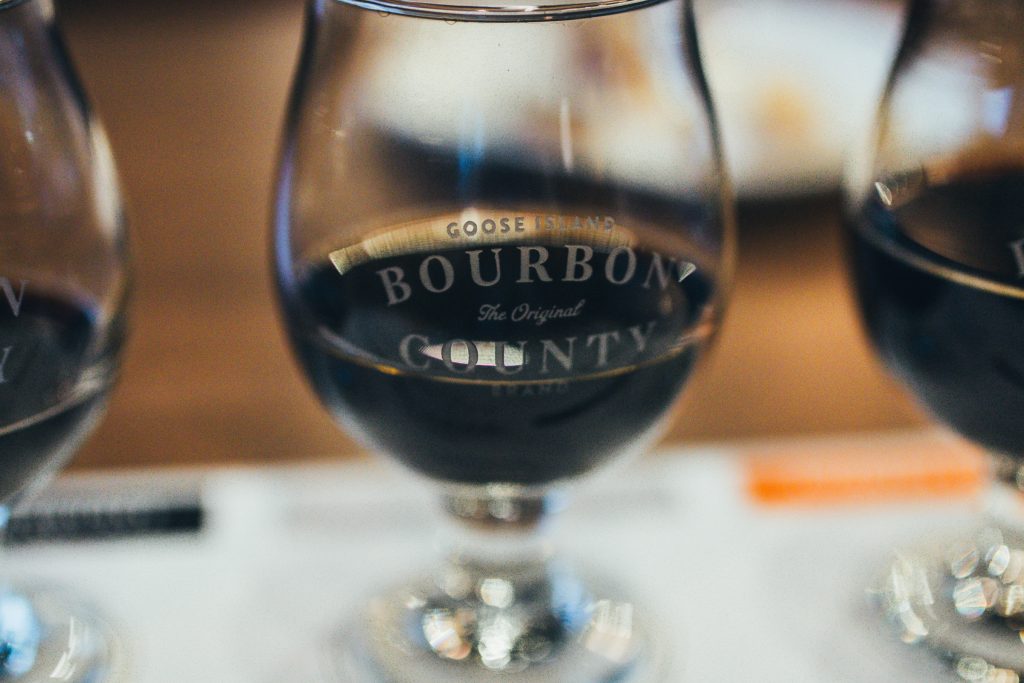 Bourbon County Reserve
And last but certainly not least: Bourbon County Reserve. Aged in 12-year Elijah Craig bourbon barrels, Reserve is something to be revered this year. If you enjoy Bourbon County Regular, you will love Reserve.
The character that you get out of this one is more toffee more malt forward character. On the back end you get quite a bit more oak tannin maybe a slight touch more vanilla. More dried fruit as well.

– Mike Smith, Goose Island Educator
A slight little tidbit to share as you sip on this beer: the bourbon from these casks went on to win Whiskey Advocate's 2017 Whiskey of the Year award. In my opinion, Reserve is the most notable variant of the eight.
---
Featured Bourbon County Release Events
Please contact retail accounts for additional information and details about these releases.
Wednesday, November 21
BCS Black Wednesday at Sheffield's | 3258 N Sheffield Ave, Chicago
BCS Black Wednesday at Timothy O'Toole's | 622 N Fairbanks Ct, Chicago
BCS Black Wednesday at Fountainhead | 1970 W Montrose Ave, Chicago
Friday, November 23
BCS Black Friday at Binny's | Various Locations; information here
BCS Black Friday at Jewel Osco | Various Locations; information here
BCS Black Friday at Fatpour | 2005 W Division St, Chicago
BCS Black Friday at WhirlyBall | 1825 W Webster Ave, Chicago
BCS Black Friday at Becks | 2201 N Clybourn, Chicago
BCS Black Friday at Jake Melnick's | 41 E Superior St, Chicago
BCS Black Friday at Beermiscuous | 2812 N Lincoln Ave, Chicago
BCS Black Friday at The Open Bottle | 7101 W 183rd Street #105, Tinley Park
BCS Black Friday at Brass Tap | 14225 95th Ave #400, Orland Park
BCS Black Friday at Doc's | 19081 Old Lagrange Rd #105, Mokena
BCS Black Friday at Lassen's Tap | 2131 183rd St, Homewood
BCS Black Friday at Beerhead | 100 N York St, Elmhurst