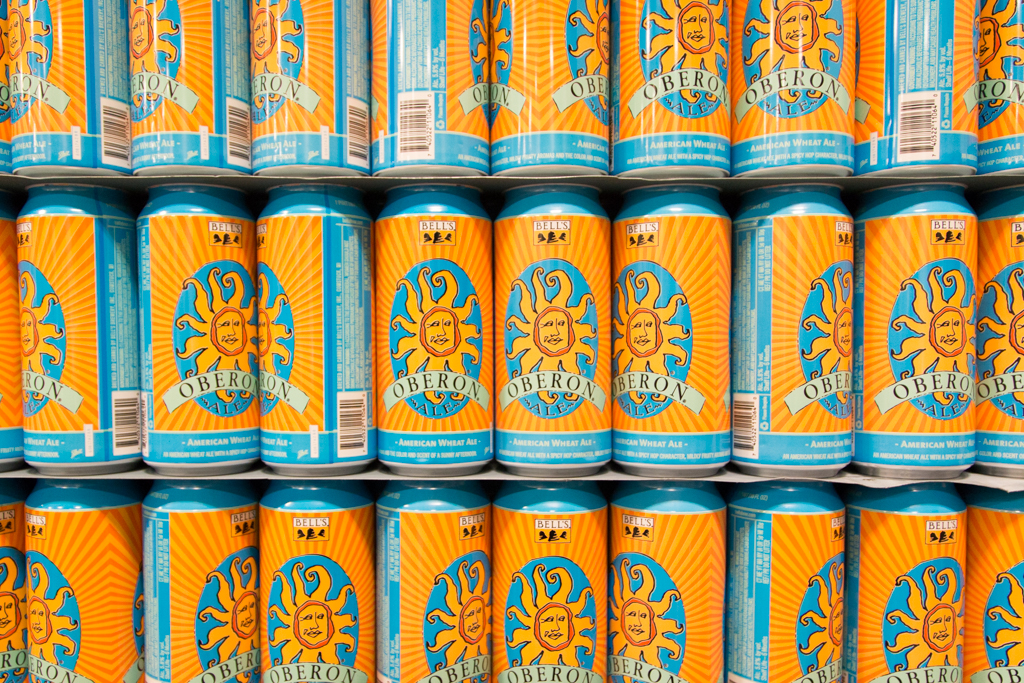 Since its inception in 1983 as the Kalamazoo Brewing Company, a then home-brew supply store, Bell's Brewery has become synonymous with American craft beer. They've set the bar for innovation by making beers like Oberon in 1992 and Two Hearted Ale in 1997. Today, Bell's is the 7th largest craft brewer by the Brewer's Association standards, producing over 400,000 barrels of beer in 2016.
And lucky for us Chicagoans, the brewery is only a two-and-a-half-hour drive (or train ride) from the Loop. We went up to Kalamazoo for the day and sat down with newly appointed Bell's CEO, Laura Bell, to hear why she loves calling West Michigan home.
---
The Stats
Brewery: Bell's Brewery
Driving Distance From Chicago: 2.5 hours (149 miles)
Notable Attractions: Sweetwater's Donut Mill, Rustica, HopCat
---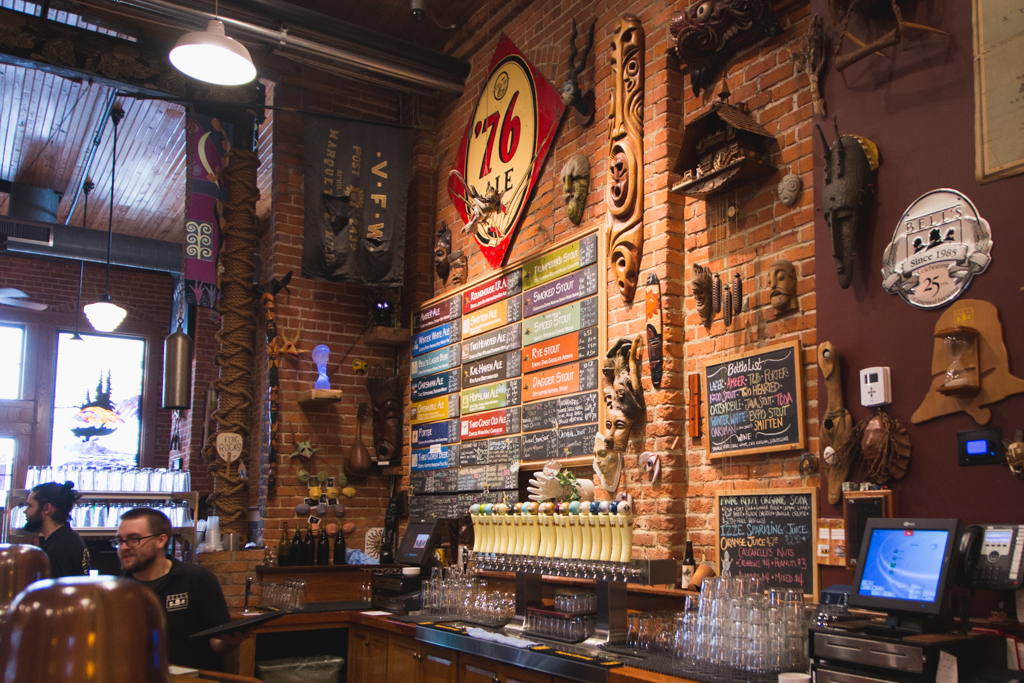 First Stop: Bell's Eccentric Cafe
Located right in downtown Kalamazoo, the Bell's Eccentric Café is the original location of Bell's Brewery. On site you'll find a home-brew shop, concert hall, restaurant, biergarten and outdoor concert venue. Here you can find traditional Bell's offerings like Amber Ale, Oarsman Ale, and Third Coast Beer, along with experimental beers that are solely offered there. Laura puts it best:
"The pub feels like you're hanging out in a groovy basement bar and you walk out to your backyard with the beer garden. There's kids, there's families, there's seniors, businesspeople, college kids – it really is a great representation of the community that we have here.

–Laura Bell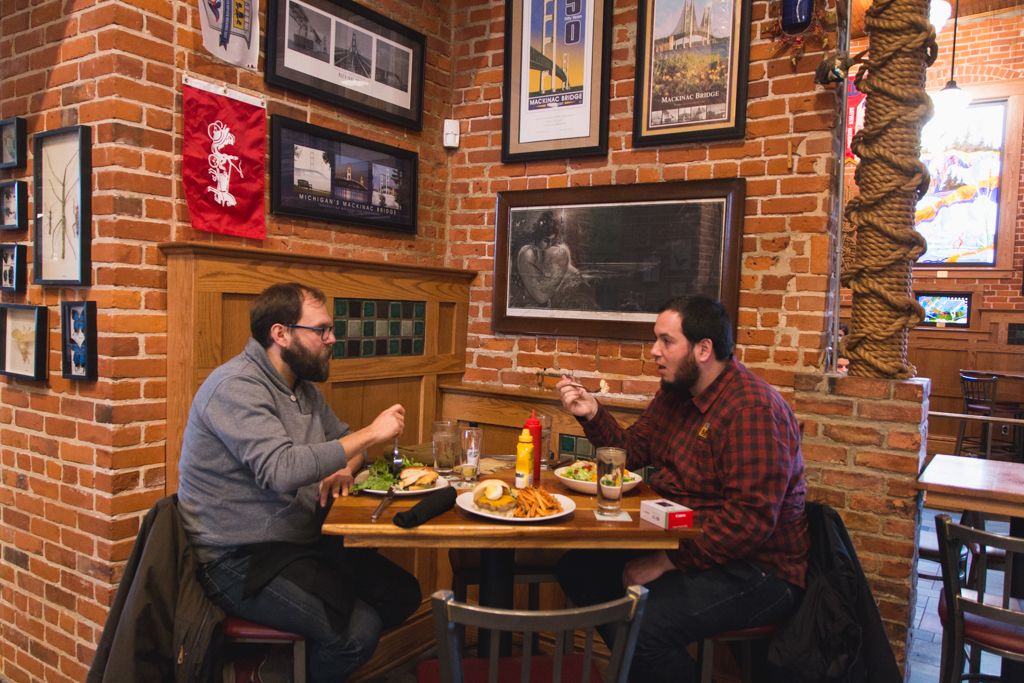 Next Stop: Comstock Brewery
About a fifteen-minute drive east of Kalamazoo, you'll find the Bell's Comstock Brewery. This is where the majority of Bell's beer is brewed.
Upon entering the impressive space, visitors can see part of the 200 BBL brewhouse custom designed by Huppmann.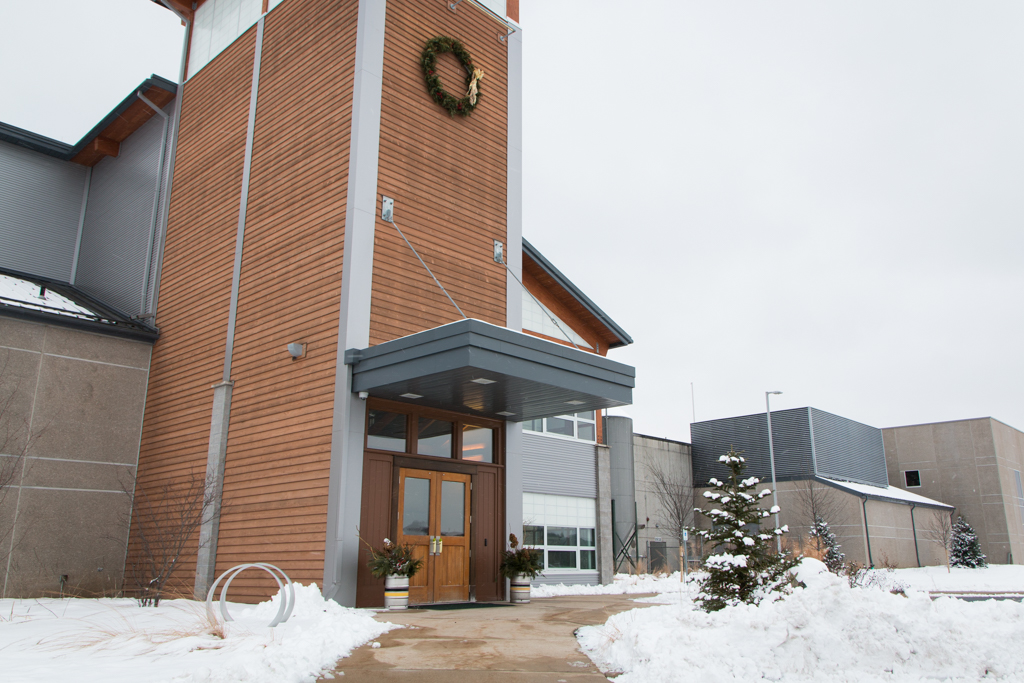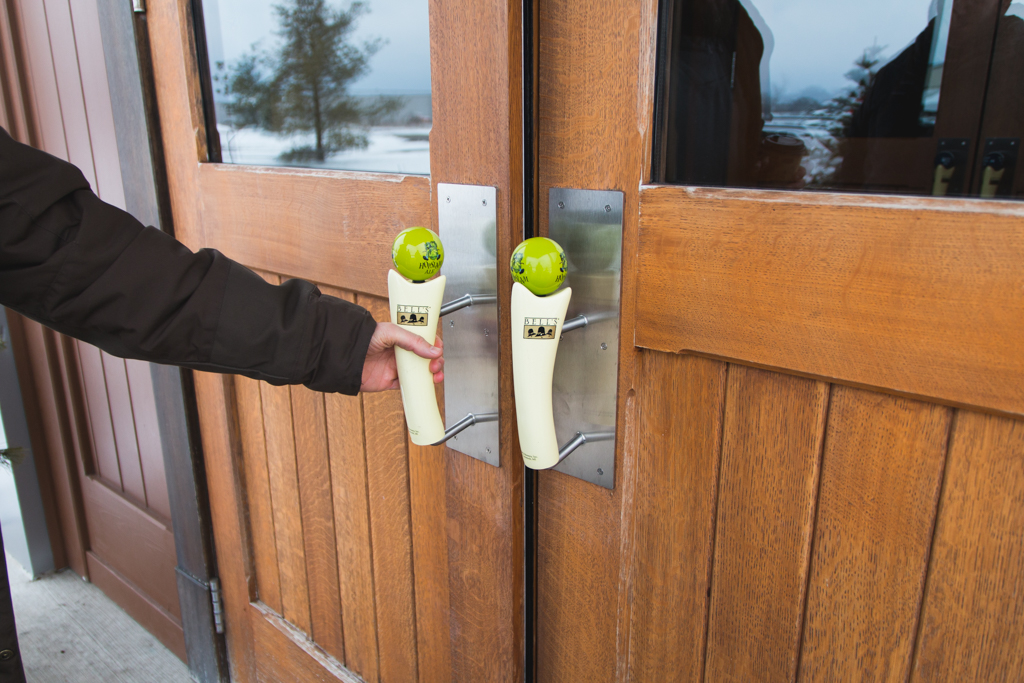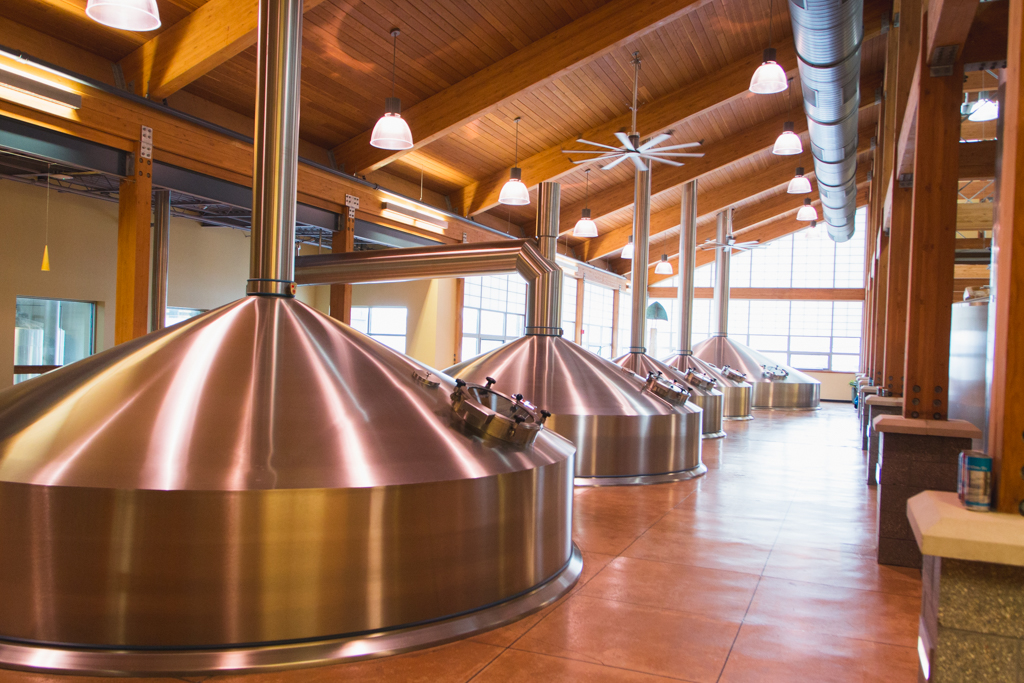 All of The Centennial Hops
As one of the most renowned American IPAs in the world, Bell's Two Hearted Ale deserves a little special attention. And its own dry hopping cellar. Walking into "Cellar A", the aroma of Centennial hops is deliciously palpable. These 14 tanks are each dedicated to dry hopping up to 400 barrels of Two Hearted with 100% Centennial hops.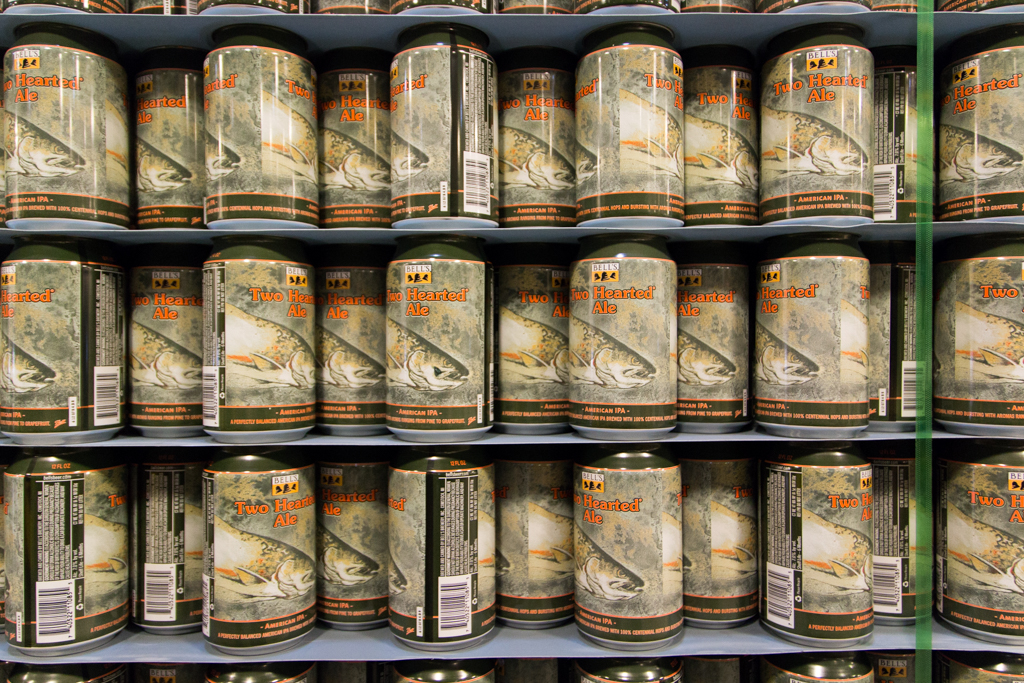 Commitment to Quality
One of the pillars of Bell's Brewery is their strong commitment to quality beer. They're constantly testing and tasting batches to ensure each beer is consistent with the appropriate flavor profile. Here in the lab is where Bell's technicians monitor the microbiology and analytical side of beer. Yeah, science!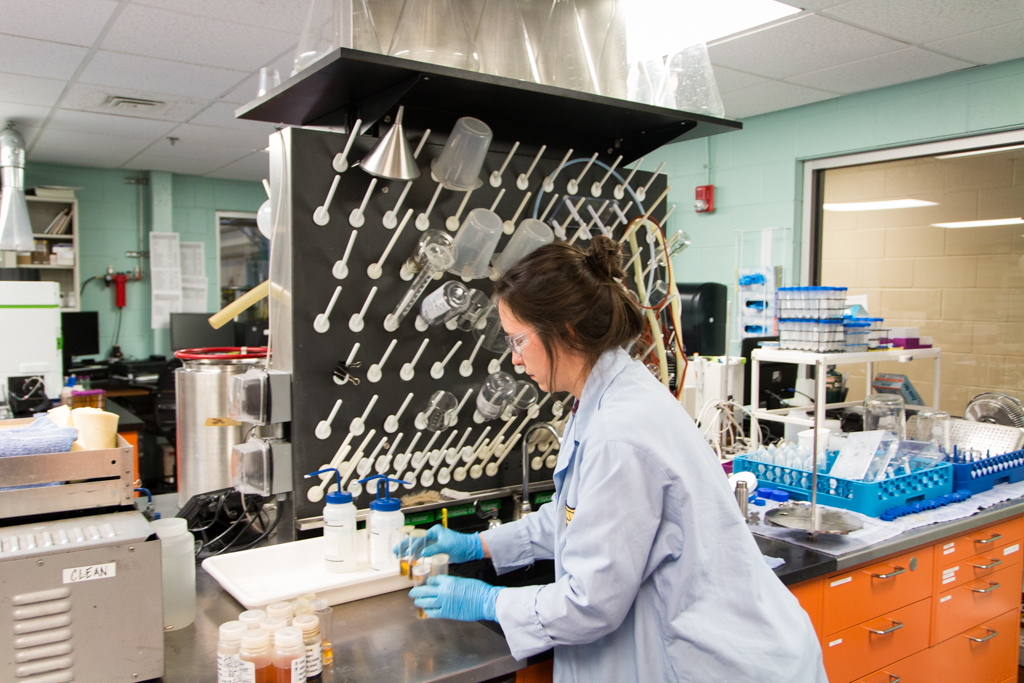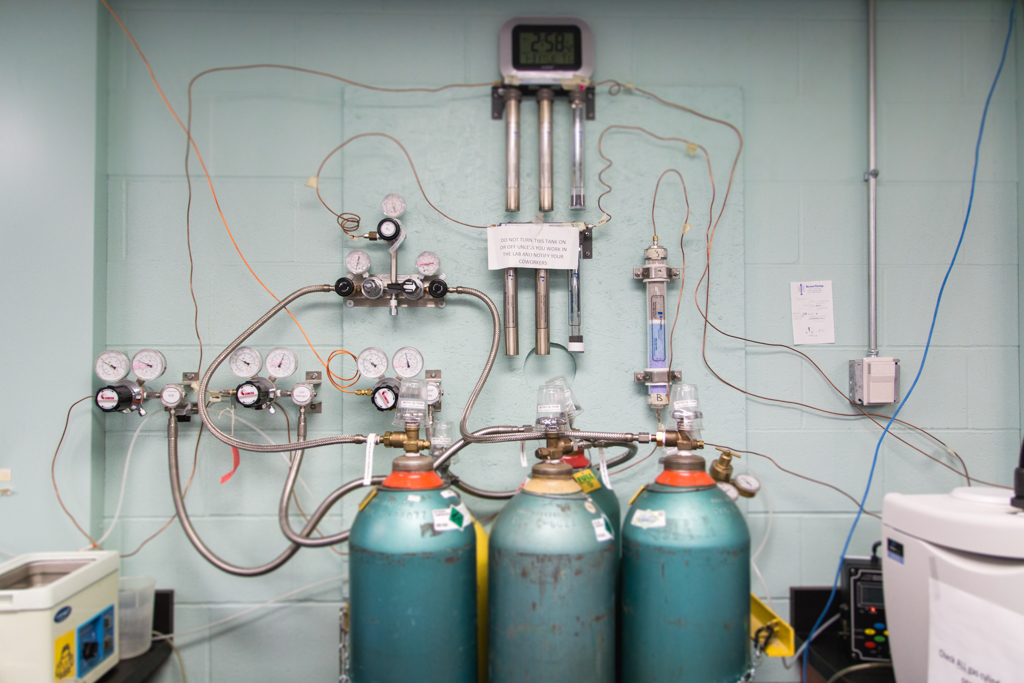 Come For Bell's, Stay For Kalamazoo
After our extensive tour of the Comstock facility (thank you, Austin!), it was time to head back to the Eccentric cafe and wrap up our time at Bell's. We sat down with Bell's Brewery CEO, Laura Bell to get her take on growing up in West Michigan.
Lakeshore Beverage: So what was it like growing up in Kalamazoo?
Laura Bell: "It was different, right? Certainly I spent a lot of time around the brewery and where the brewery was. I remember going to the department stores downtown – there's a walking mall that used to be closed to traffic – so I remember playing down there in the park. Now it's open to traffic so there's a lot of nice shops and restaurants that are easily accessible.
It's grown into a really great community with a lot of people who care about living in Kalamazoo and that makes sense. I think there's a lot of passion for this town which really assists with that philanthropic attitude about what we care about here."
Lakeshore Beverage: With Kalamazoo being a college town, how does that influence the city and Bell's?
Laura Bell: "Well there are three colleges here so we do have a great student population. There's Western Michigan University, Kalamazoo College, and then Kalamazoo Valley Community College has a campus downtown.
I think people really enjoy rallying around both a lot of the athletic opportunities and also educational opportunities. With Miller Auditorium at Western we get programs coming through – shows, there's a symphony that plays there, there's a wealth of opportunities to go see lectures or again, music on campus. Plus, the students are great for keeping Kalamazoo young and keeping business going. We certainly see a lot of them at Bell's and at shows, so we certainly appreciate them!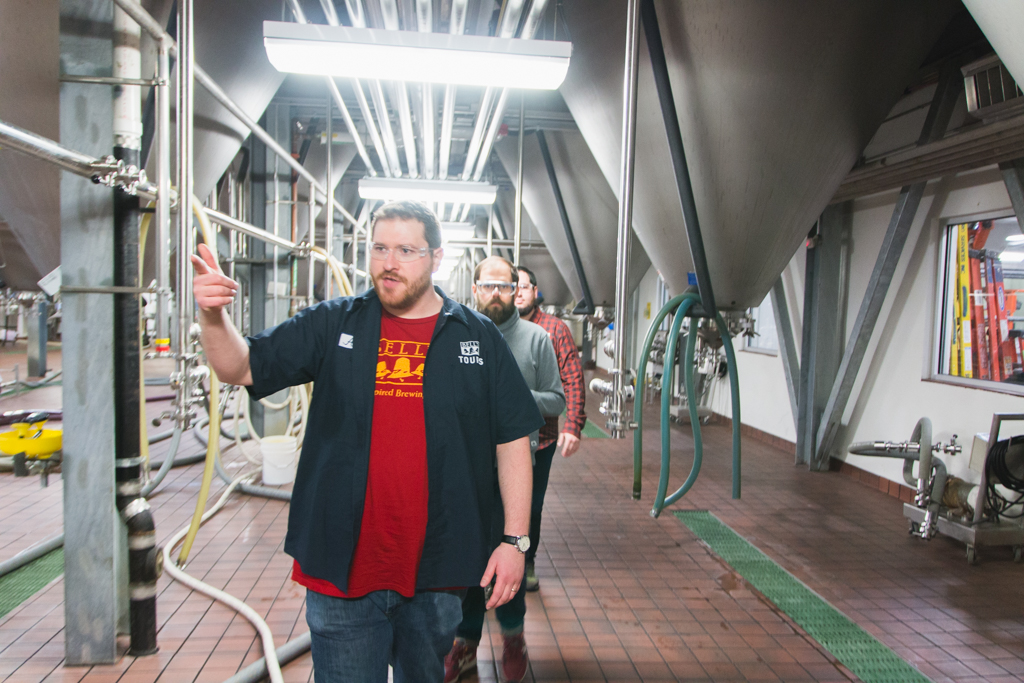 Lakeshore Beverage: Did you know you wanted to be a part of Bell's when you were growing up?
Laura Bell: I actually did not want to work for the brewery at all. It was really my dad's thing, and it was the reason he was so busy when I was growing up. As an eight-year-old, I didn't quite realize that Bell's was such an active part in changing the craft beer landscape of the United States, you know at that point I just wished my dad was around a little bit more. So no, I didn't really want to be a part of it growing up.
Lakeshore Beverage: What changed?
Laura Bell: Well then I couldn't find a job, ha! So my dad said, "why don't you work for me for a little bit?" so I said "OK, but I'm going to apply for other jobs while I look around" and he said, "OK."
I worked in sales in East Lansing for a year and did a lot of festivals and tastings and things like that. To the people walking up at those events, I'm just the girl behind the counter, they don't know it's my family business. That really provided me the opportunity to hear people talk about the brewery. They would talk about what it meant to them when they had their first Bell's beer or how they really enjoyed sharing a Two Hearted with their dad. I got to learn about the brewery from other people, even though I had grown up so close to it. It started giving me some perspective that this thing was bigger than anything I had an idea about.
I decided to move back to Kalamazoo and work in production for a year. I loaded trucks in the warehouse for our distributors, worked the bottling line, the keg line, brewed, worked in the lab, did a bunch of odd jobs. And in that process I got to meet all of our employees, get to know them, and see their passion and how excited and how talented they were and the direction Bell's was headed. That moment kind of hits you that this thing is way bigger than you or your dad and it's awesome. The fact that I just happened to be part of the family was icing on the cake because it was a place I wanted to work at, that I believed in, and I wanted to see grow into the future. So then I was here. And now I'm in it for the long haul!
Lakeshore Beverage: Why should Chicagoans come to Kalamazoo to visit Bell's?
Laura Bell: Bell's has a lot of history and when you walk into the pub, I think there are a lot modern/industrial brewpubs out there – which is totally cool – ours feels a little bit more like you're hanging out in your groovy basement bar and you walk out to your backyard with the beer garden. There's kids, there's families, there's seniors, businesspeople, college kids – it really is a great representation of the community that we have here. Our patrons are reflective of so many different walks of life and interest groups that you really get a good sense of what Kalamazoo is all about. Plus, it's within great walking distance to so many other things in Kalamazoo.
---

---
Want to be notified of future Lakeshore Beverage Beer Blog posts? Sign up for the Lakeshore Beverage Email Newsletter!