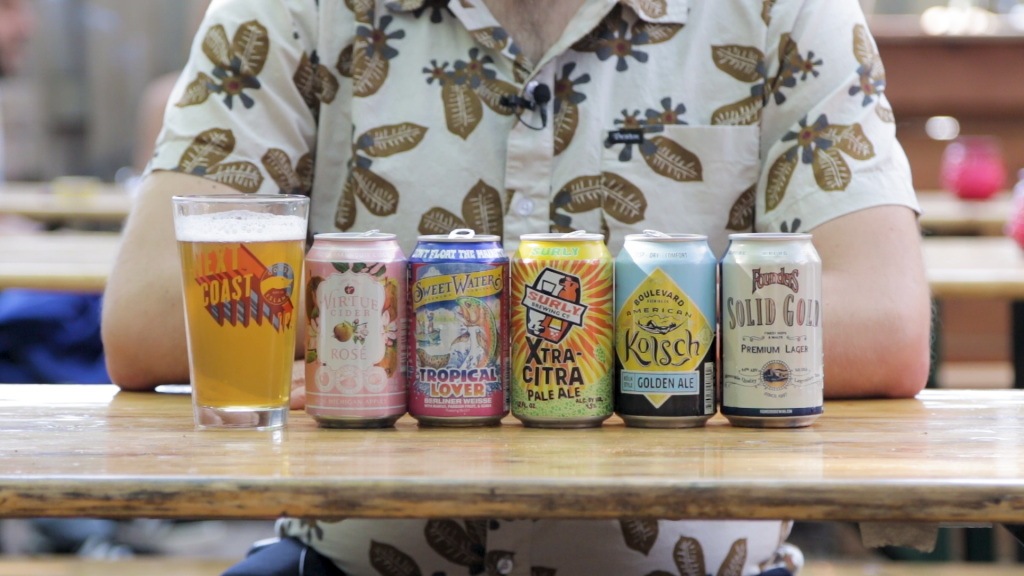 Summer beer drinking season is here and our training and education manager, Chris, is ready to whip you into shape. Watch the video below and be sure to find one of these fine beverages near you using our Beer Finder.
---
Featured Beers
Founders Solid Gold
Founders Solid Gold is the dad beer for the modern dad. A 4.2% ABV premium lager, it combines the grainy malt profile of dad beers of yester-year and spices it up with the lemon-citrus evoking Lemondrop hop. It's a touch more complex than a domestic macro lager without crossing into the territory of a hoppy craft pilsner. When your kids look back at the old family photo albums they'll know how hip you were, when they come across a picture of a dad in short cutoff denims on a Chicago patio, with a can of solid gold in his hand.
---
Boulevard American Kolsch
Is it lager? An ale? Is it American? Or German? Yes — it's sort of all that.  Kolsch is an ale originating in Cologne, Germany that is lagered, typically for a couple weeks.  That added time in cold tanks smooths the flavors of the ale yeast and refines the beer, leaving behind a honey-like malt and crisp snappy finish. Boulevard uses traditional and non-traditional ingredients for marriage of European and American flavors. It's a taste of the Northern Rhine by way of Kansas city.
---
Surly Xtra-Citra
Surly Xtra-Citra packs plenty of Citra hops into a goes-down-easy 4.5% ABV pale ale. The moment you crack open the can, your senses are smacked with bright and fresh hop aroma. This is as American as a pale ale can get: notes of grapefruit, mango and fresh cut grass with just enough malt to support the hops. If you're a fan of pale ales or session IPAs, this should be a go-to in your summer drinking arsenal.
---
SweetWater Tropical Lover
SweetWater's Tropical Lover is sultry ode to the beauty that tropical fruit can add to a beer. Tropical Lover is a Berliner Weisse — a once esoteric German style with lactic sourness and a bone-dry body — that has become a summer favorite for American craft drinkers as of late. SweetWater's brewers add mango, guava, and passionfruit to the beer, adding depth, body, and notes of Fruit Stripes bubblegum. Finally, you have the perfect beer to sip between brunch and lunch.
---
Virtue Cider Rosé
On the heels of the hashtag-able, Instagram-able, Snapchat-able, frozé, brosé, rosé-all-day craze comes summer 2018: the year of rosé cider. Virtue Rosé features a blend of pressed apples grown on small Michigan farms aged in French oak barrels, combined with hibiscus, sage, and essential oils. It's a dry fermented cider with only two grams of sugar, reminiscent of the rosé's of southern France. Grab a six-pack and a boat, a scenic beach, rooftop, or brunch party, and pinkies up: rosé all day.
---
Goose Island Next Coast IPA
Goose Island Next Coast is the new beer you need to try this summer. Launching on June 4, this draft-only, Chicago-only IPA is bursting with citrus and tropical flavors and aromas. Built on a light-medium malt body, it finishes clean and refreshing. Get excited to drink many of them this summer but be careful — at 7.2% ABV, it's a real creeper buzz.