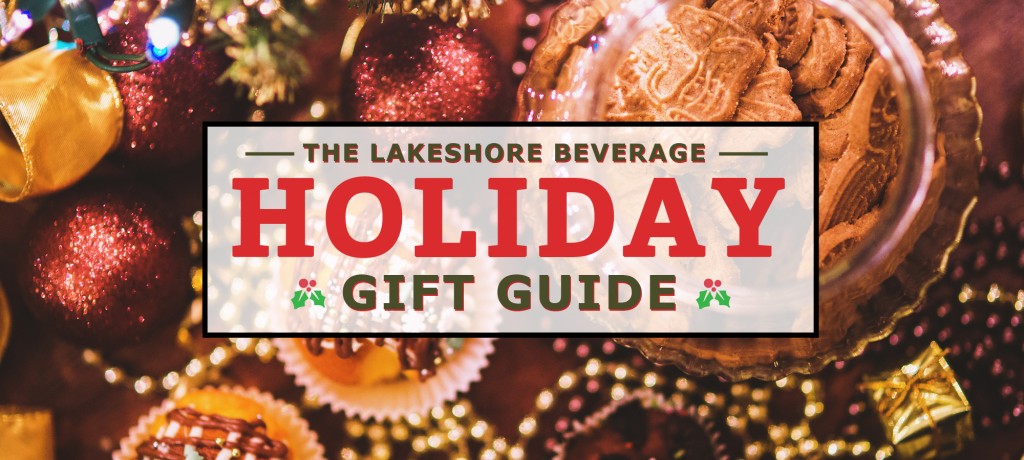 Are you stumped when you think about what to get your cousin John, the amateur homebrewer? Or your aunt Ellen, the new homeowner with a nice bar in the basement? What do you get your friends Jess and Ryan, who love picnics more than Yogi Bear? Or are you simply looking for gifts for the beer lover in your life? We have a solid lineup of fantastic gifts for you to pick up this holiday season, that's sure to delight your friends and family.
Gifts For The Homebrewer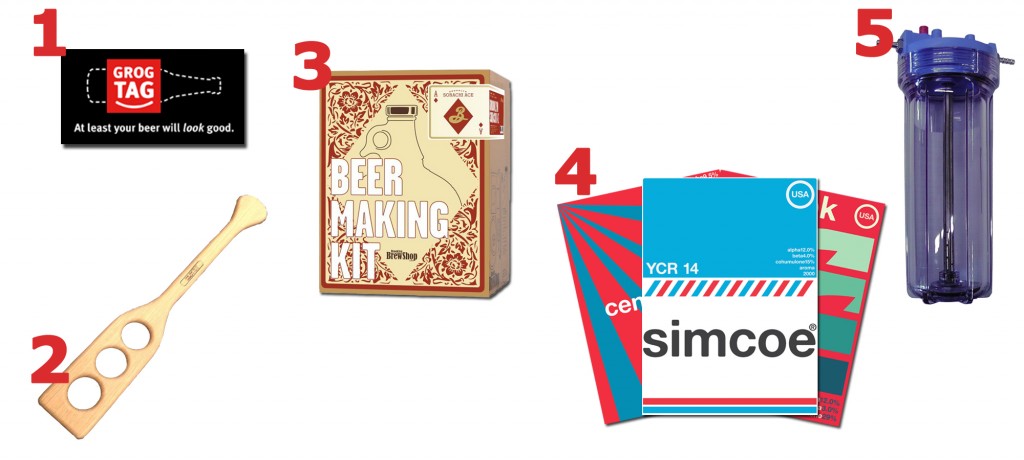 Your friend/spouse/uncle/aunt/neighbor likes to brew their own beer. At first, you were skeptical, but the more homebrew they brought over, the more grateful you've become. And now you've got to admit, they make some pretty damn good beer. Get them a gift that they'll actually use — and that you'll benefit from with these gifts for the homebrewer.
1. Custom Homebrew Labels from GrogTag | $15 & up
2. Handcarved Mash Paddles | $35 – $80
3. Sorachi Ace Beer Making Kit | $45
4. Hops Art Prints | $17
5. Hop Randall | $69
Gifts For The Bar Cart Artist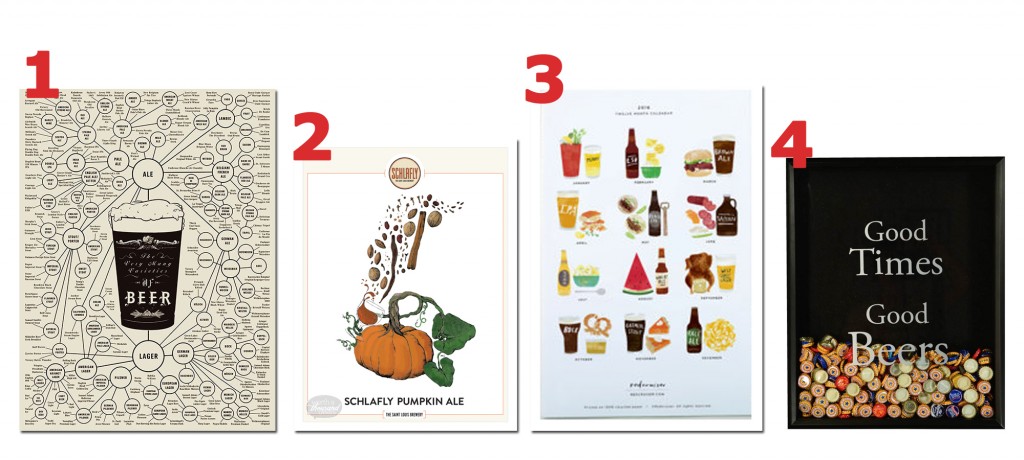 A solid full-time job. A new, albeit tiny, apartment. Health insurance. These are things that make an adult an adult. But you know another way to know you've made it? Having a damn fine home bar. For the friend whose house everyone gathers at before or after a night out, the friend who loves entertaining, the friend who, hey, loves a good drink. Spruce up their space with some art above their bar cart. Everyone loves a good bar and everyone appreciates art.
1. Beer Pop Chart: The Very Many Varieties of Beer | $29
2. Illustrated Craft Beer Prints | $30
3. 2016 Beer Pairing Calendar (other cool stuff: beer tea towel, cards, coasters, etc.) | $20
4. Beer Bottle Cap Collector Shadow Box | $64
Gifts For The Basement Bartender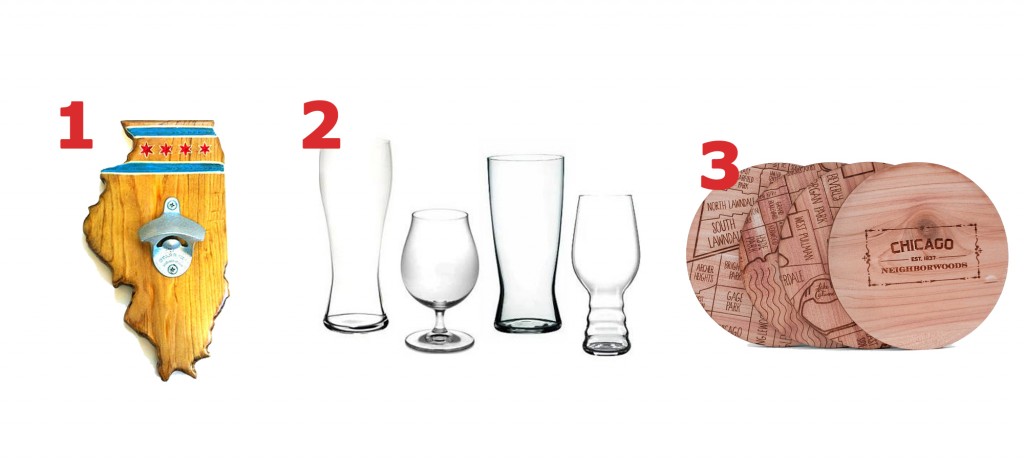 If you ask the Basement Bartender what they would grab from their home in the case of a fire, they'd say their bar. Even if that doesn't make any sense. Every time you go over you immediately head down into the basement and sit at their magnificent ode to the local watering hole. Not that you mind — their bar is stocked with a dizzying array of fancy liquors, mixers, wine and beer. The one thing a home bartender can never get enough of? Bar accouterments. Here are some of our favorites.
1. Drink Local Bottle Openers | $40
2. Spigelau Glassware Set | $46
3. Chicago Neighborwoods Coaster Set | $36 — 15% off with code lakeshore at checkout
Gifts For Picnic People
These are the friends you invite first to Movies in the Park over the summer: they. come. prepared. You set down your blanket, start unpacking food and you quickly realize you're missing X, Y and Z. Never fear, the picnic people save the day so you don't have to run to the convenience store for a paring knife, aka a pocket knife because the convenience store doesn't sell paring knives. Get your friends something nice to add to their picnic setup and you'll likely enjoy that gift at some point too. Win-win.
1. Sixer Cooler | $18 — Use code GEARXLIKESBEER to receive a free coozie & an Outdoor Gear Exchange pint glass with your Sixer Cooler purchase! [while supplies last]
2. Bamboo Wine Table | $22
3. Wooden Beer Caddy with Bottle Opener | $39
4. Bees Knee's Artisanal Bar Snacks for Beer Pairings | $11 – $16
5. Founders Blanket | $20
Stocking Stuffers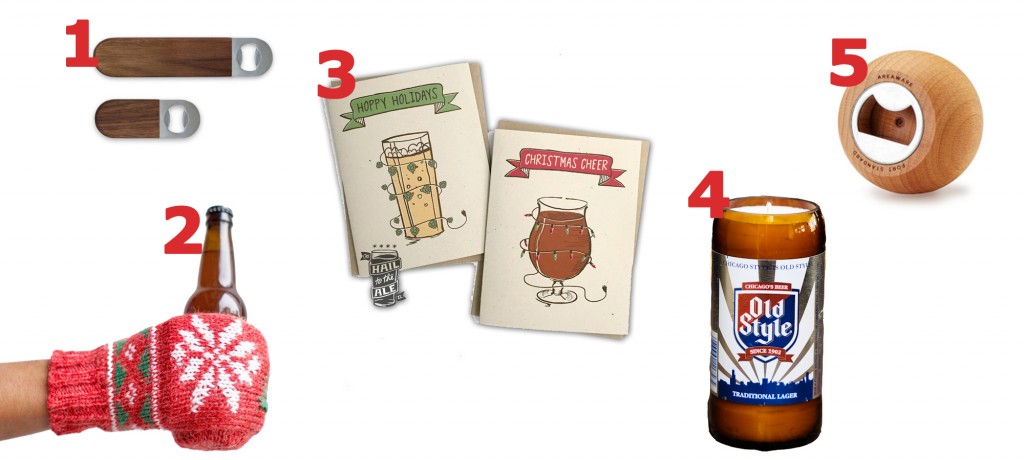 Small but mighty, these gifts will easily slip into a stocking hung above the mantle, or a radiator, to bring joy to your friends and family. From bottle openers to cozy coozies, these tiny treats will come in handy and your friend will smile thinking fondly of you.
1. Sphere Bottle Opener | $18
2. Suzy Kuzy Beer Coozies | $13
3. Craft Beer Holiday Cards | $4 – $20
4. Beer Candles | $20
5. Bar Blades Bottle Opener | $24
---
Want to be notified of future Lakeshore Beverage Beer Blog posts? Sign up for the Lakeshore Beverage Email Newsletter!