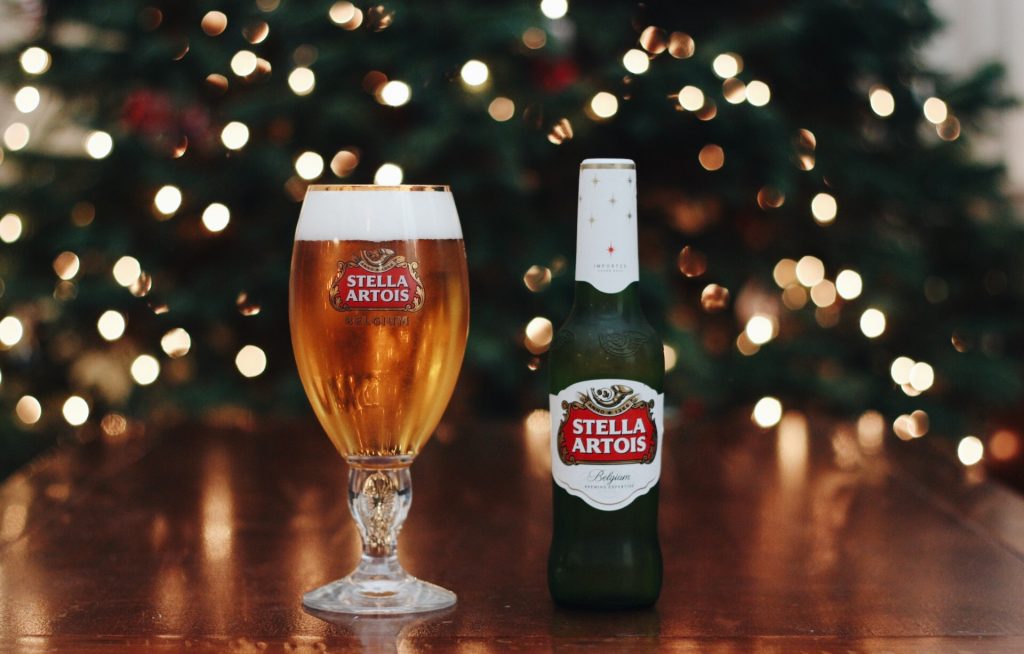 It's prime holiday party season right now and nothing brings coworkers, frenemies, and potential suitors together like the right beer. So we're here to help. Maybe you're reuniting with old friends and want to impress them with your craft beer knowledge — there's a beer for that. Or maybe you're preparing for a night on a BYOB holiday trolley — there's a beer for that. Or perhaps you're attending a dinner party with some foodie friends — yep, there's a beer for that, too. So check out our guide below and use our Beer Finder to locate one of these fine beverages near you.
---

TYPE OF PARTY: Run-of-the-mill Christmas Party
BEER TO BRING: Stella Artois
Brouwerij Artois originated in Leuven, Belgium way back in 1366. Years later, Stella Artois was created as a special batch Christmas gift to the people of Leuven and it's been history ever since. A classic European Pilsner, Stella has a slight hop bitterness and easy drinkability that won't offend guests who prefer light beers. Aesthetically, its green and red color scheme fits right in and if you're feeling extra crafty, throw a bow on top of a 12-pack and present it as a gift.
---

TYPE OF PARTY: High School Reunion
BEER TO BRING: Bell's Winter White Ale
Let's set the stage. It's December 23. Old friends from high school are back in town for the holidays and you decide to have people over at your place. Sure, it's probably been a full year since you last saw each other but that won't stop you from showing off your refined taste in beer. Bell's Winter White Ale is a perfect option here. Nicknamed "Snowberon", Winter White is a great example of the Belgian witbier style and a nice entry into craft beer for your friends who might be familiar with Bell's summer seasonal, Oberon.
---

TYPE OF PARTY: BYOB Dinner Party
BEER TO BRING: Goose Island Noël
We all have that one friend who's kind of at the forefront of party planning. The "Run-of-the-mill Christmas Party" was SO 2015 so this year they're throwing an Instagram-worthy dinner party. The caliber of your beer must reflect the effort of this dinner party. So for that reason, we recommend Goose Island Noël, a Belgian-style Dark Ale. With notes of caramelized sugar, toasted bread, black cherry, and dried apricot, Noël pairs well with a variety of dishes. Plus, its sleek, slender bottle looks nice on any holiday tablescape.
---

TYPE OF PARTY: Caroling Party
BEER TO BRING: Shiner Holiday Cheer
In the sage words of Buddy the Elf, "the best way to spread Christmas cheer is singing loudly for all to hear." Keeping with that spirit, Shiner Holiday Cheer is perfect for your next caroling party. It's truly a unique holiday beer, as it's brewed with Texas peaches and roasted pecans. The result is a strong peach aroma on the nose, followed by subtle sweetness and nuttiness on the finish.
---

TYPE OF PARTY: BYOB Holiday Lights Trolley Tour
BEER TO BRING: Founders Azacca IPA
If you're out on the town this weekend, you're bound to see a trolley full of seemingly best friends belting out Mariah Carey's "All I Want For Christmas Is You". Yes, it's probably the fourth time they've sung it, but who cares? It's a BYOB holiday trolley! And for this scenario, we recommend Founders Azacca IPA. This beer features Azacca hops, a Pacific Northwest hop that has an intense tropical fruit profile. At 7.0% ABV and 15-pack availability, Azacca IPA is the right combination of quality and quantity that can make anyone a singer for one night.
---

---
Want to be notified of future Lakeshore Beverage Secret Beer Parties? Sign up for the Lakeshore Beverage Email Newsletter!