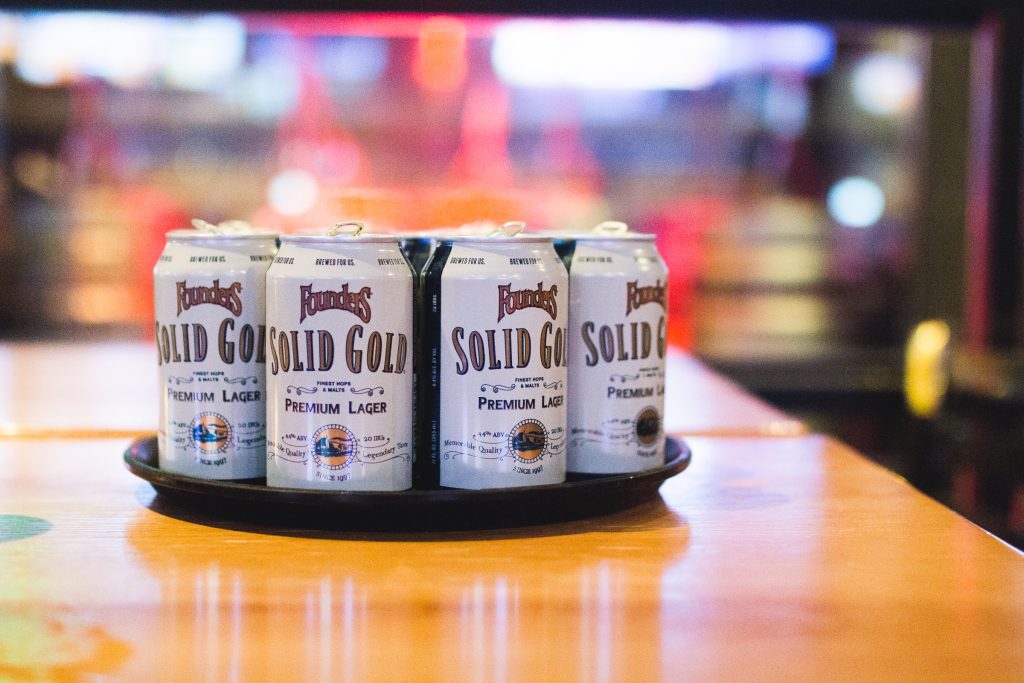 As a brewery that built itself on innovation and not following the rules, it's no surprise Founders is once again changing the game with their newest beer: Solid Gold Premium Lager.
Leading the charge
Solid Gold is one of the first craft-brewed adjunct lagers to be produced on a large scale. For those of you following at home, BeerAdvocate describes adjunct lagers as:
Light bodied, pale, fizzy lagers made popular by the large macro-breweries (large breweries) of America after prohibition. Low bitterness, thin malts, and moderate alcohol. Focus is less on flavor and more on mass-production and consumption, cutting flavor and sometimes costs with adjunct cereal grains, like rice and corn.
And while Solid Gold indeed has low bitterness and moderate alcohol, make no mistake: this beer is delicious. As Founders Co-Founder Mike Stevens puts it:
I think with Solid Gold you're going to find a hint of craft in there with a hint of domestic premium and a hint of import in there. It's really a well-rounded brand that's going to be applicable to all kinds of palates.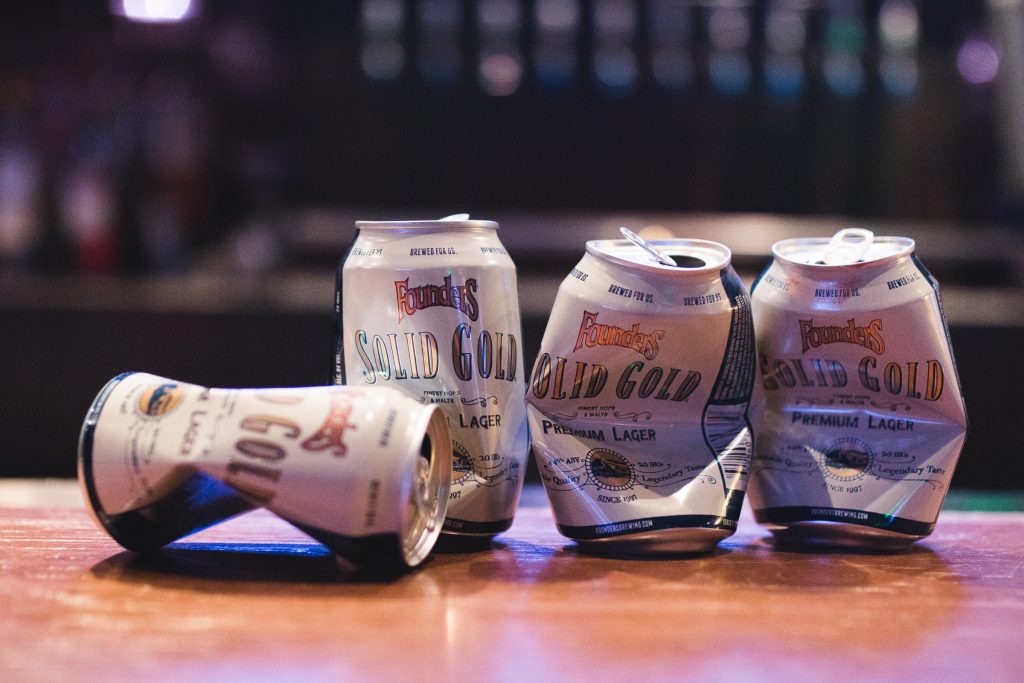 This beer features several hop varieties with Magnum and Perle in the boil, along with a dry-hop addition of Lemondrop for a hint of citrus aroma. At 4.4% ABV, it's extremely drinkable without putting you over the edge either. Don't believe us? Paste Magazine gives this beer an 8.3/10.
Look for Solid Gold in 15 and 6-packs of cans, as well as on draft in 1/2 and 1/4 barrels. Use our Beer Finder to located this beer near you.
Solid Gold Events in Chicagoland
2/28  — Garfield's Crystal Lake
2/28 — Iron & Glass
3/1 — The Open Bottle
3/1 — The Beer Cellar
3/1 — Fireplace Inn
3/2 — Emporium Logan Square
3/2 — The Open Bottle
3/2 — Bottles & Cans
3/3 — Timothy O'Toole's Chicago
3/3 — Garfield's Palatine
3/3 — Whole Foods South Loop
3/4 — Binny's Orland Park
3/5 — Jerry's Andersonville
3/6 — Aberdeen Tap
3/8 — Ellyn's Tap
3/8 — Liquor Park
3/9 — Kenwood Liquors Homer Glen
3/9 — Tapster
3/9 — Alive One
3/10 — Binny's Logan Square
3/10 — Binny's Lakeview
3/13 — O'Toole's Gurnee
3/13 — Hopsmith
3/13 — White Oak Tavern
3/14 — Whole Foods West Loop
3/14 — Woodie's
3/14 — 3 Corners
3/15 — Estelle's
3/16 — Das Radler
3/16 — Binny's South Loop
3/17 — Binny's River North
3/17 — Binny's Lincoln Park
3/21 — Ellyn's Tap
3/21 — AJ Hudson's
3/21 — Murphy's Pub River Forest
3/22 — Beer Head Vernon Hills
3/23 — Noble Grape
3/24 — Binny's Glen Ellyn
3/27 — Fat Cat
3/29 — Legno