Kombucha has been around for a very long time, originating hundreds of years ago in northeast Asia. Over time, the drink grew in popularity in Europe, and made its way over the ocean to here in America. Its fizzy contents and good-for-you ingredients like probiotics and green tea cultures made it an instant hit in health circles across the world. However, did you know that kombucha on its own contains a bit of alcohol? Less than a half of a percent in most cases, but there's a new brewery that aims to take that to the next level.
Juneshine, out of sunny San Diego, seeks to travel down that effervescent road. Originally started out of a garage in California, JuneShine took the kombucha scene by storm and now they landed here in Chicago!
We sat down with JuneShine and asked a few questions about their history, what makes them tick, how they compare to other craft breweries and why they chose the Chicago scene!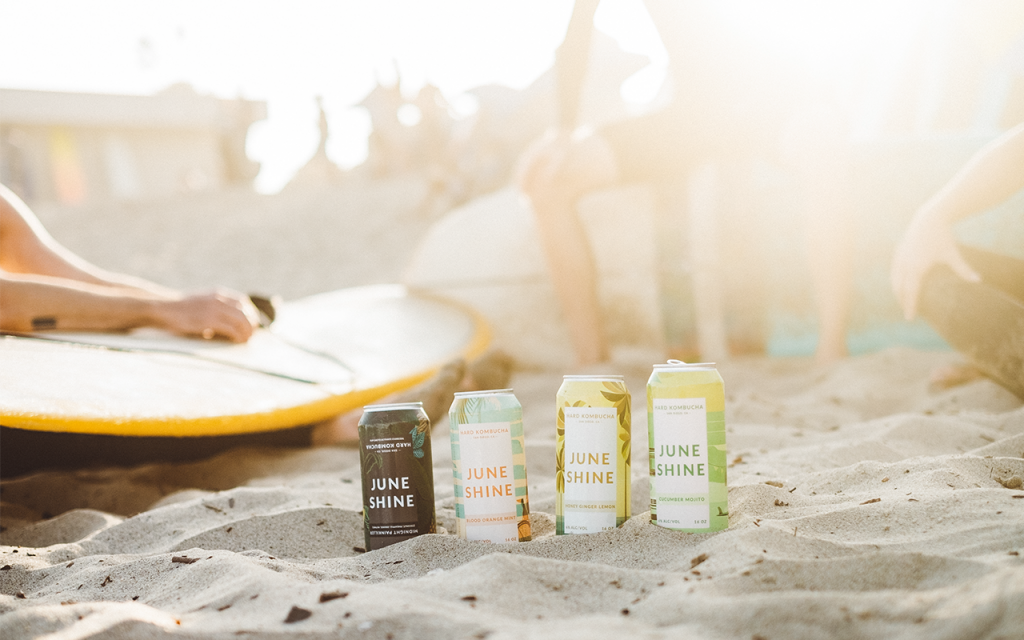 ---
How did Juneshine get its start? What inspired you to start brewing hard kombucha?
JuneShine is the brainchild of former college roommates and surfer buddies Greg Serrao (Co-Founder and CEO) and Forrest Dein (Co-Founder and CCO). After dabbling in San Diego's world-class craft beer scene, coupled with their increasing interest in living healthy lifestyles,  Greg and Forrest began to question why there was a sustainable, transparent option in nearly every consumer grocery category, except for alcohol. They asked, "Why is it that we know so much about the food we eat, but so little about the alcohol we drink?" Frustrated by the lack of transparent alcohol brands that could cater to their healthy, active lifestyles, Greg and Forrest decided to make their own that they could feel good about drinking. Being kombucha fans, they set out to make the healthiest and highest quality alcoholic jun kombucha they possibly could. The result? JuneShine!
What are some of the benefits to Hard Kombucha?
Alcohol is still alcohol, but we've found that people do feel better drinking JuneShine than other alcoholic beverages. Not only does JuneShine contain less sugar (3-7 g per 12 oz serving on average, depending on flavor), but it has none of the other bad stuff many alcoholic drinks contain: No additives, no preservatives, no coloring, no pesticides, no GMOs, no corn syrup, no rice syrup. JuneShine is also organic, gluten-free, full of vitamins and antioxidants, as well as probiotics which are great for gut health. JuneShine is also healthier for the planet from a sustainability standpoint.
It seems like sustainability is a big part of Juneshine, what are you doing as a company to support sustainability?
Sustainability is a huge part of who we are as a company. Each day, we find new ways to lessen our impact on the planet, from providing every employee with their own set of reusable cutlery to treating our wastewater before it reenters the system. Here's a list of what we're doing, what we're working on, and what we dream of doing. We're not perfect, but this is a start.
We donate 1% of all sales to 1% For The Planet

We helped motivate one of our suppliers to get USDA Organic certified because of our purchasing power

We use 100% organic ingredients in our products

We bought an iconic, used brewery and upcycled it to make it our own

We treat our wastewater before it goes back into the system

We only use glassware in our breweries, no plasticware

We use a large display menu, not paper menus

We use recycled paper products

We support the sustainability efforts of

 our ambassador team

of athletes, artists and changemakers with over 2M in reach

We print the majority of our marketing materials on recycled paper

We are sourcing organic, local products for our restaurant

We are switching from plastic six-pack holders to six-pack cartons

We are planting trees to replace the trees used to make our cartons
Why did you choose Chicago as one of the cities you wanted to expand to?
We chose Chicago because of the thriving community of craft beer enthusiasts, and it's essentially the capital of the midwest. We're excited to bring a totally new product and brand to a city that already loves experimental brewers.