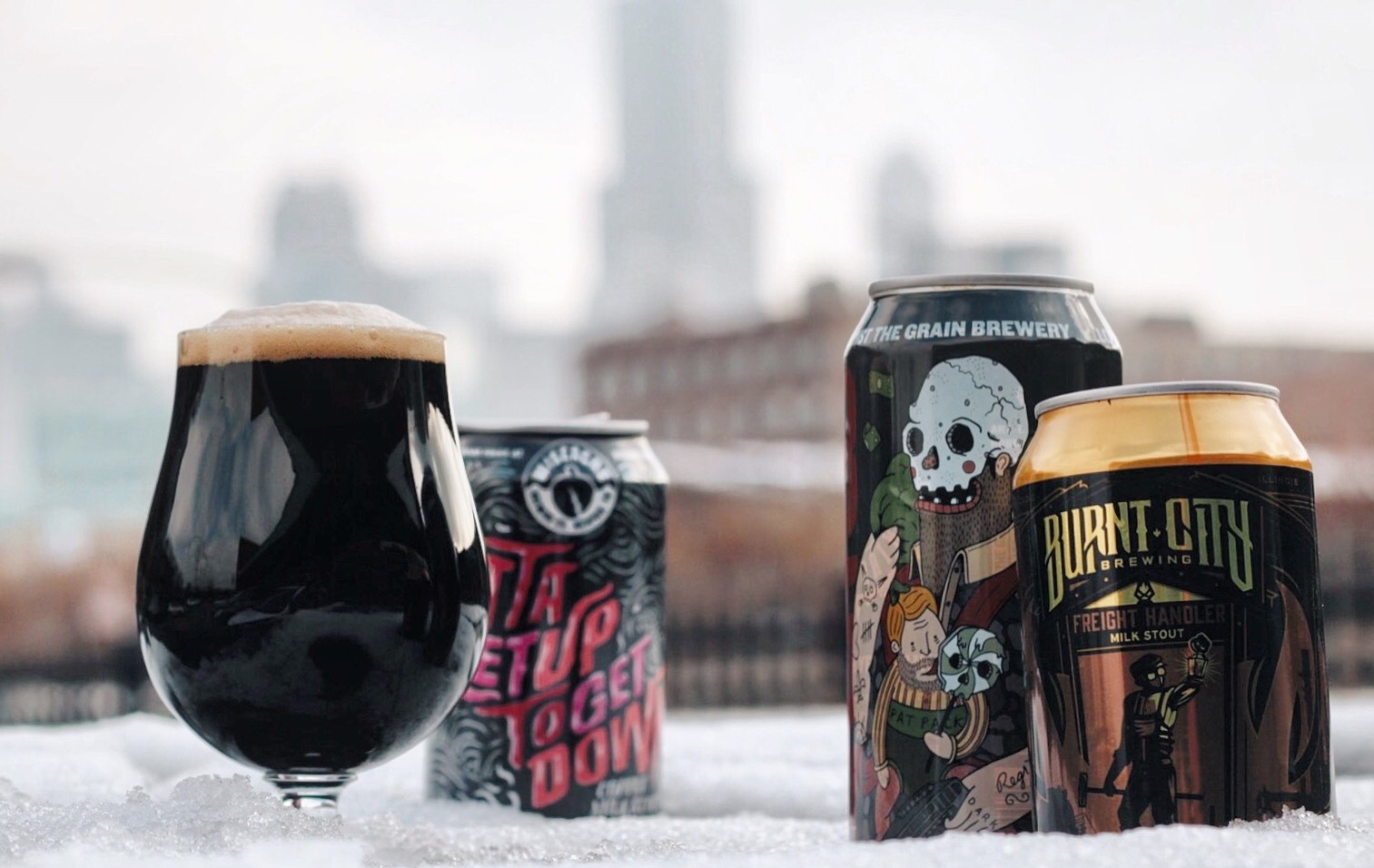 January 11th is National Milk Day and if you ask us, that calls for celebration. And how else to celebrate than with a milk stout or four? Milk stouts are made with lactose, a disaccharide sugar that is not fermented by yeast during brewing. This process is what's used to sweeten the beer; resulting in that sweet sweet milk stout goodness we love so dearly. Watch as our fearless trainer and educator, Chris Kolodziej, explains milk stouts further.
Burnt City Brewing Freight Handler, 5% ABV
Burnt City's newest seasonal offering is full-bodied and smooth, with rich chocolate flavors, complex maltiness, and a touch of subtle lactose sweetness. Plus, the cans are pretty slick.
---
Wiseacre Brewing Gotta Get Up To Get Down, 5% ABV
Magical natural process beans from the Konga region of Ethiopia lead the way in this beautiful coffee stout. This rare variety of coffee leads to aromas of sweet roastiness and flavors of blueberry pie. Lactose is added along with oats for a silky medium body and a lush finish.
---
Against The Grain 35k, 7% ABV
Dark roasted malt and bittersweet cocoa and coffee flavor and aroma burst from this pitch black milk stout. The full body and sweetness are derived from the addition of lactose. A healthy dose of Nugget and Crystal hops provides a counterpoint to this ale's rich and complex maltiness.
---
Tallgrass Brewing Buffalo Sweat, 5% ABV
Some have described its rich taste, creamy mouthfeel and sweet, lingering finish as liquid chocolate chip cookies made with espresso. Well, we agree. This beer highlights the addition of flaked oats for added body and viscosity.
---

---
Want to be notified of future Lakeshore Beverage Beer Blog posts? Sign up for the Lakeshore Beverage Email Newsletter!