Today we kickoff an exciting new collaboration with local artist and beer blogger, MC Johnsen of Worth 1000 Beers. We call it Beer Prints.
MC will be our Artist-in-Residence as she creates a new beer print each month to highlight a new-to-Chicago release on the Lakeshore Beverage portfolio. You can only get these special-edition prints through the Worth 1000 Beers Etsy store or by entering to win one on this blog.
MC's work is as unique as it is useful, as it beautifully illustrates the ingredients, aromas and flavor profiles in the beer she's featuring. Studying her prints with a pint of the featured beer is a great way to train your palate to pickup the complexities in the glass. In this month's piece, MC highlights the blend of harvest spices, like cinnamon and nutmeg with the full-bodied sweetness of Schlafly's Pumpkin Ale.
Check out her illustration and tasting notes below, then enter to win this month's print! For more of her story (including a dramatic retelling of her first ever Schlafly beer, head on over to her BLOG).

---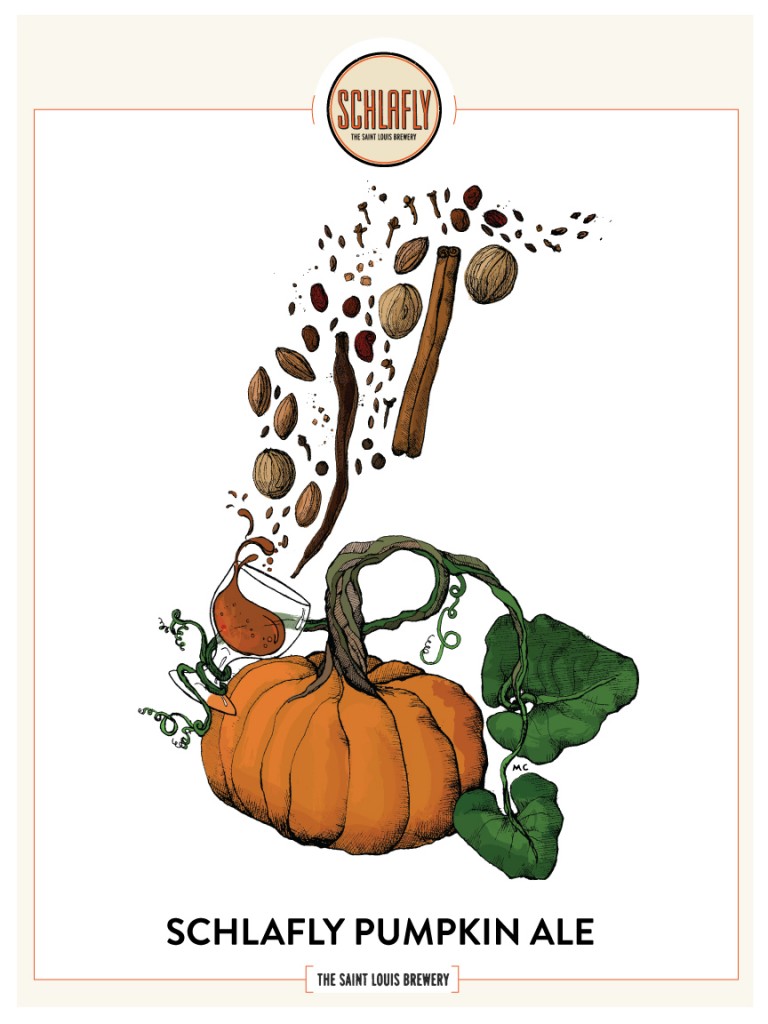 Tasting Notes: Schlafly Pumpkin Ale
Appearance: Clear, bright pumpkin skin-orange with orangey-red and copper highlights. An active head of cream-colored, bubbly foam formed when I poured the beer, and soon dissipated. A thin ring of active bubbles continues to encircle the glass, fed by active carbonation towers tumbling up from below. The head leaves a beautiful lacing down the glass as I sip.
Aroma: Brown sugar, roasted almonds, golden raisin, pie crust and cinnamon
Mouthfeel: Medium-full, effervescent, creamy, bubbly and filling
Flavor: All the makings of a pumpkin pie: cinnamon, vanilla, raisin, nutmeg, clove, malty raisin sweetness, bready pie crust hints
---
Enter To Win This Month's Beer Print From Worth 1000 Beers!

---