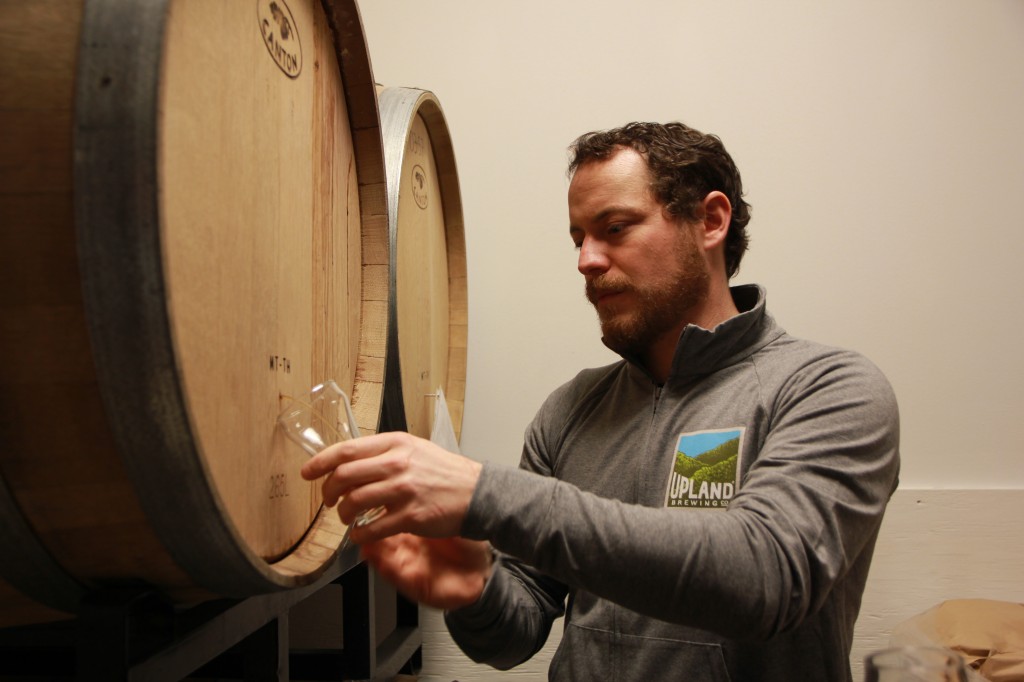 If anything bad can be said about Chicagoans, it's that we have a tendency to think of the city as the only worthwhile part of the Midwest. Beer Trips (Driveable Craft Beer Destinations) is a blog series about places that are just within our reach. These posts will put you in the passenger seat of Lakeshore Beverage's blogger and beer traveler, Matt Tanaka as he journeys to nearby craft beer destinations to see what makes them worth the trip.
In the second installment of the series, we take you on a trip to lovely Bloomington, Indiana to visit Upland Brewing Co.
The Stats:
Brewery: Upland Brewing Co.
Driving Time: 4 hours
The Journey
Perhaps the biggest myth about working in the beer industry is that  it's a job that requires a lot of late nights and a lot of sleeping until noon. In reality, the job requires lots of late nights with beer and lots of early mornings to talk about, learn about, and sell beer.
On this particular morning, a handful of Lakeshore Beverage's best and brightest have just piled into a small bus to make the four hour journey to Upland Brewing Co. in Bloomington, Indiana. Hopefully before lunchtime.
We pass the time with the 1997 science fiction classic, The Fifth Element.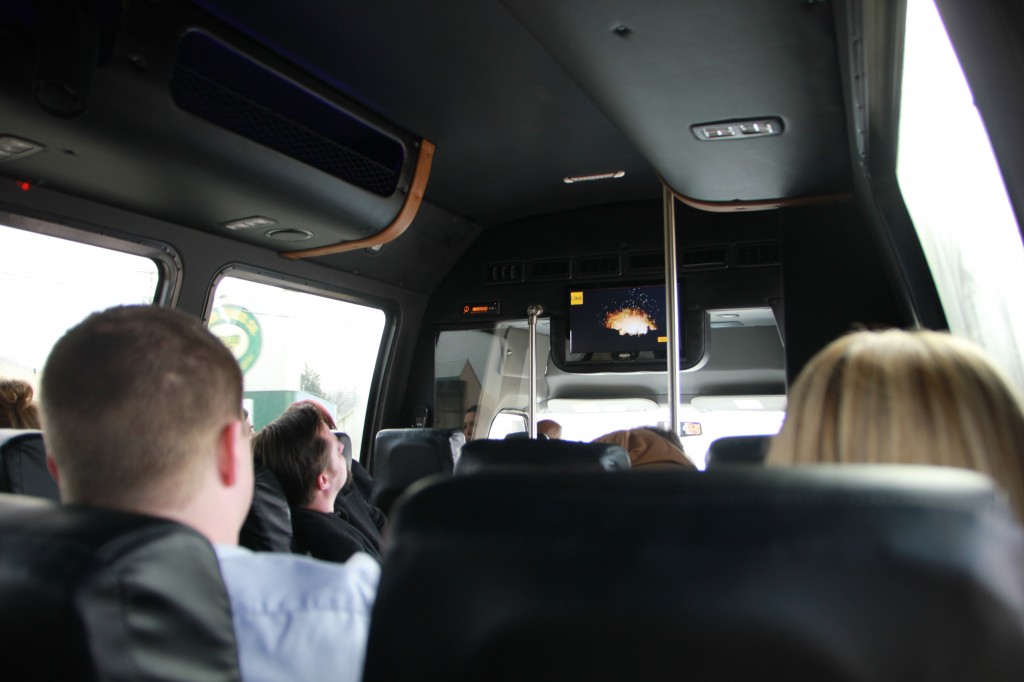 Founded in 1998 in Bloomington, Indiana, Upland Brewing Co. is nestled in the rolling hills of southern Indiana near the Norman and Crawford Uplands from which it gets its name.
Upland Brewing pays homage to the heritage of its community. A community that I've heard them describe in many different ways — "a blue city in a red state" or "the kind of town where you chop wood in one hand while reading a book in the other." In other words, Upland reflects the ideals of a town that's both traditional and innovative. They boast that it's a place where anyone can feel at home.
Upland is also quickly becoming one of the most sought after brewers of wild-fermented sour beers. So much so that they host a lottery to offer patrons the chance to purchase bottles.
We're on our way to the brewery to learn more about this sour program, as well as get a feeling for what life in Bloomington is like.
First Stop: The Brew Pub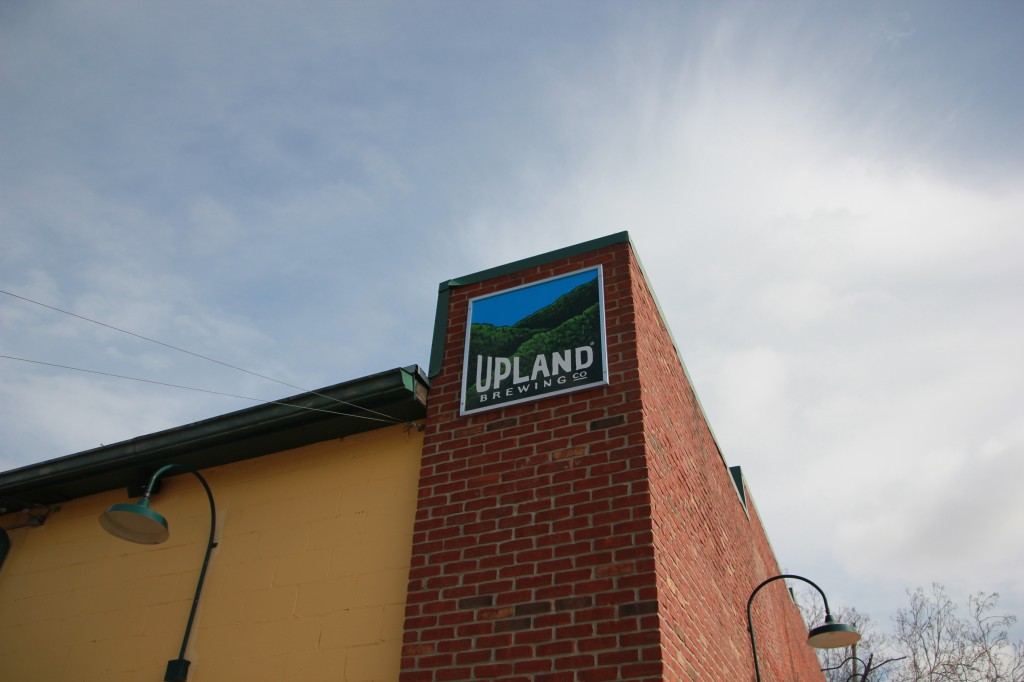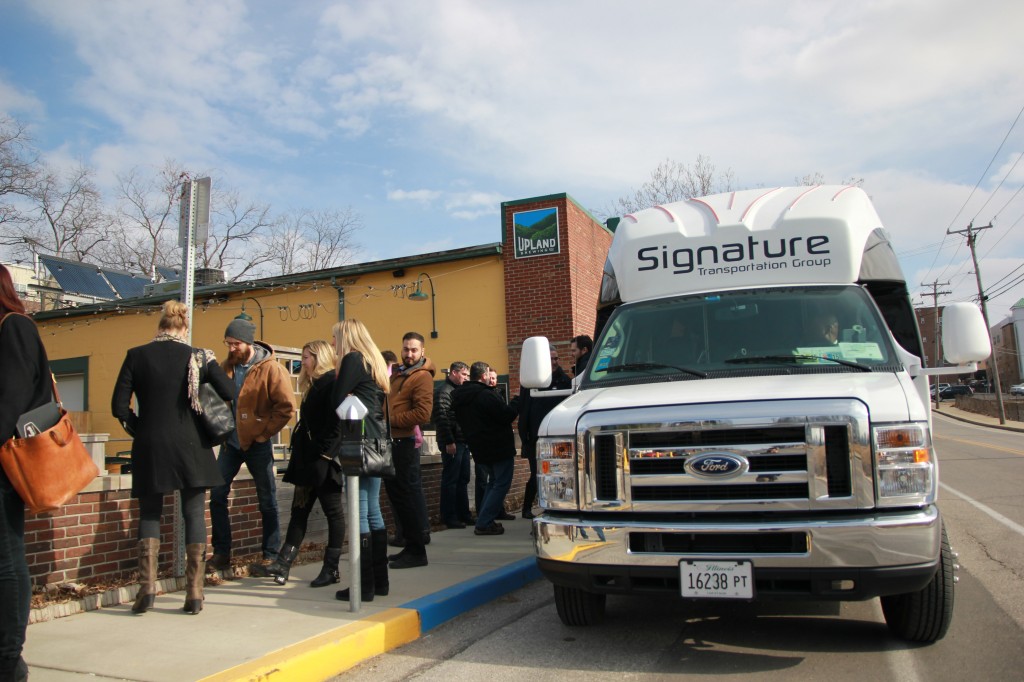 Upland Brewing has a few locations, but their original brewing space, now their brewpub (350 West 11th Street, Bloomington, IN 47404) was our first stop.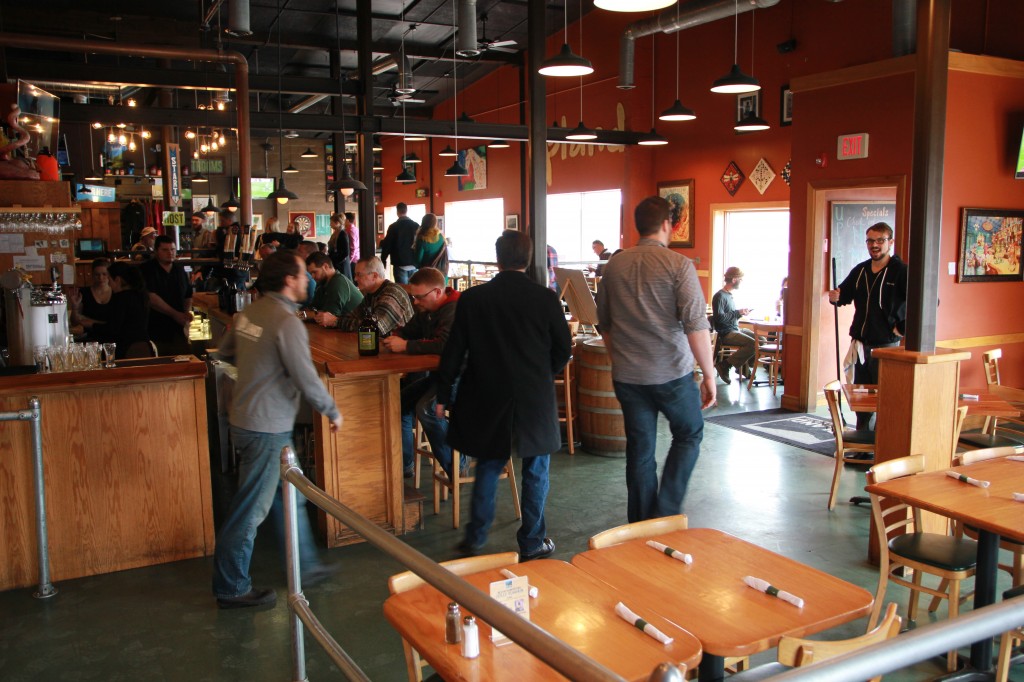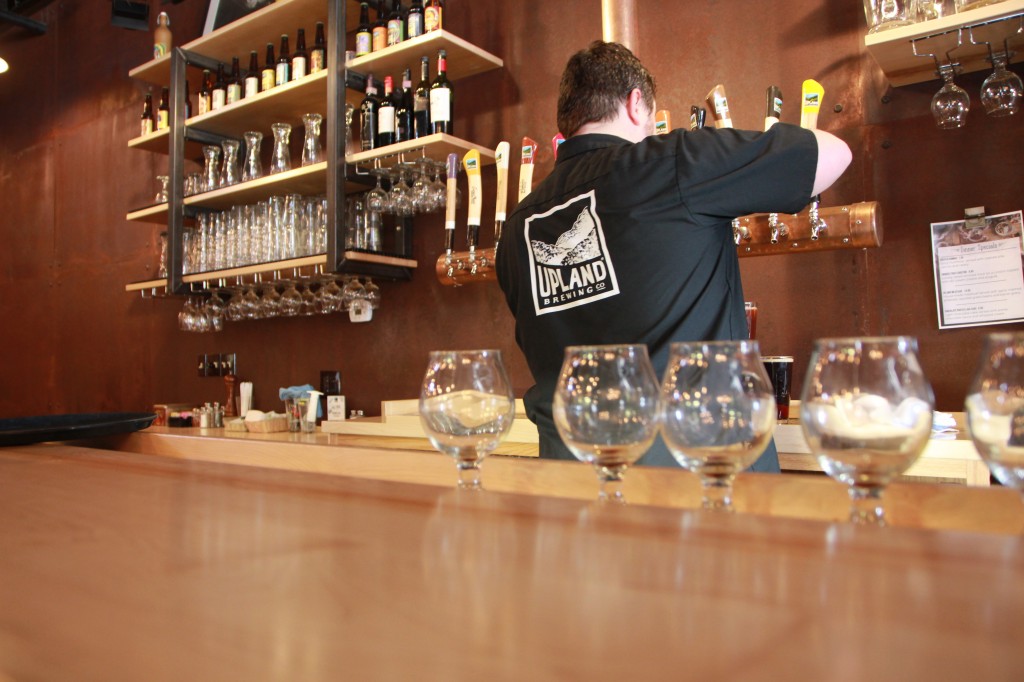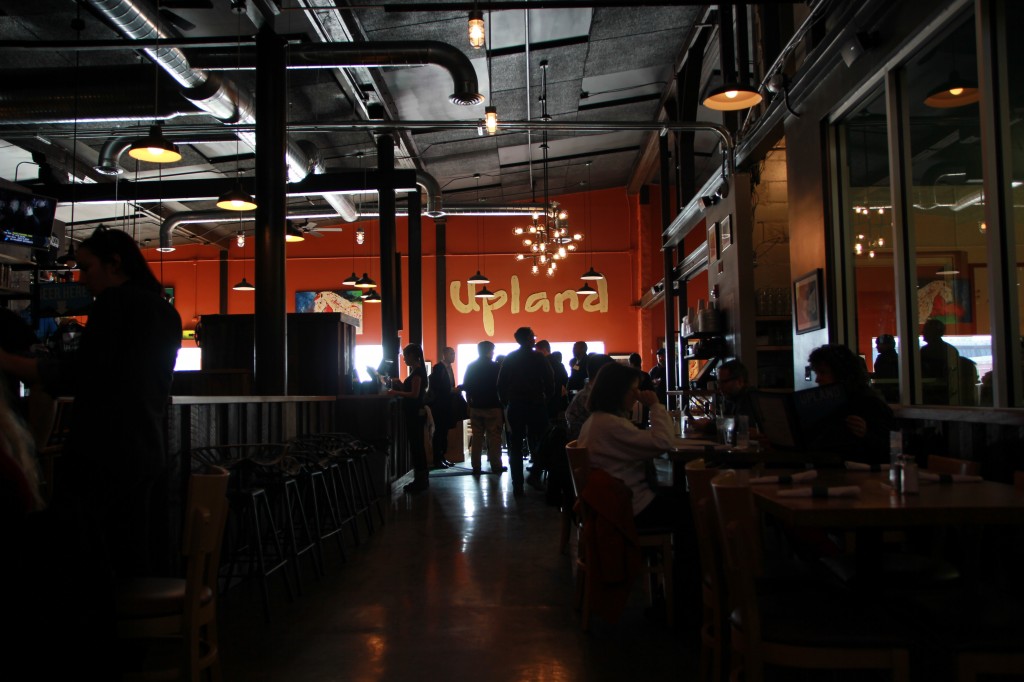 The space is so warm and inviting it was easy to forget that it was a billion degrees below zero outside. It could be the cozy decor or the art lined walls. Or maybe it was the fact that we were offered beer by no fewer than five people in no less than 30 seconds after walking in the door.
We started with some tasty bites off the brewpub menu which I will now present to you in an effort to make your mouth water.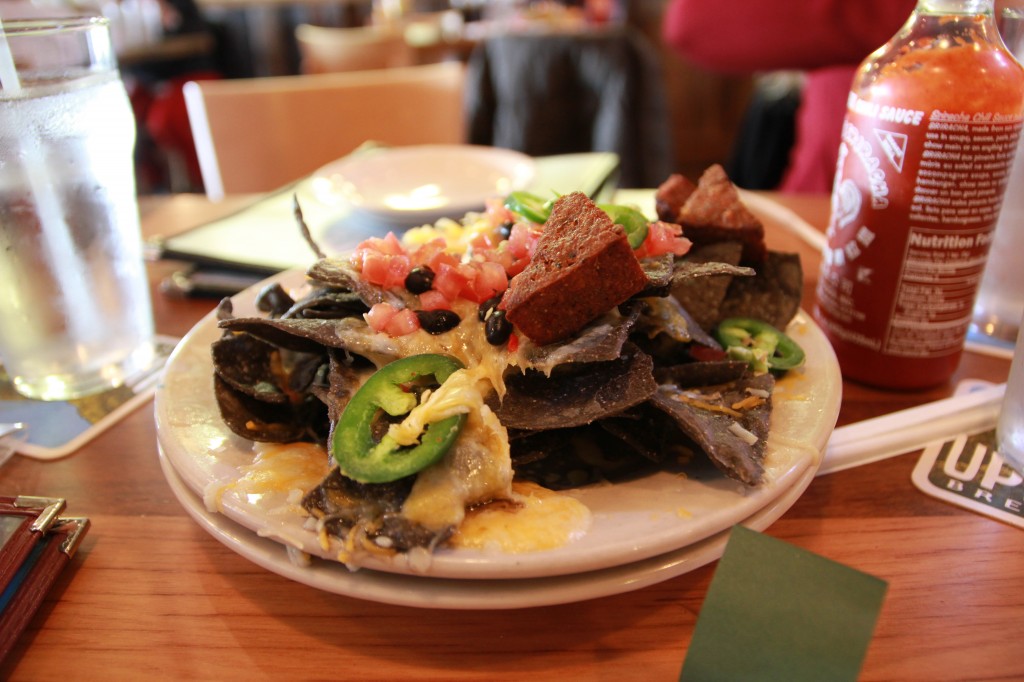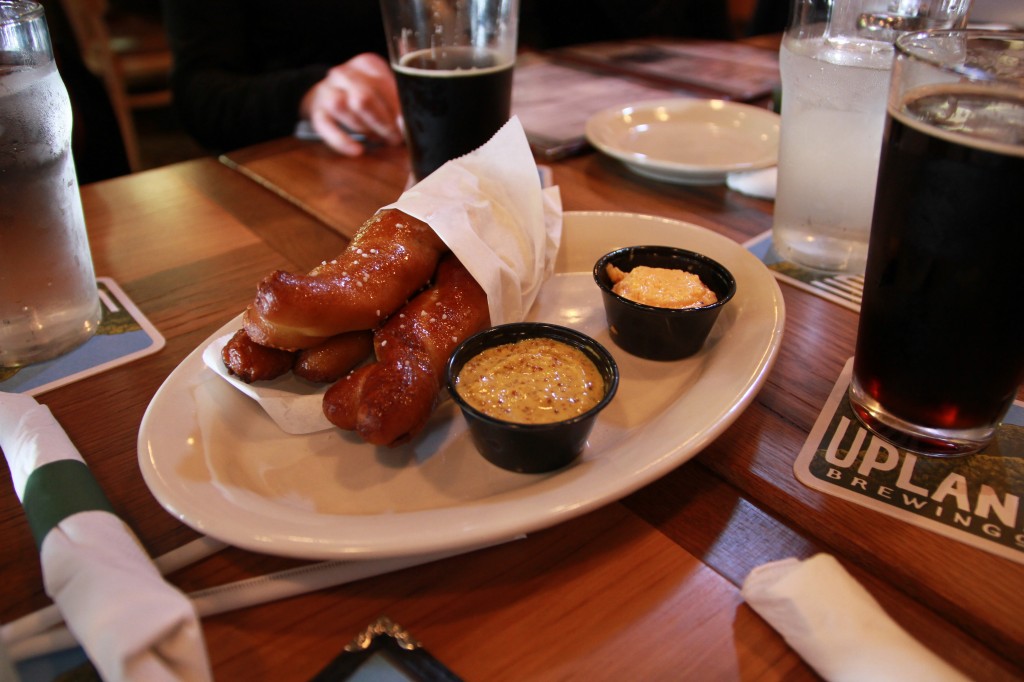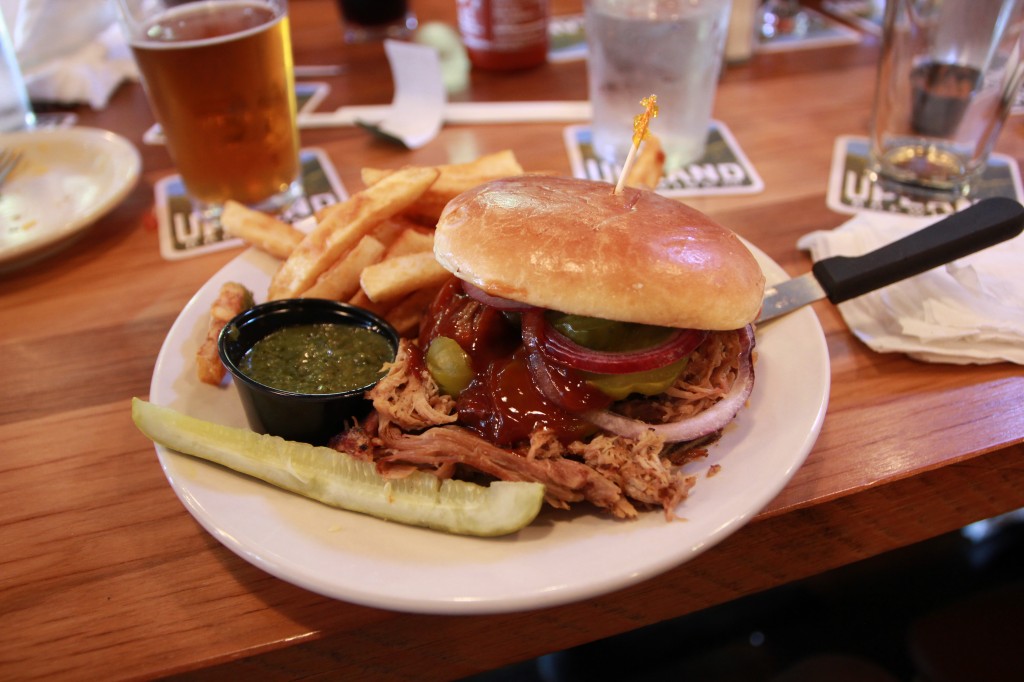 And of course, some tasty pints.
While we were sampling the brewpub's fine fare, Head Brewer Caleb Staton stopped by to give us some background on the brewery.
"We opened in 1998, I wasn't even 21 yet… There was an old printing business here at one point and they had moved out, we decided to open a brewery here. We were just the second brewery to open in Bloomington. It was named for the rolling hills in southern Indiana, we're near the Norman and Crawford Uplands. I love Bloomington because there's this sense of chopping wood in one hand when you read a book in the other. That's clearly what I do every day when I go home."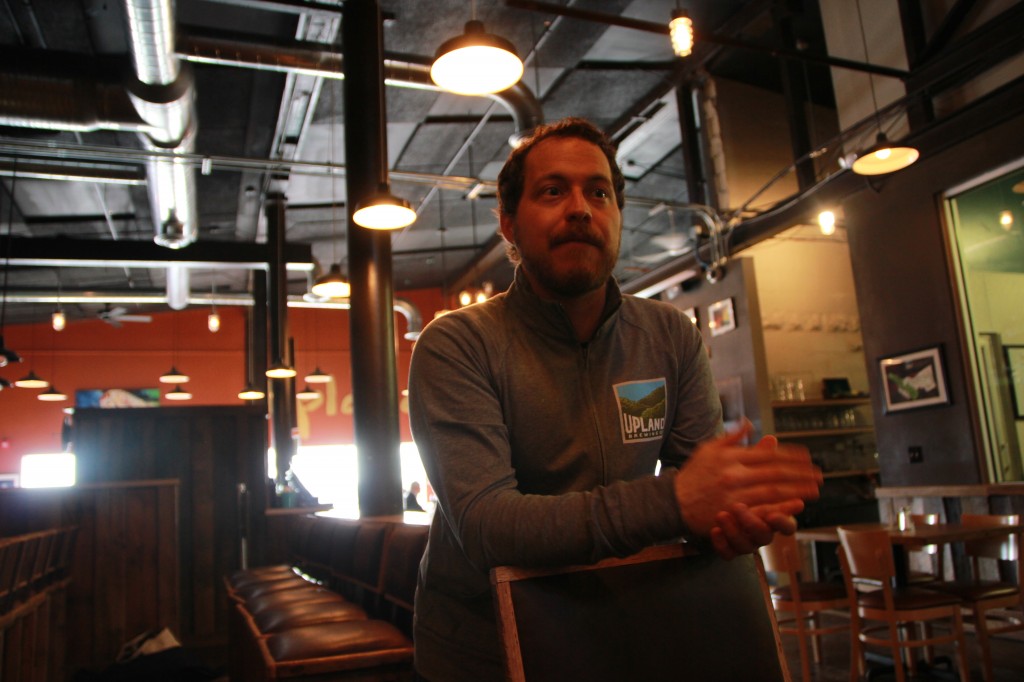 After our history lesson (and another round of beer), we were ushered into the sours brewery for a tour and tasting.
Second Stop: The Sours Brewery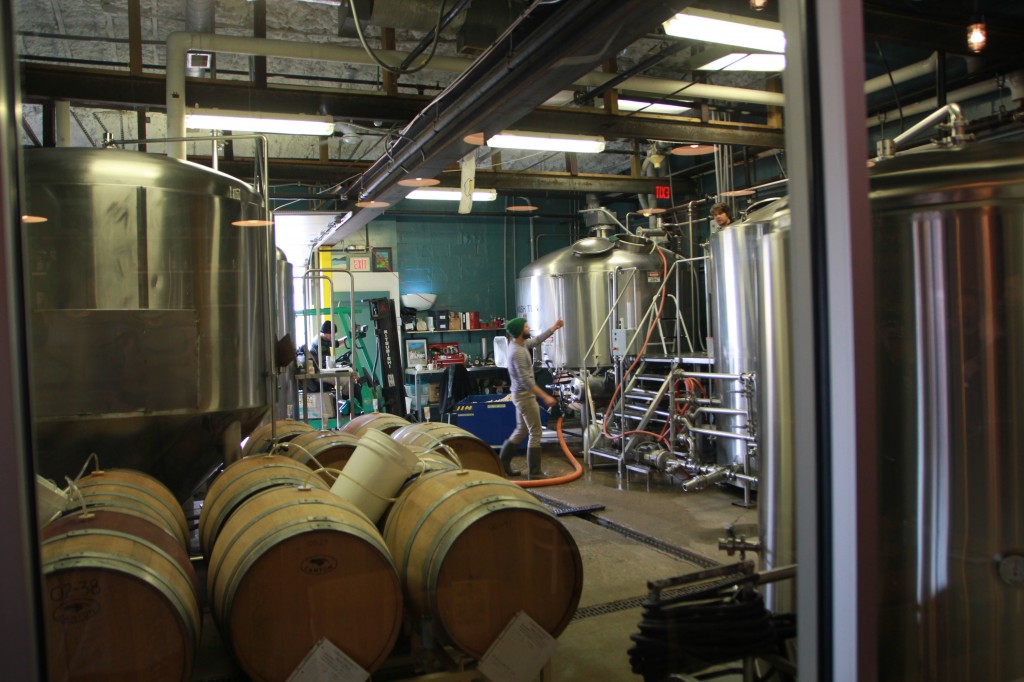 Caleb started the tour by explaining how the whole sours thing got started in the first place.
"In 2006, I reached out to Oliver Wineries about getting some of their barrels so I could do some experimentation and what grew out of that was an attempt to make a Belgian-Style lambic. Traditionally, lambics are made in wine oak barrels, so we traded them two cases of Upland beer each for four oak barrels. We brewed a batch, filled the barrels, inoculated them with yeast and bacteria, the kind of wild yeast you would find in the Senne valley region of Belgium. Then we left them alone for a year, didn't really touch them… almost forgot about them. In fact, we would have dumped them if they didn't turn out the way they did."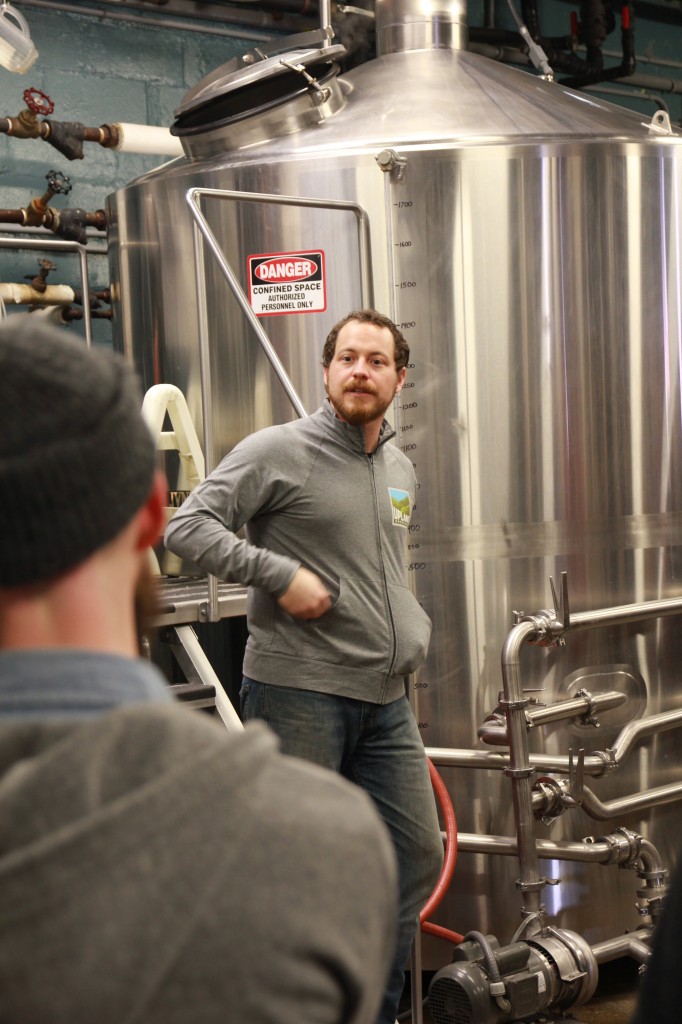 Thankfully, the experiment went well. Really well.
"When we opened the barrels the beer was sour, and to our surprise, amazing… so we ended up fruiting the barrels with raspberry, blueberry, and strawberry and when we released them, basically our doors got chopped down with people trying to get in here and buy them."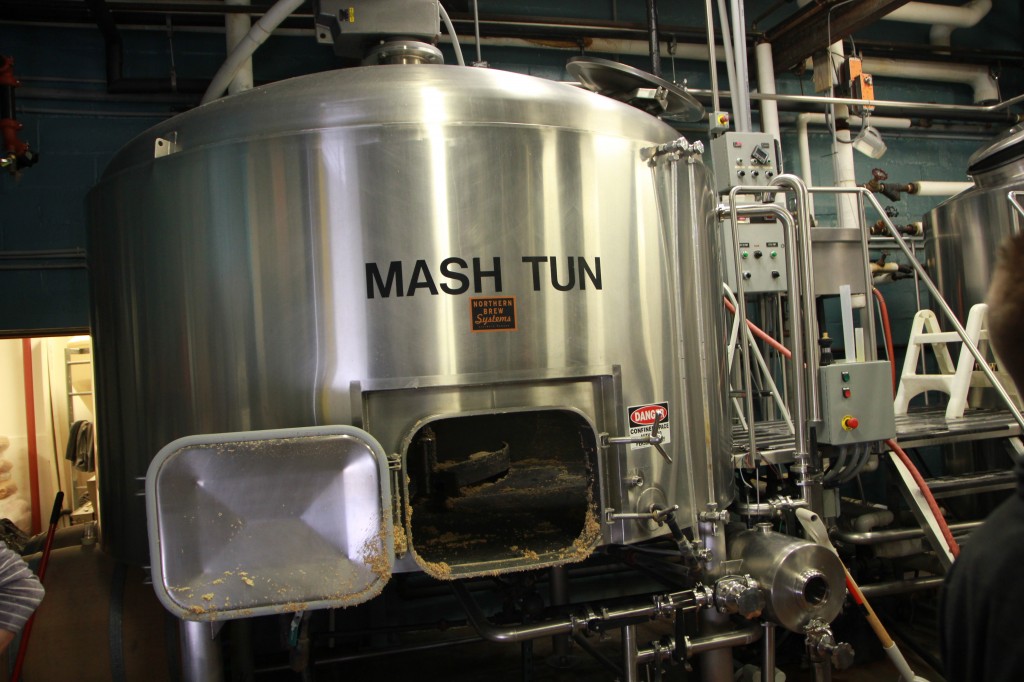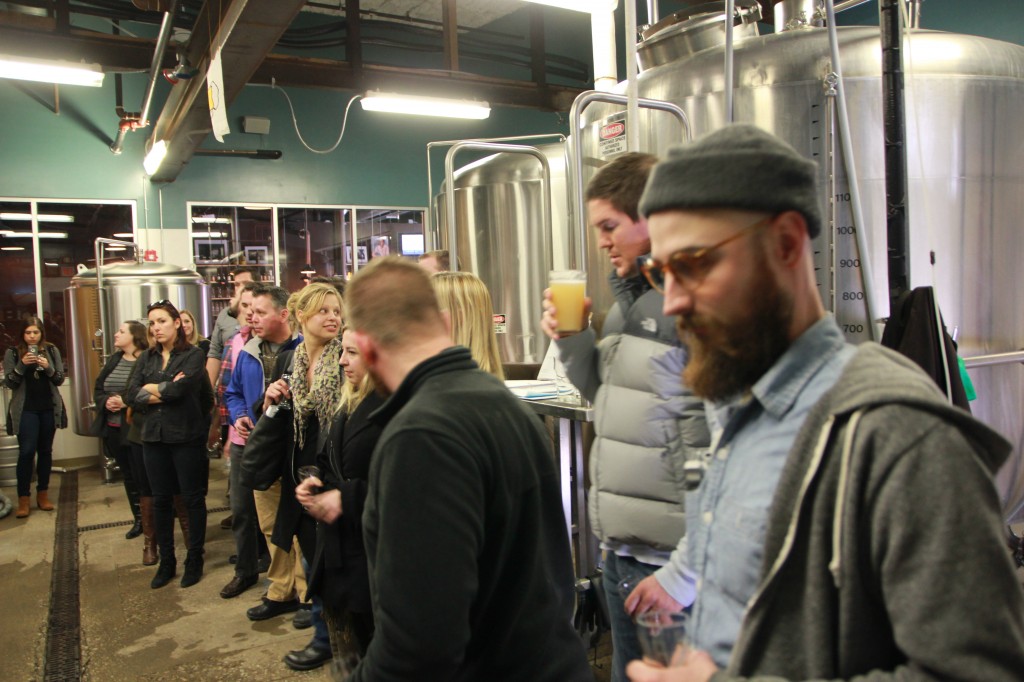 "Today our operation is still pretty modest, but we have about 300 barrels in our barrel fleet. About 75% of them are white oak barrels, we got them all from Oliver over the years, so we have a really good relationship with the large winery right up the road. The rest are bourbon barrels that we've used to make our bourbon-barrel aged beers."
Even though the sours program at Upland has grown over the years to try and meet the rabid demand, they can only produce about 200 barrels of packaged beer. Because of the low supply and high demand, Upland hosts a "sour lottery" to keep things as fair as possible and get bottles into the hands of as many of their supporters as they can. Sour-hopefuls have a week to enter the lottery and then the brewery randomly selects winners for each available bottle.
Caleb explains that the room we're standing in now was the site of their original brewery which has now moved to a new facility. The equipment here was left behind purely to brew Upland's sours. Which is pretty amazing considering that the whole program started out as a little experiment tucked away in the corner of the brewery.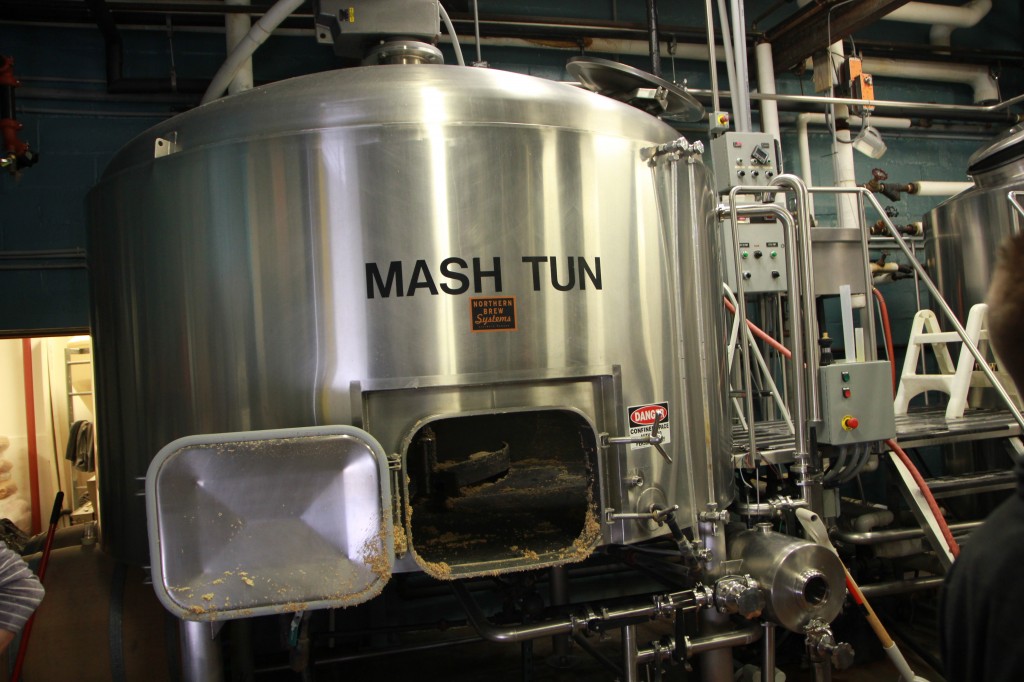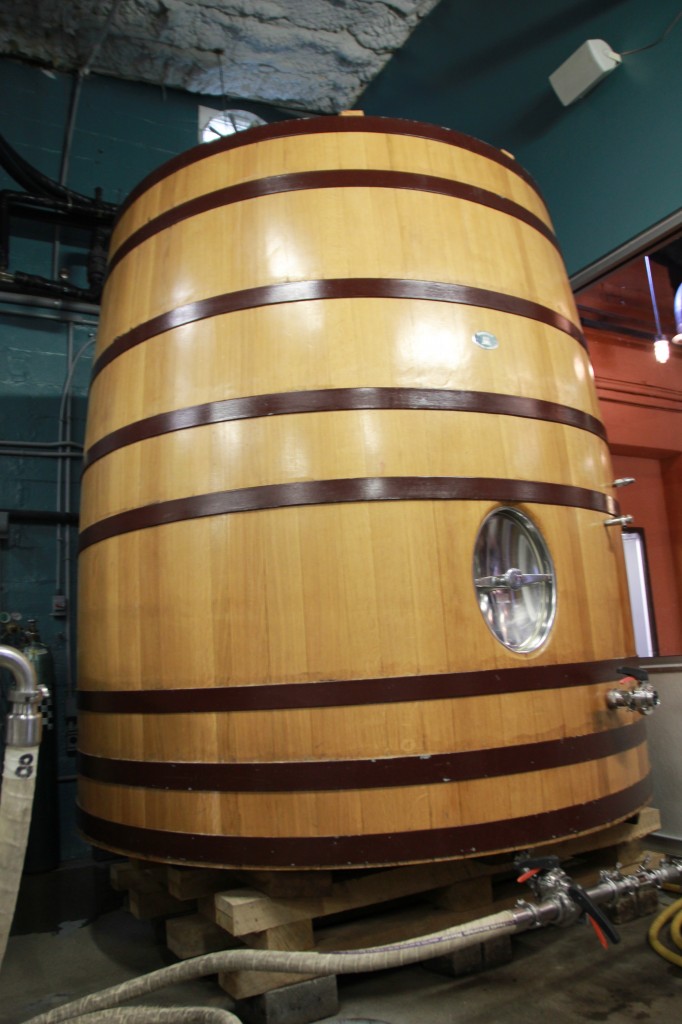 Next we all file into a tiny white washed room with a small stack of barrels pushed up against one of the walls.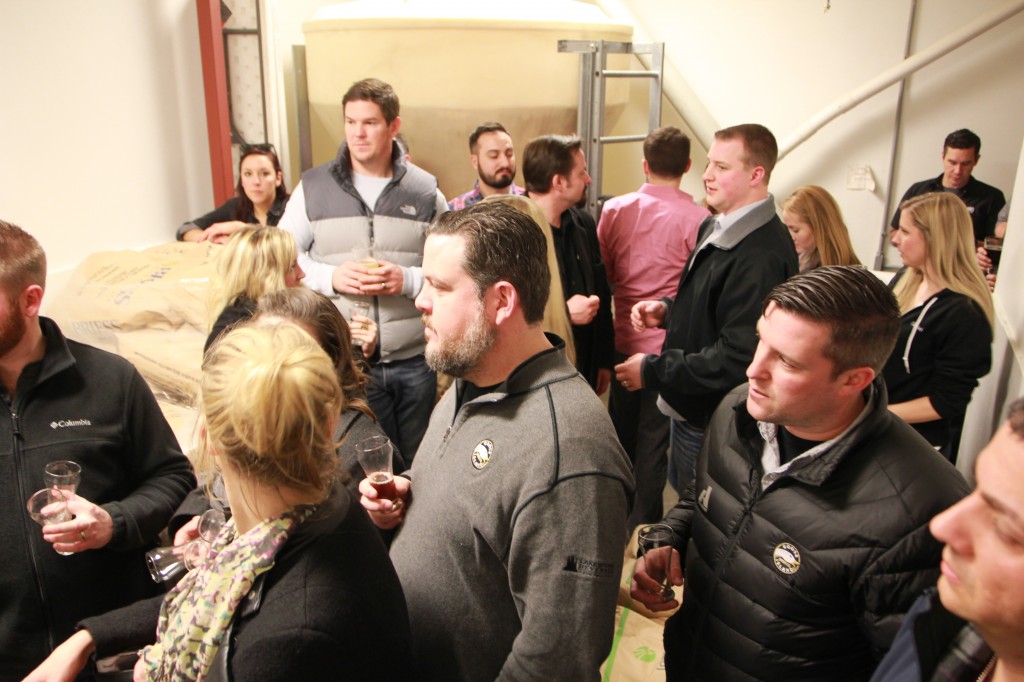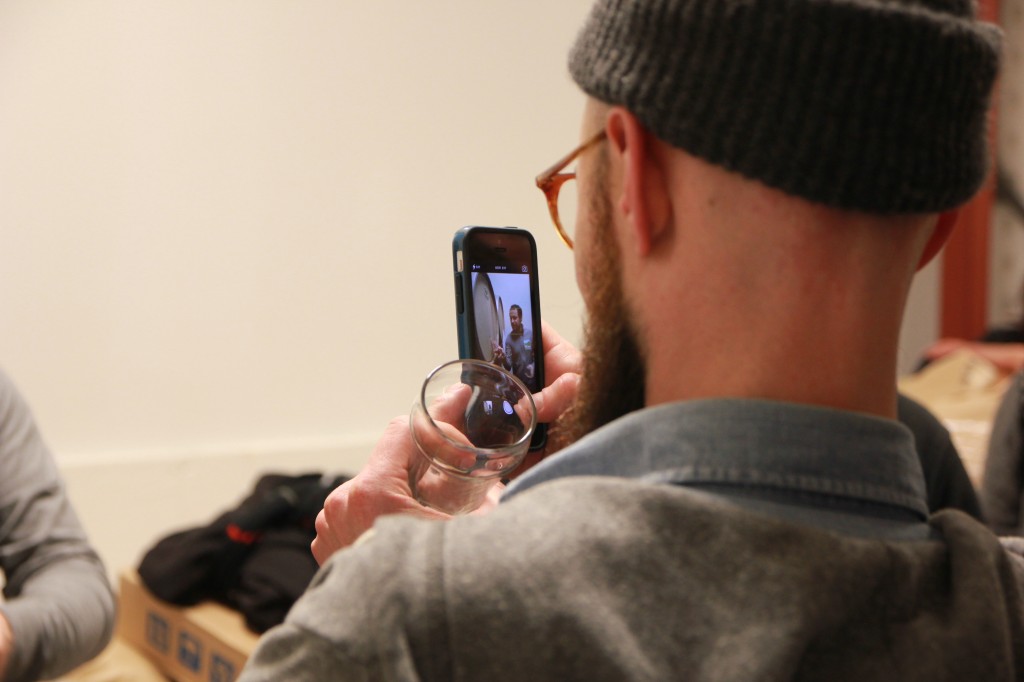 Caleb explains what we're looking at.
"The barrels that we have in here all have fruit in them. The ones you walked past on the way in are all kiwi, and these are all cherry. Each barrel has about 225 pounds of fresh fruit in them. Because of the fruit, we lose a lot of this beer throughout the process. We add about 3.5lbs per gallon for these beers. The barrels hold about 70 gallons, but we only get about 20 cases of beer out of each one of them… which isn't very much."
He picks up a tasting glass, pulls a small nail out of one of the barrels and starts drawing samples for each of us. He snickers when someone asks what he's doing and tells us he learned it from the guys up at Russian River. He then describes the beer we're about to taste.
"So this is a small beer that we developed last year. Are you guys familiar with small beers? It's a beer made from the second runnings of another batch. It's about a 3.5% ABV beer, real small. The original batch was Dantalion, which we released last year in small amounts as Viola. It's been aged in here for several months, and then we pulled it out and aged it on violas, so this year I am going to do orchids, and age them on orchids. This beer is petitely sour with a little caramel character."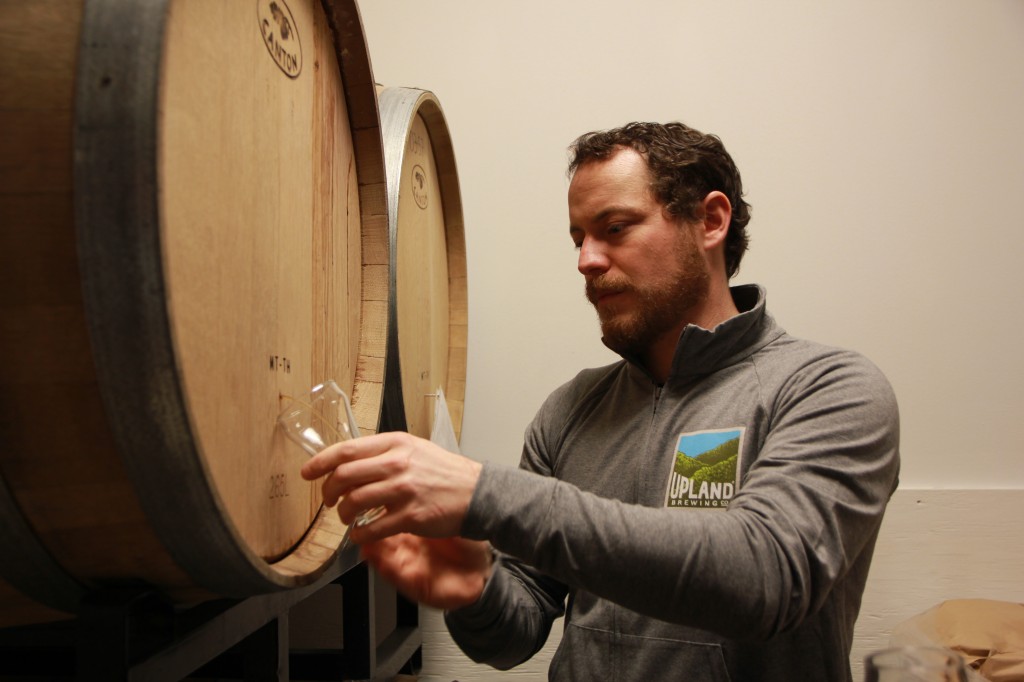 Upland brews three basic sour beers and then fruit or blends them in different ways to create unique flavors each time. There's a base lambic beer, which is a blonde sour ale, Dantalion, which is more of an Oud Bruin style, and Malefactor which is aged in bourbon barrels.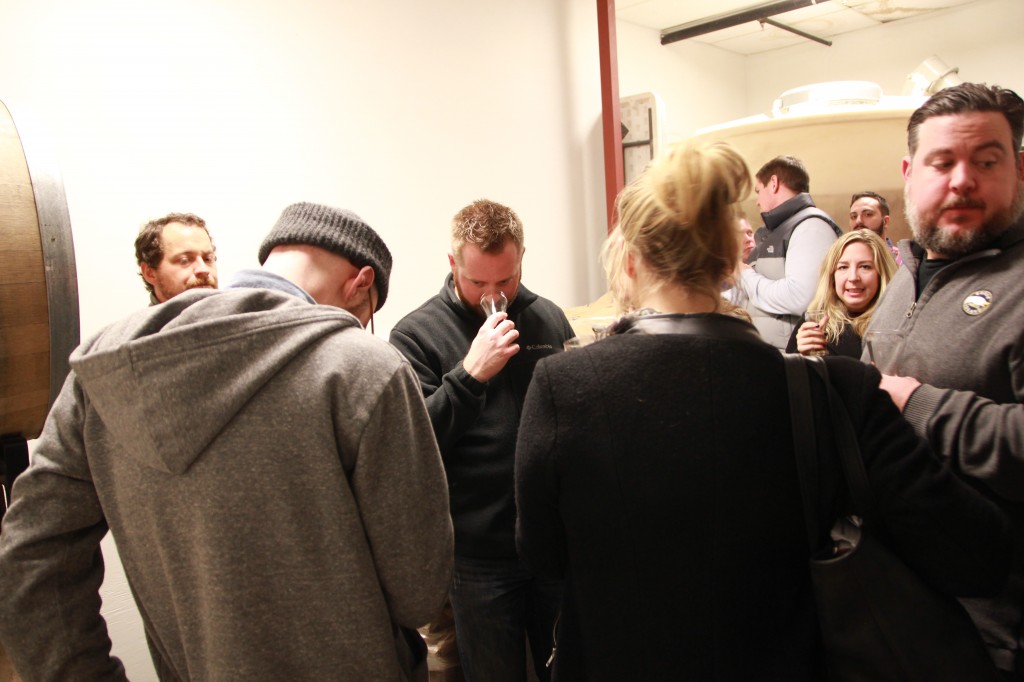 Third Stop: The Secret Barrel Warehouse
The group files outside, walks across a small parking lot and comes to the barrel warehouse.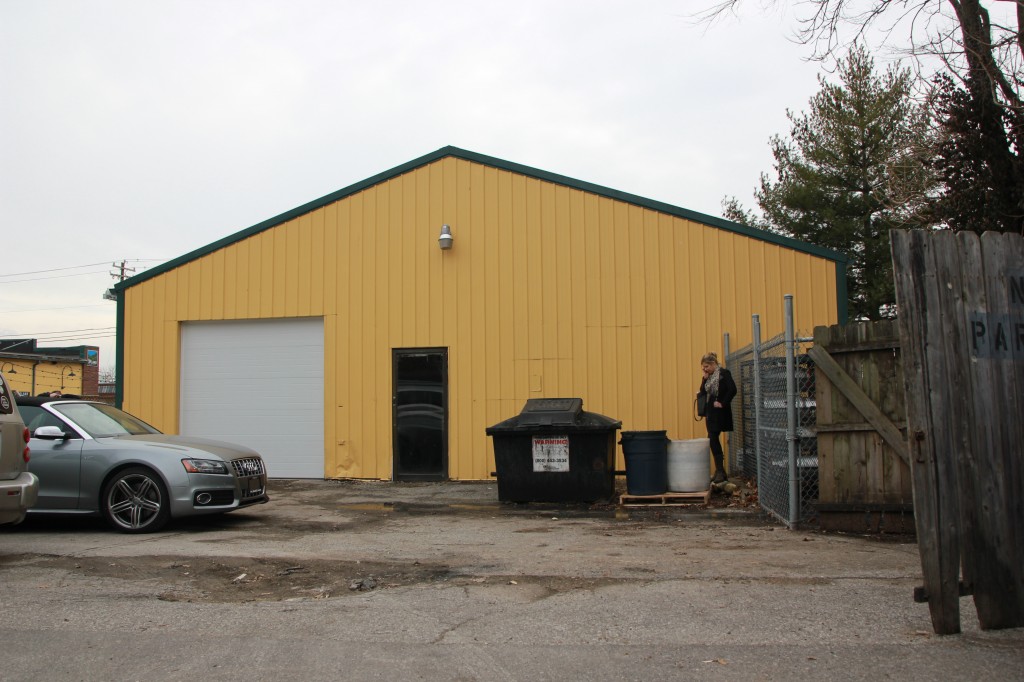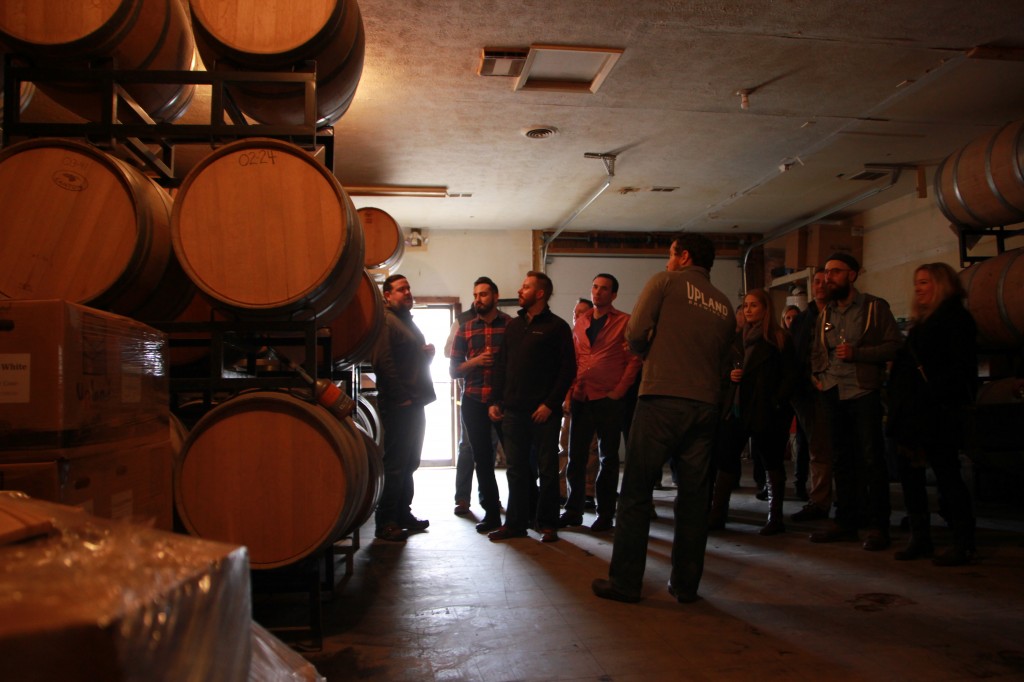 The barrel warehouse is really more of a large shed… and it houses all of the sour beer that's currently in process.
"About half of what's in here was barreled within the last 6 months, half is older. We have a stack back here that range in age from 2008-2010, that's some of our oldest stuff. All those barrels have largely evaporated at this point. And we use that to blend in to make our Sour Reserve. We use beer that is at least a year old and some that, kinda, to make it more palatable, and add a lot of layers and complexity."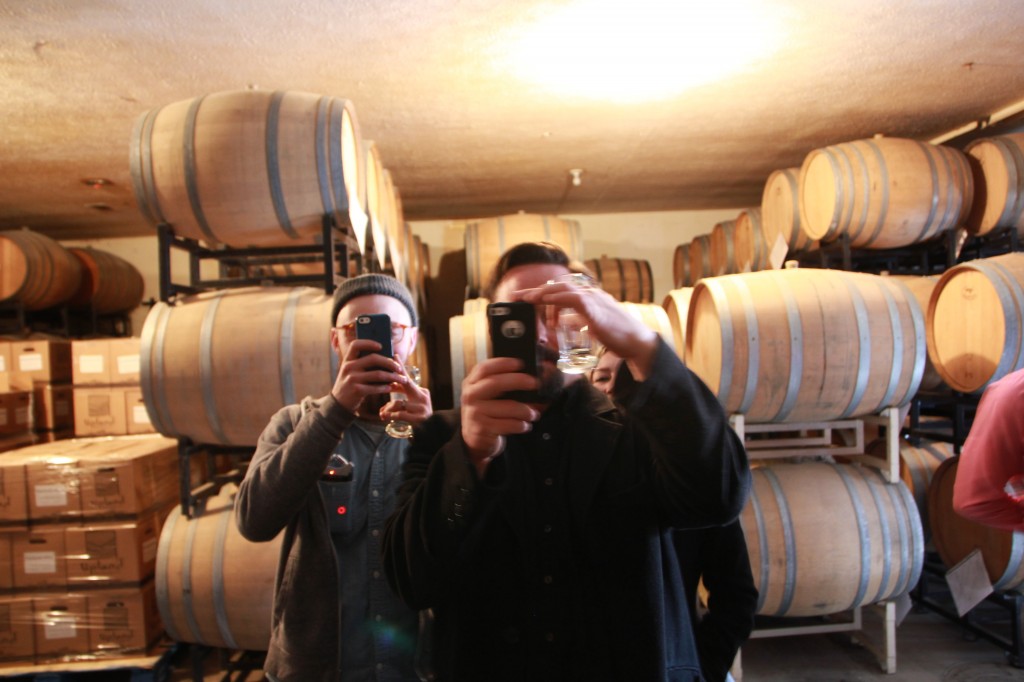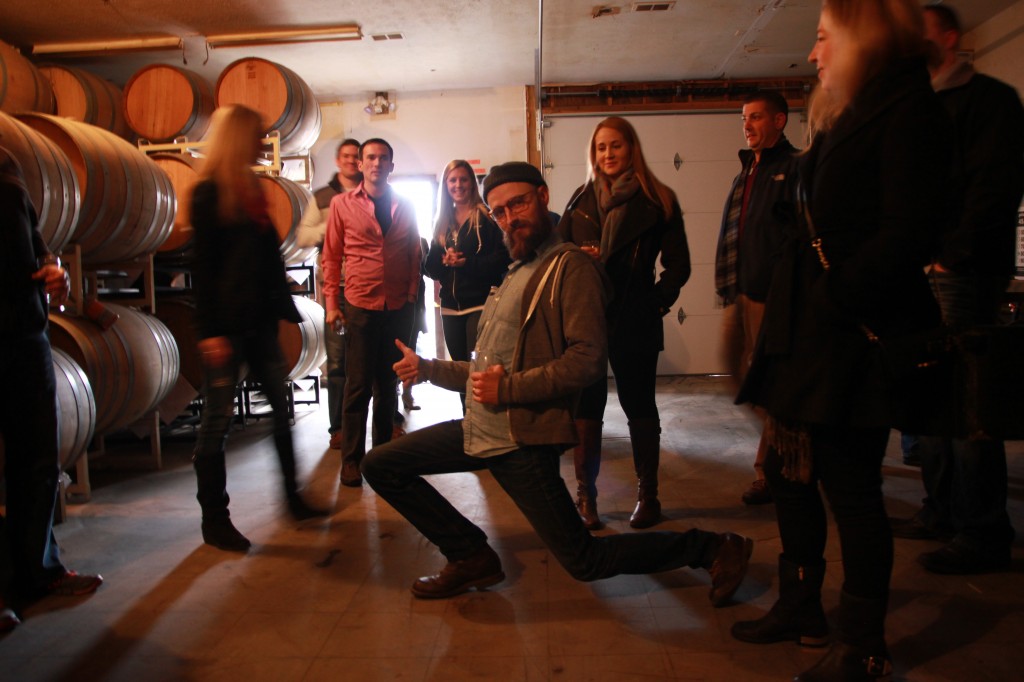 Someone asks Caleb what the youngest beer they have is.
"I think around six months, from start to finish. Most sours that we do have 15 months, from start to bottling. Malefactor can be done in a year. So quite a bit of variety."
We then taste Dantalion, which is described to us as "kind of the papa of the small beer we tried earlier."
I have to confess, from this point this author looses track of what we're tasting. Caleb pulls samples from barrels all over the room. We taste different variants of Malefactor and Dantalion and a Peach Lambic that quite literally changed my life. It's just one of those experiences that you have to well, experience.



The space was pretty tight but that was no match for our famous Lakeshore Beverage team work.

Then, with our bellies full of tasty sours, we pack up and head for the production brewery.
Fourth Stop: The Production Brewery

Upland's production brewery is about as different from the sours brewery as you can get. For one, it's massive. Giant rooms give way to giant rooms. There's more than 37,000 square feet of space in here. Which, for comparison's sake, is approximately five million Andre The Giant's laid end to end.
Or, something like that.
Upland's team of about 15 brewers produce somewhere in the ballpark of 15,000 barrels here… and there's clearly room for growth.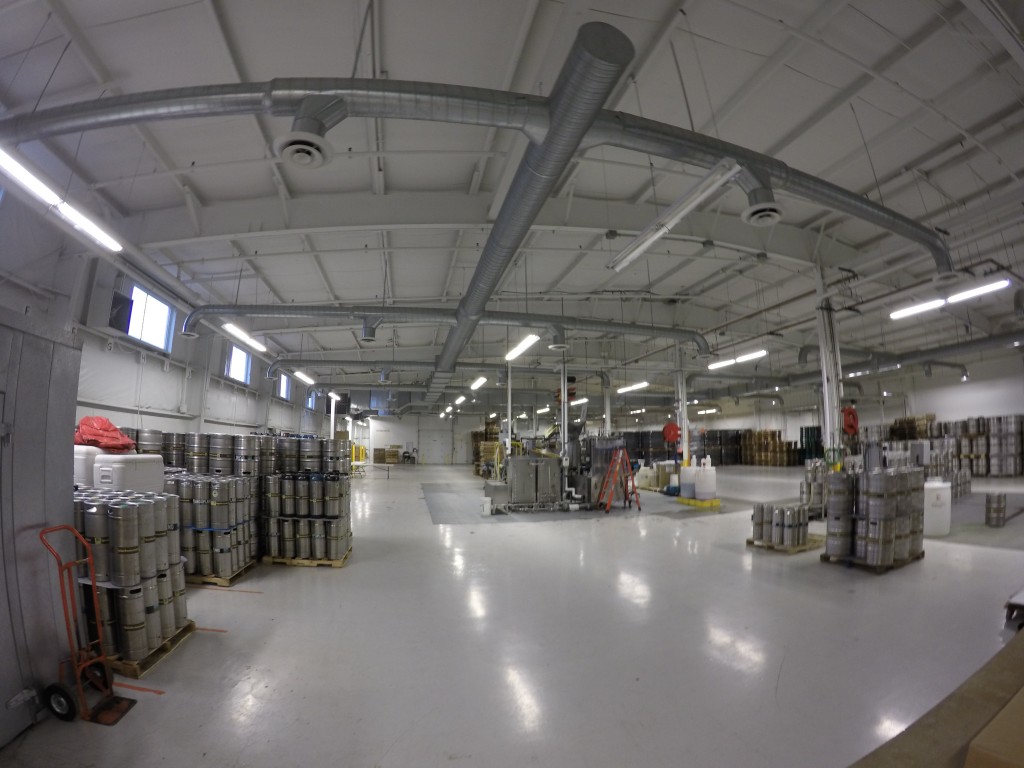 It's also pristine, sterile and controlled. Which is what you want when your goal is to create excellent, consistent beer at a large scale. The brewery's equipment is far more sophisticated than the wooden barrels with nails in them that we saw earlier.
Upland's lead brewer, Patrick Lynch gives us a tour.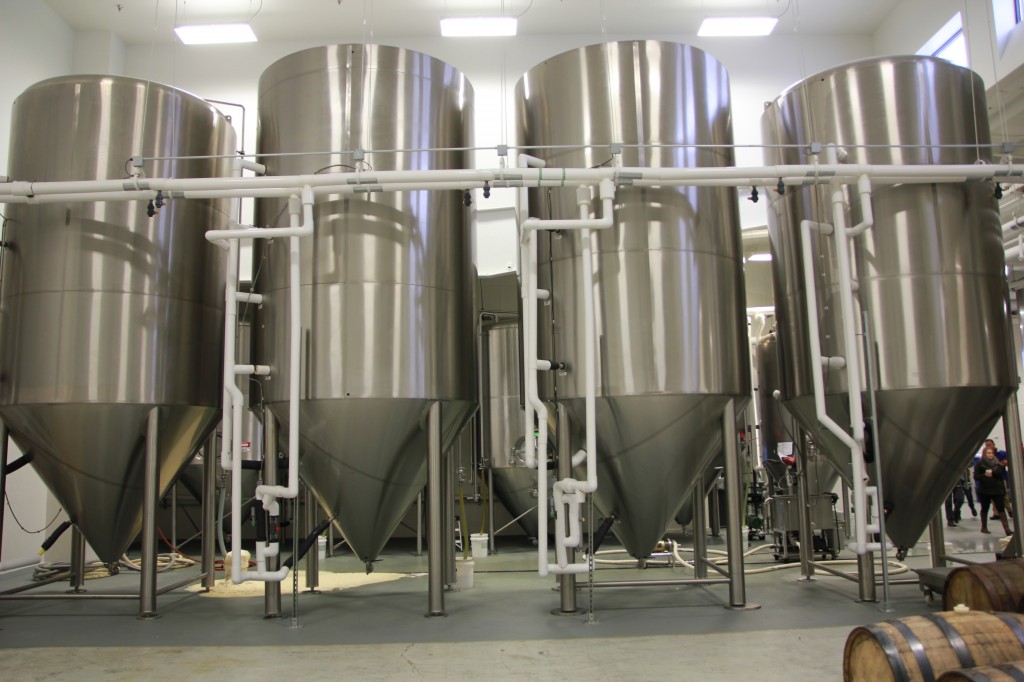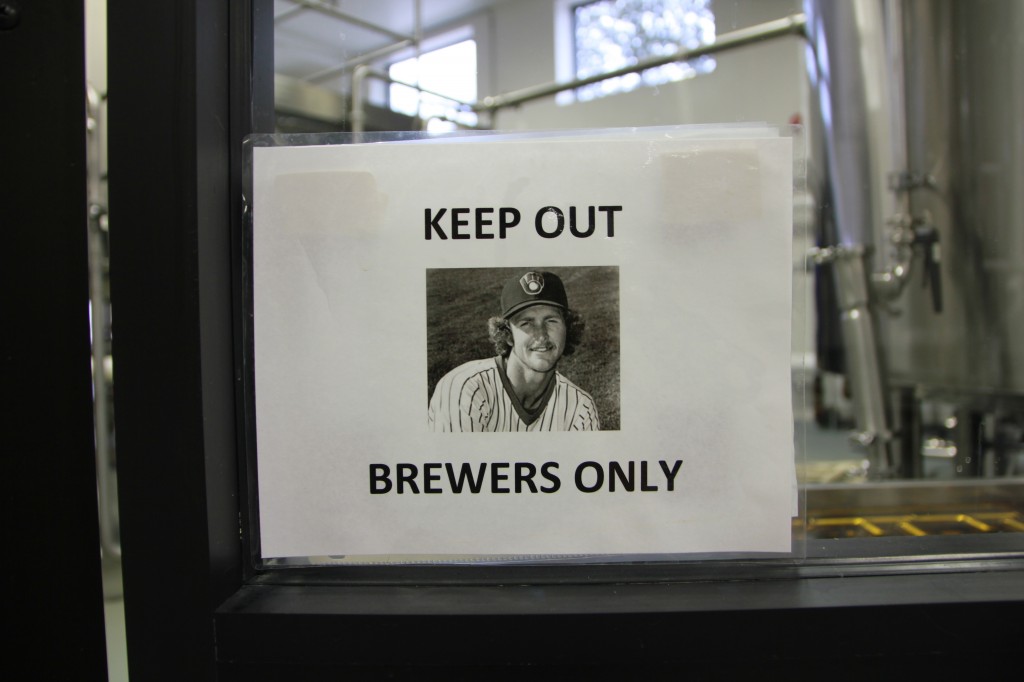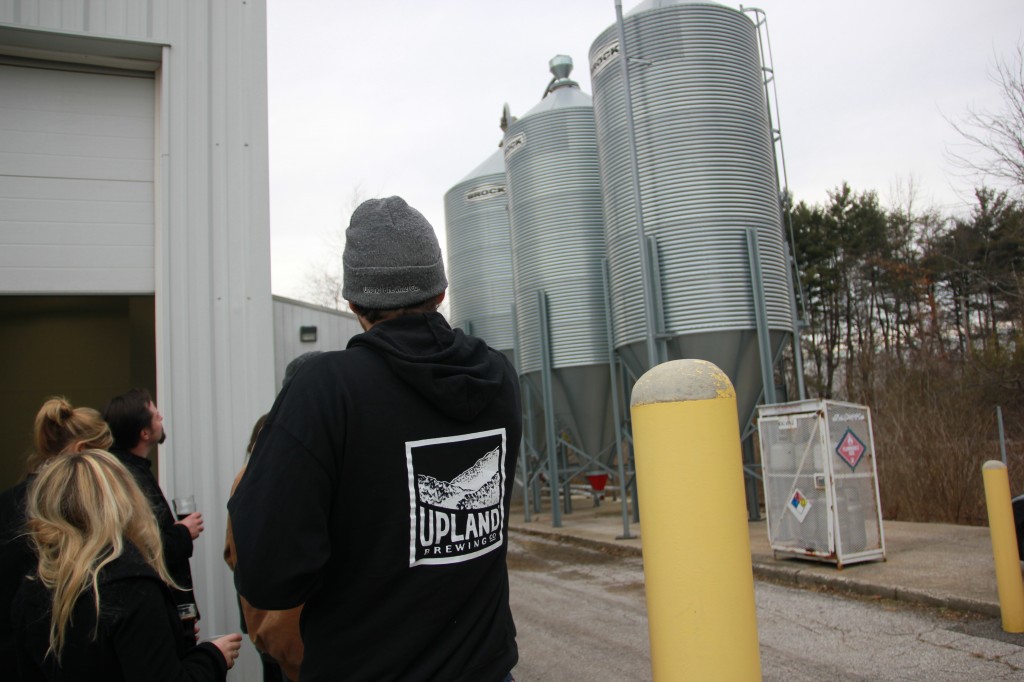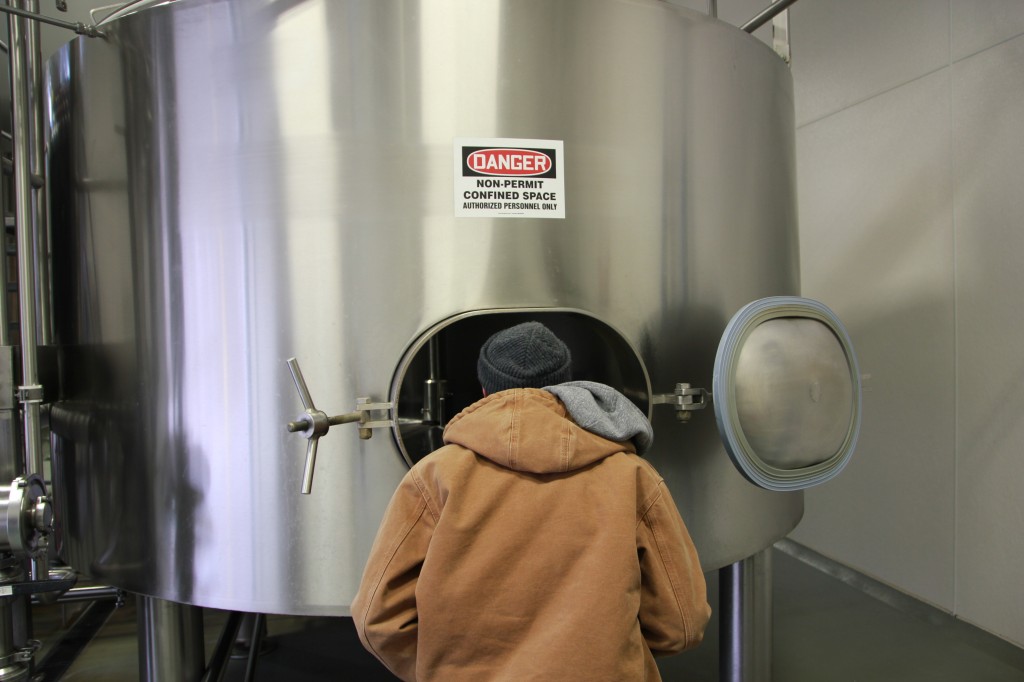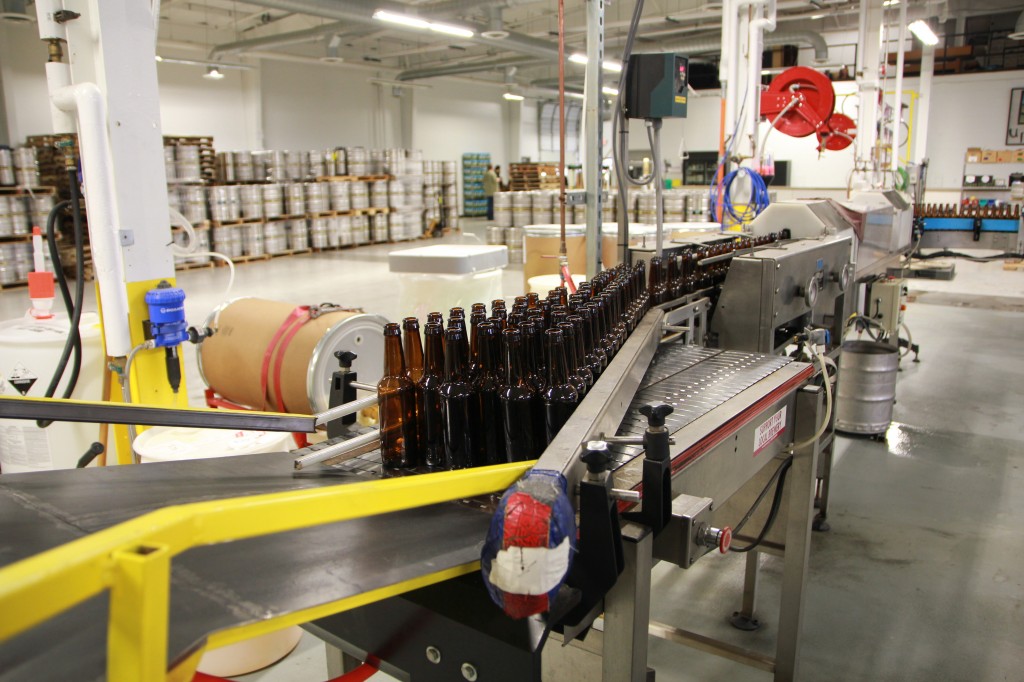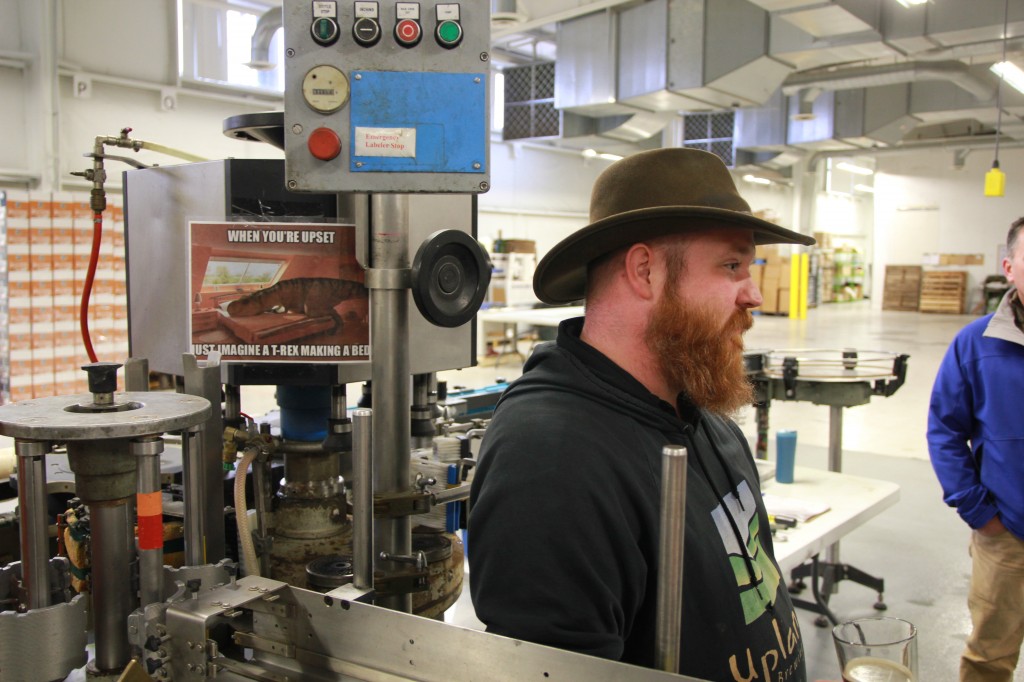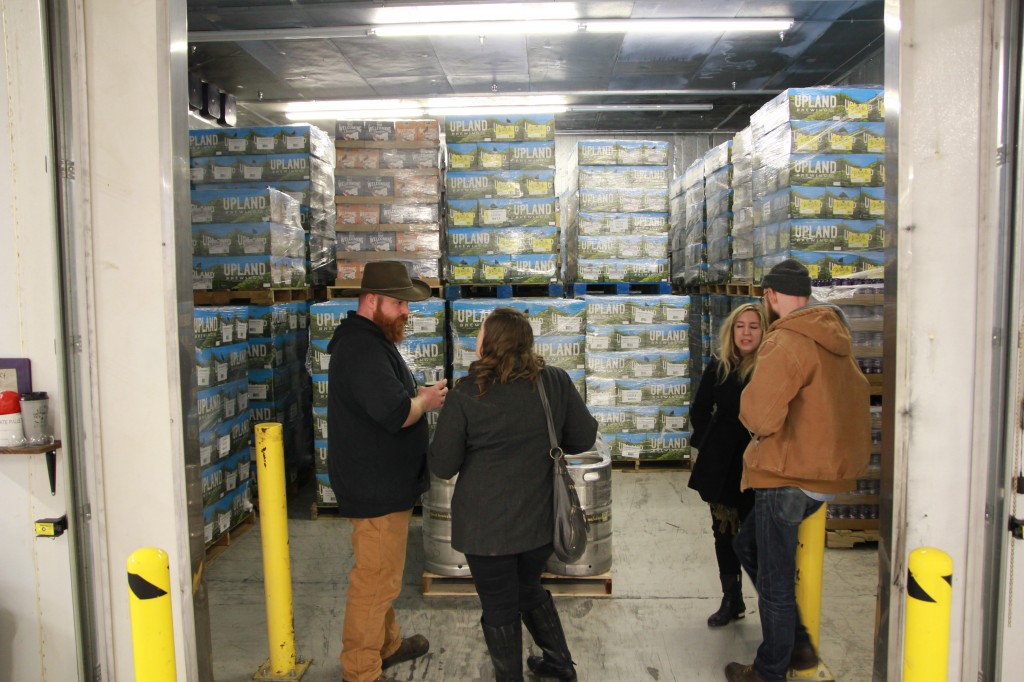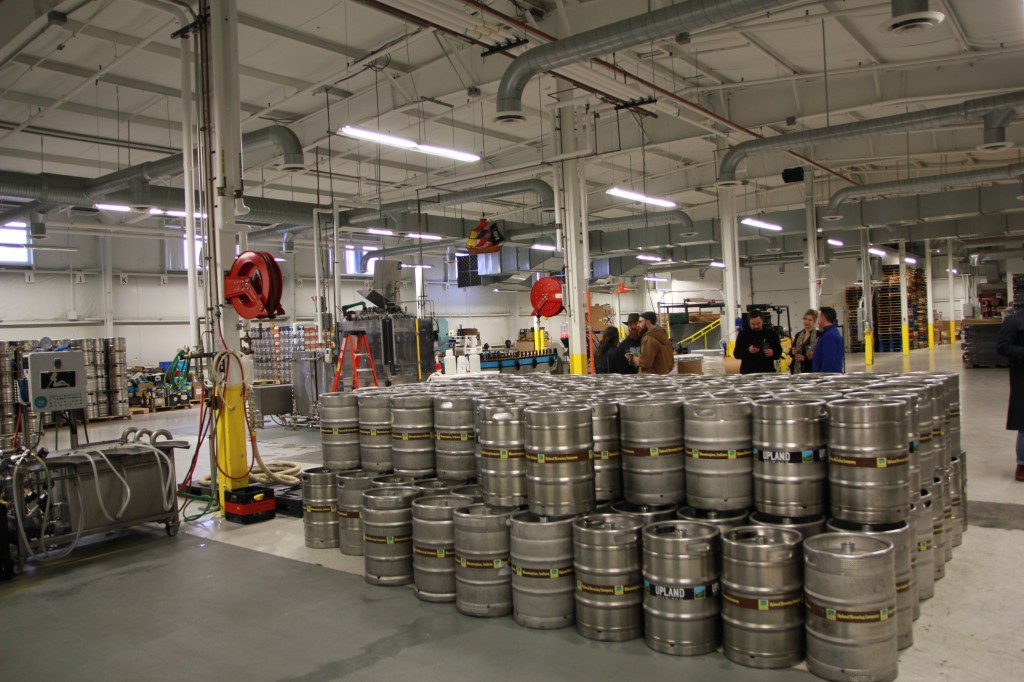 The Return Journey
Before we know it, it's time for goodbye beers.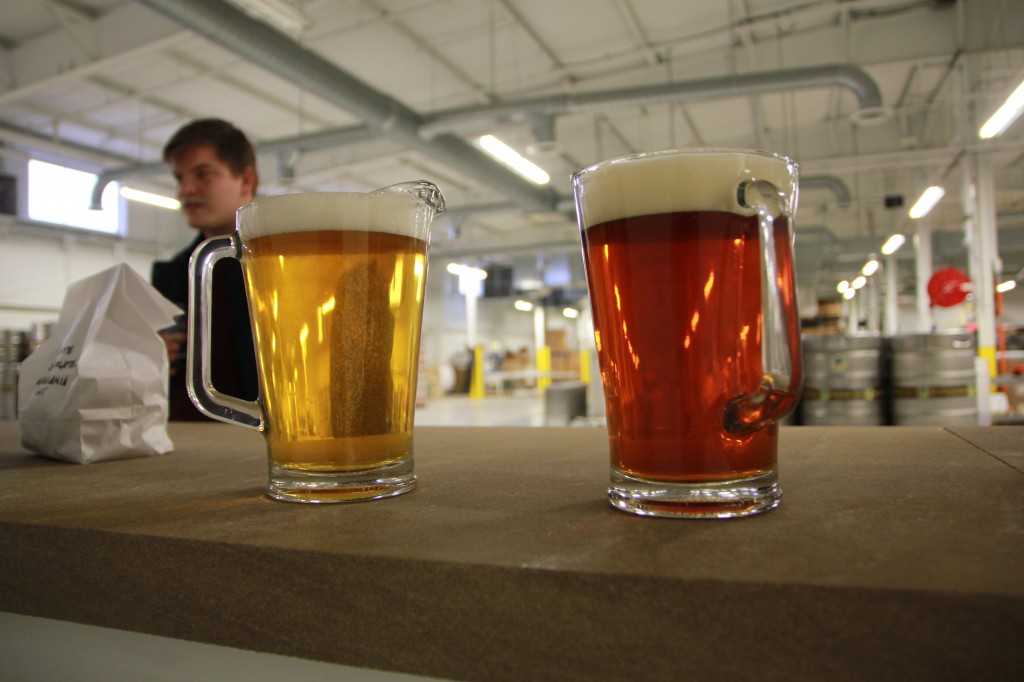 And a quick goodbye photo.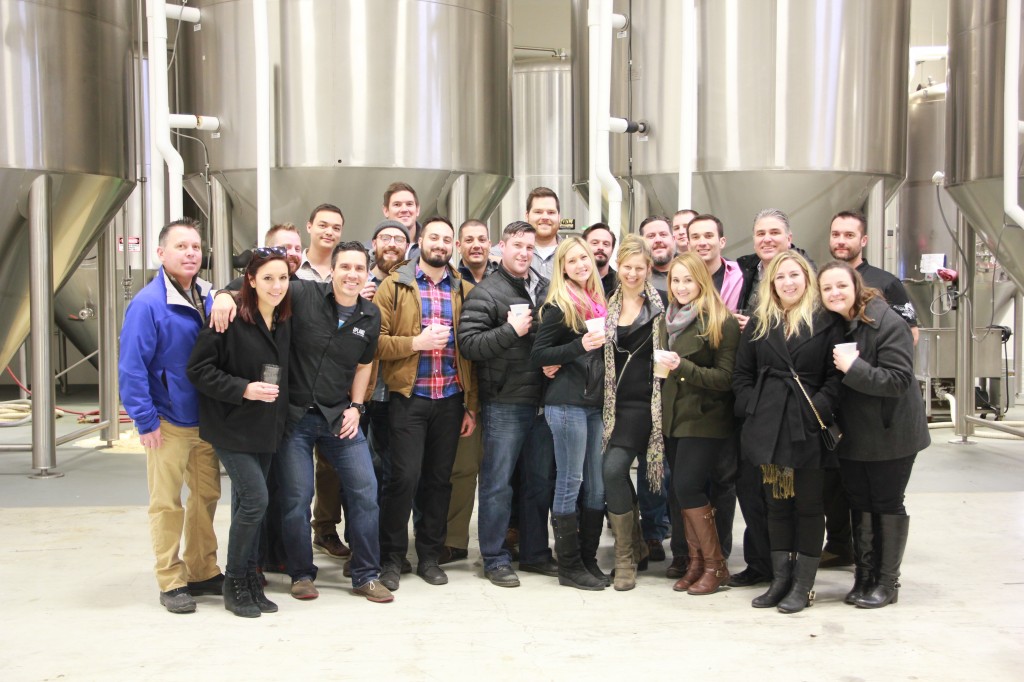 Addison plays some drums.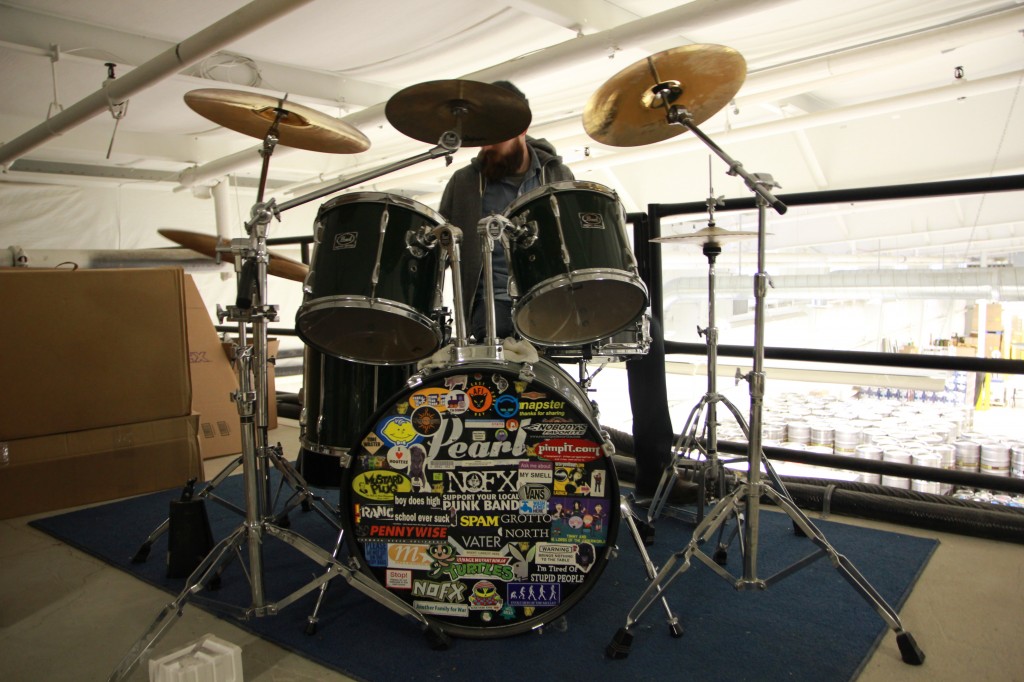 Jimmy throws some darts.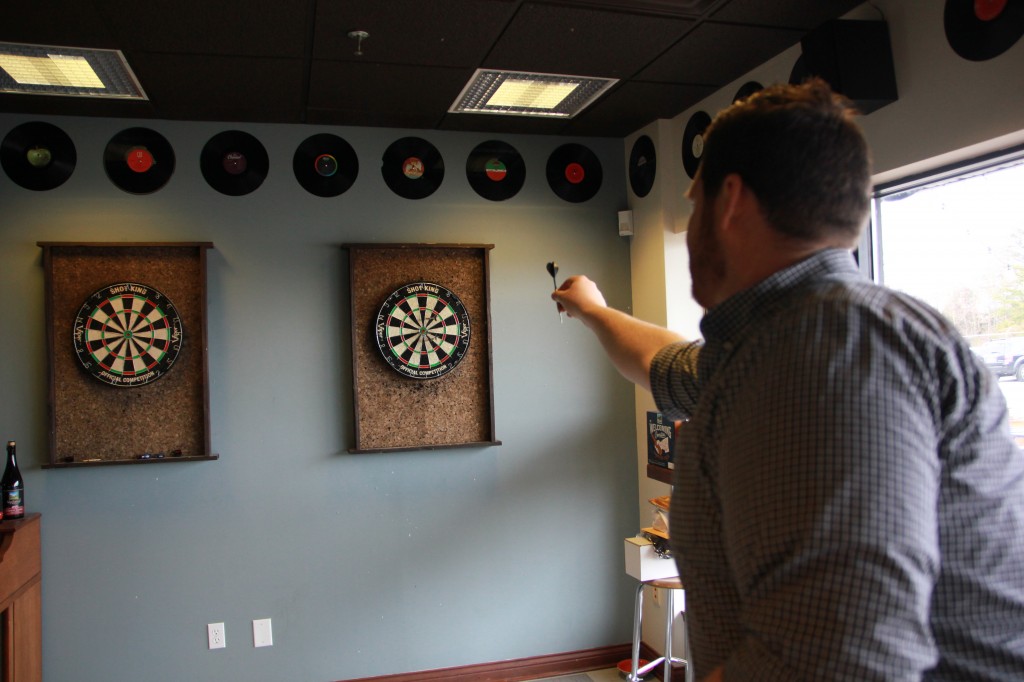 And we're each handed a very special goodie bag with some very special beer.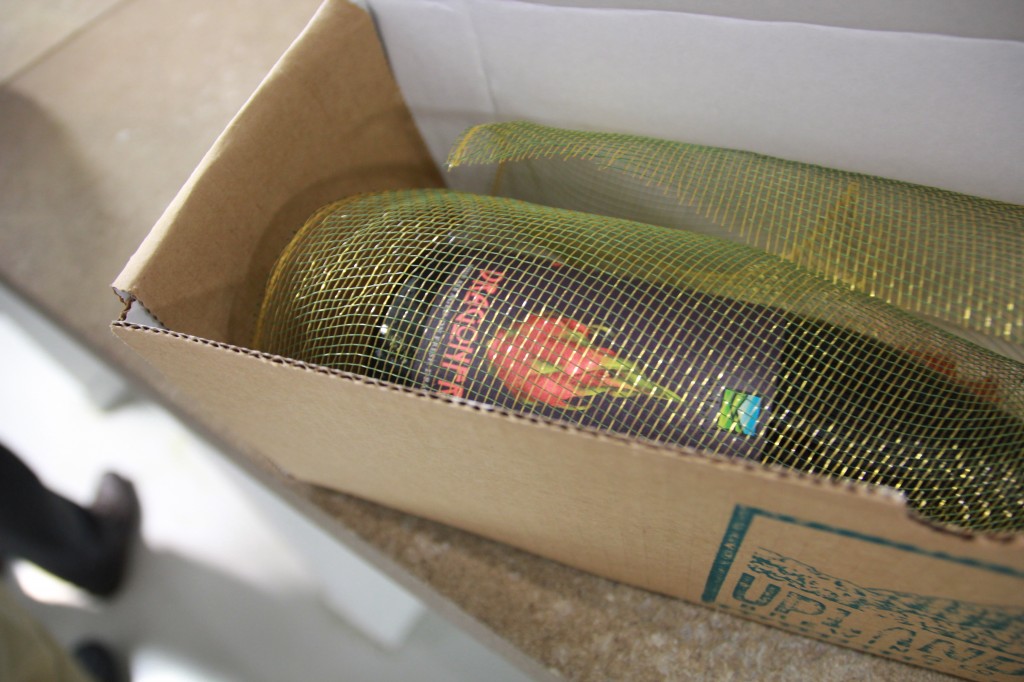 We all load back into the bus where we find a four pack of Upland Wheat or Upland Dragonfly IPA under each of our seats.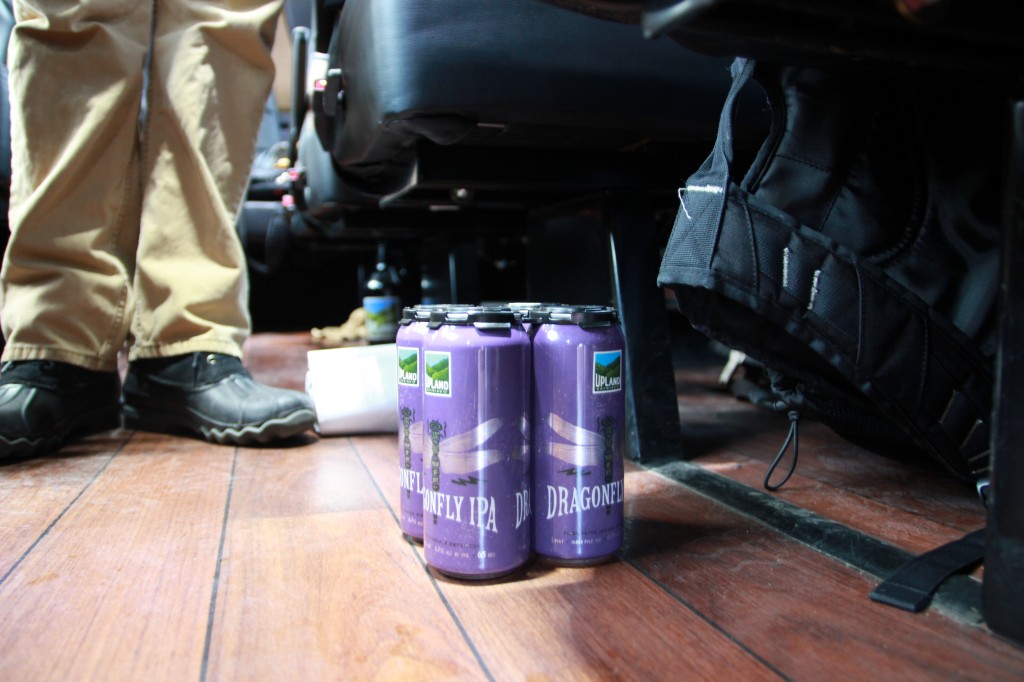 And we settle in for the drive home.
---
Enter To Win a Pair of Upland Glasses!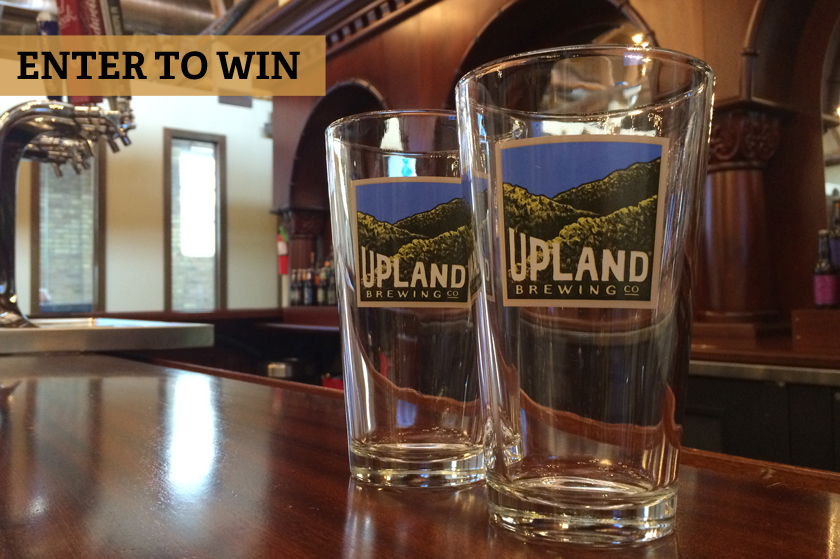 Fill out the form below to be entered to win a pair of Upland Brewing pint glasses! Winners will be chosen at random and notified via email on Monday, 3/2/15.
// Matt Tanaka