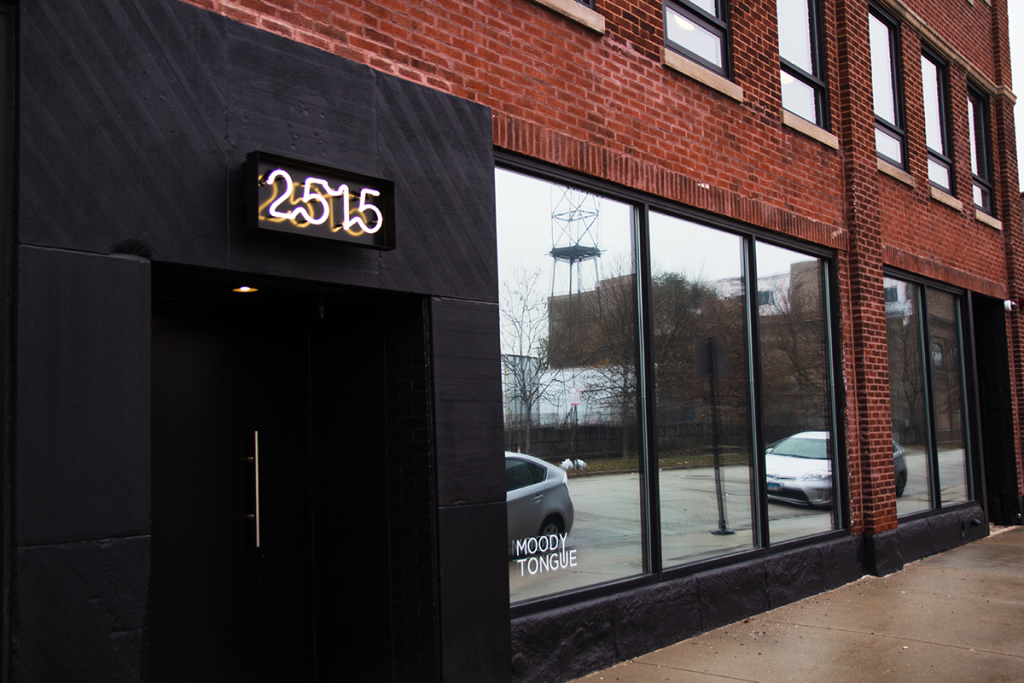 Moody Tongue, opened in 2014 by Jared Rouben, has always had a culinary focus to their beer, but now they can finally bring the food to match! Moody Tongue has just opened their new brewery which is located in the South Loop. Boasting a dining room with a full 12 course tasting menu from Michelin star head chef Jared Wentworth, a separate area for the 26 tap bar and a-la-cart menu and a much expanded brewing space hosting over 300 different barrels for aging and much expanded brewing equipment from the previous location. When asked about when Rouben knew it was time to find a new location he said "We knew we were growing out of the old space when we hit capacity. It got to a point in our business where we ran out of space to put tanks and barrels and we wanted to make more beer and different styles of beer and so we needed a new home. We were fortunate to find a new home that allows us to put in a kitchen and to put chef Jared Wentworths' skills to great work."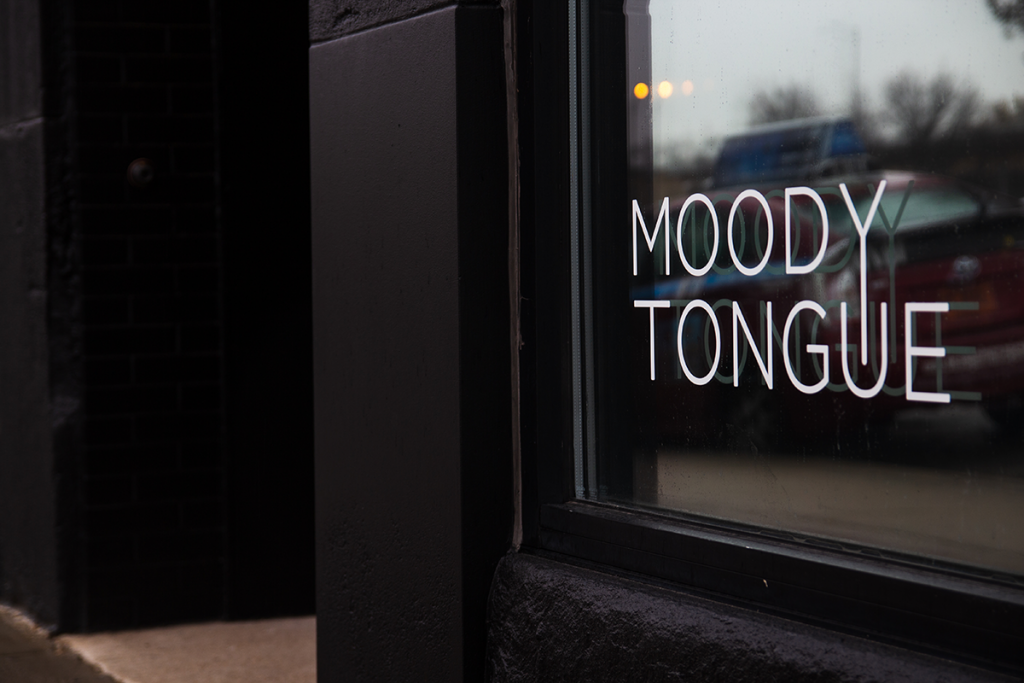 Jared Rouben started out as a classically trained chef from the Culinary Institute of America where he started a beer club and experimented with beer and food pairings. After graduating, he moved to Napa Valley to work at Michelin starred Martini House restaurant. While out there, he started taking the same culinary approach he now implements at Moody Tongue by going to local farmer's markets and using those hyperlocal ingredients from the market in his home brews. His next move was to Chicago to attend the Siebel Master Brewer Program. Upon completion he started working at Goose Island Brewery. He was there for 6 years eventually becoming the head brewer at the Clybourn brewpub before starting Moody Tongue.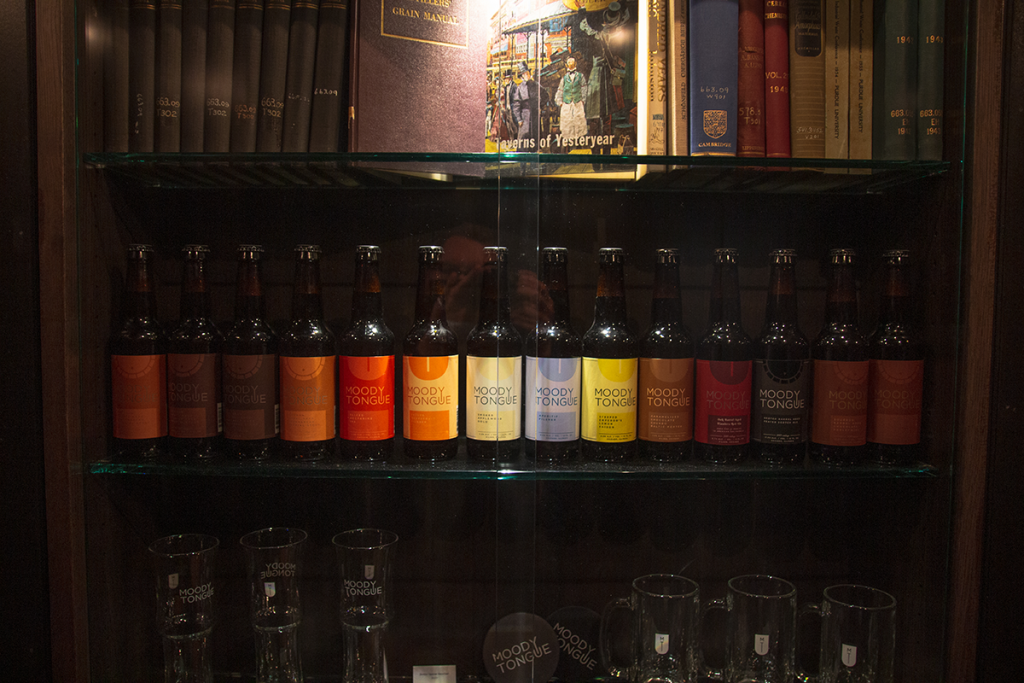 When guests first walk into the new brewery, which began construction last summer, they will be instantly transported into a different world from the outside hustle and bustle of the city. The intimate space uses minimalism meant to draw patrons' attention to their food and drink rather than the decor. You first experience a cozy lounge area where guests can check in with the host and even grab a beer while they wait for their table. Upon heading upstairs you can either head left to the dining room or right to the bar. Going left will bring you into a small 28 seat dining room where guests can experience the seasonal, hyper-local 12 course tasting menu with beer pairings which further amplifies the best qualities of both the beer and food.
If you are looking for a more casual experience you can head right leading to the bar area. Here you will find a cozy lounge area around a fireplace, a few tables and wrap around booths and a 26 tap bar featuring the full selection of "perennial" beers, such as the "Sliced Nectarine IPA," and rotating specialty options. These include a new "Freeze Dried Black Lime Wit" and the company's popular "Toasted Rice Lager Wit," previously distributed only in China and poured only at Moody Tongue's former Pilsen location. There are also two taps offering brewery filtered still or sparkling water. The menu here is a more relaxed, but still detailed selection such as the "Moody Burger" (Slagel beef, pimento cheese, togarashi aioli) with beef fat fries and a skillet-fried chicken with black truffle cavatelli (braised kombu and kale, pickled mushrooms, foie gras butter, hot sauce emulsion).
Most importantly, the new brewery allows for a much expanded brewing area compared to the previous Pilsen location, with plenty of room to grow. Thew new area is home to over 300 bourbon, scotch and wine barrels used in barrel aged beers and sours and most importantly much more room to breathe for the brewers. This added room will prove important for growing their selection of perennial beers as well as allow them to continue to innovate in different styles and utilize different ingredients to continue to expand the full potential of what culinary beer can be.
Moody Tongue Bar and Dining Room, 2515 S. Wabash Avenue, Open 4 p.m. to 10 p.m. on Tuesday and Wednesday; 4 p.m. to 11 p.m. on Thursday; 4 p.m. to 12 a.m. on Friday; 12 p.m. to 2 a.m. on Saturday.