Full Review of Goose Island's 2020 Bourbon County Lineup
In previous years Goose Island would invite the media to the Goose Island Barrel Warehouse on the west side of Chicago, where they would taste through all of the variants of Bourbon County. Obviously this year, things looked different. Instead of meeting in person, they  sent out tasting kits and did a virtual tasting over Zoom with Goose Island President Todd Ahsmann, Brewmaster Keith Gabbett, R&D Manager Mike Siegel and Senior Brand Manager Mike Smith. While the setting was different, the beers were still the star of the show, and this year they absolutely did not disappoint.
Also if you are looking to stay updated on how to get your hands on this year's Bourbon County CLICK HERE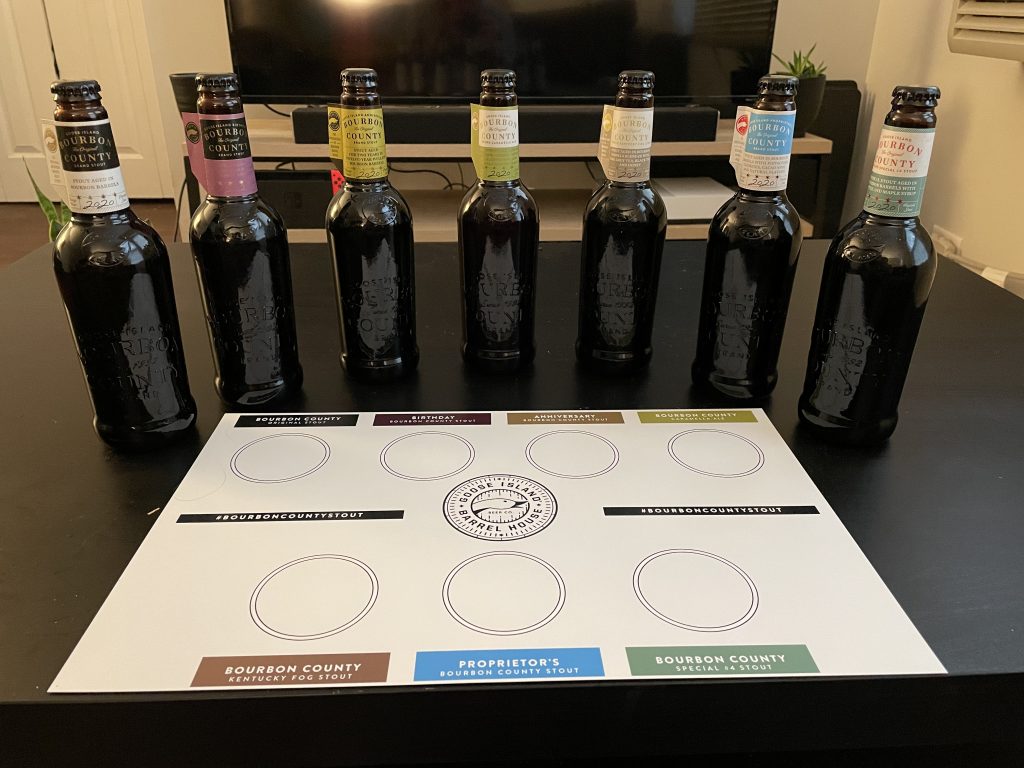 Before we get started on the review I want to briefly take a look back on previous years of Bourbon County to give some context for this year's release. Goose Island has been making Bourbon County for well over a decade and were the pioneers of bourbon barrel aging stouts. In fact Bourbon County Brand Stout was entered into the Great American Beer Festival in 1995 and was disqualified due to the beer not fitting into style guidelines of any beer categories at the time.  This year marks the 10 year anniversary of Bourbon County being released on Black Friday, and over the years, each release has looked different. The first variants in 2010 included Coffee, Vanilla and Rare which was aged for two years in 23 year old Pappy Van Winkle barrels. Since that time all sorts of different ingredients have been added to Bourbon County with some garnering almost universal praise, to others more divisive.
After drinking this year's offering, I am comfortable saying that this is one of the most subtle, balanced and delicious Bourbon County releases in recent memory. You can tell the years of experience making barrel aged beers has led to the brewers at Goose Island really being able to dial in to exactly the flavors they want in the most enjoyable way. What follows is my review of each variant in the order of most enjoyed first, although the gaps between each one are very slim.
1. Anniversary Bourbon County Stout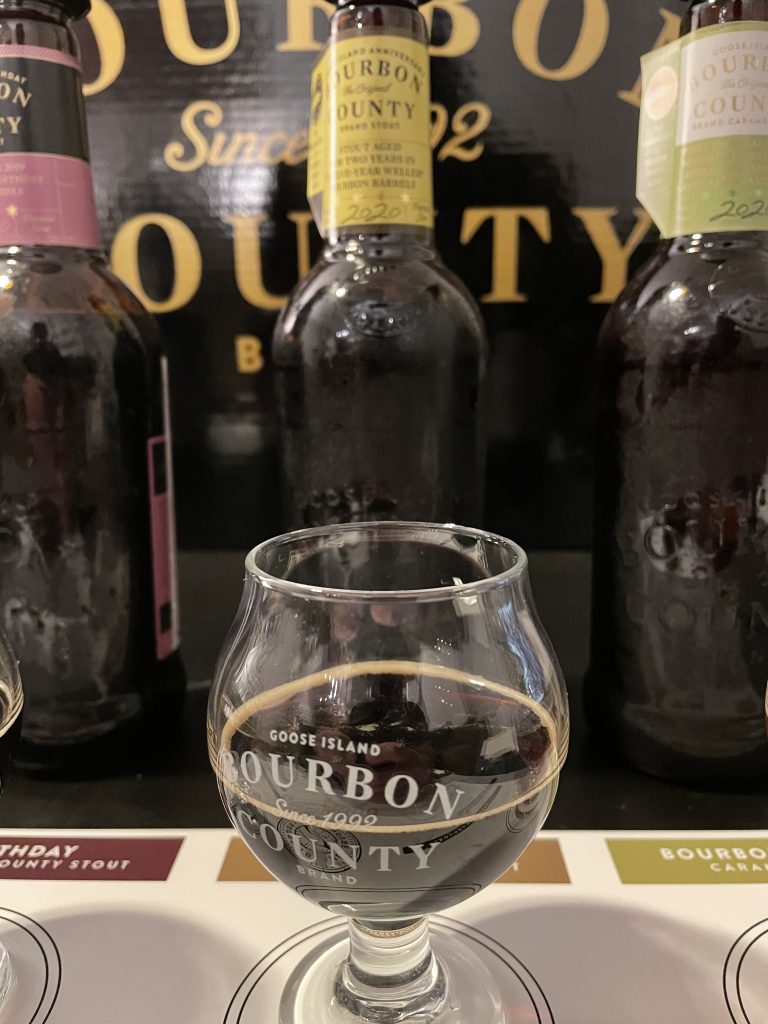 Anniversary BCS is aged for two years in Weller 12 Year barrels, made specially this year to celebrate the 10-year tradition of releasing Bourbon County Stout on Black Friday. If you are a fan of bourbon this is the variant for you. The two years in Weller 12 barrels bring out a deep oak character, dark chocolate, rich nuttiness and a boozy bourbon taste. As this beer warms up the bourbon characteristics come to life making this beer the ultimate sipper of the bunch and showcasing why Weller 12 is one of the most sought after bourbons out there.
2. Bourbon County Special #4 Stout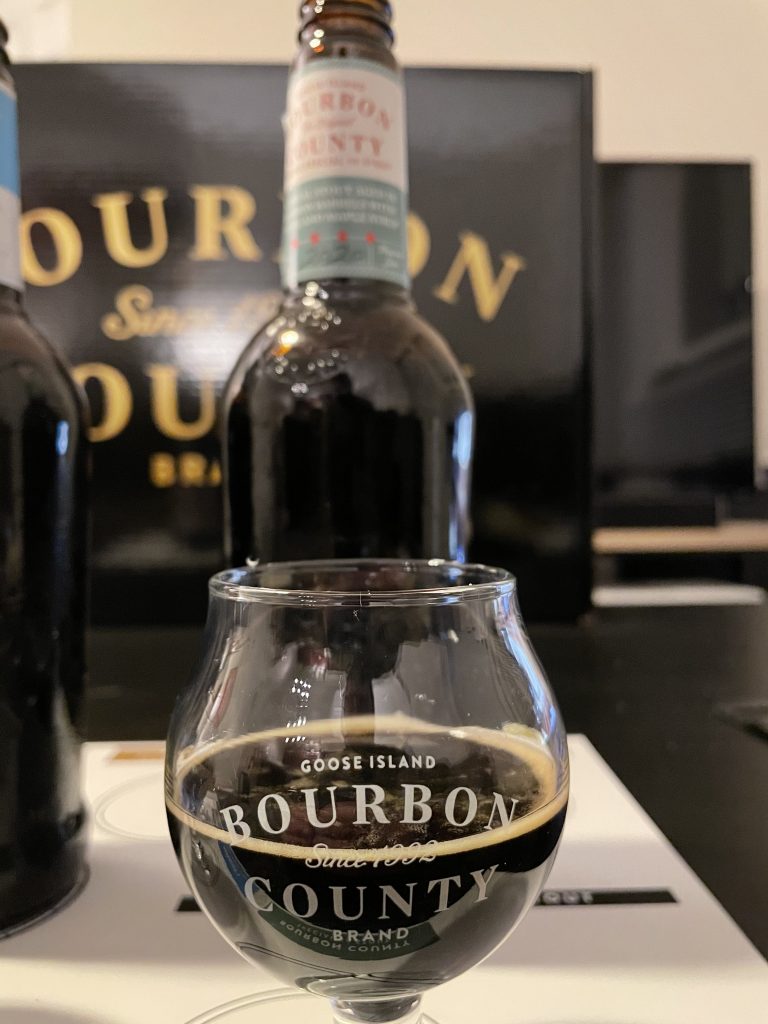 If you are anything like me you miss slipping into the booth of a diner, ordering up some diner coffee and a stack of pancakes and talking with friends for hours. Well this beer is that experience in a glass. Bourbon County Special #4 Stout is an oatmeal stout variant of the original Bourbon County Stout recipe, also aged in bourbon barrels, that uses crystal oats to add a nutty character, as well as a smooth mouthfeel. Utilizing both cold coffee and single origin beans from Intelligentsia Coffee along with bourbon barrel-aged maple syrup from Bissell Maple Farm in Ohio, this beer has a strong coffee taste with a subtle hint of maple sweetness on the back end to perfectly round out the flavor.
It's been a few years since we've gotten a coffee forward variant of Bourbon County and if you were a fan of those variants in years past you will not be disappointed with this. In other beers with similar flavors it is easy for either the coffee or the maple to completely overwhelm the palate so you can't taste anything else, but that is not the case in this beer. This is an expertly balanced beer and flawlessly executed.
3. Bourbon County Caramella Ale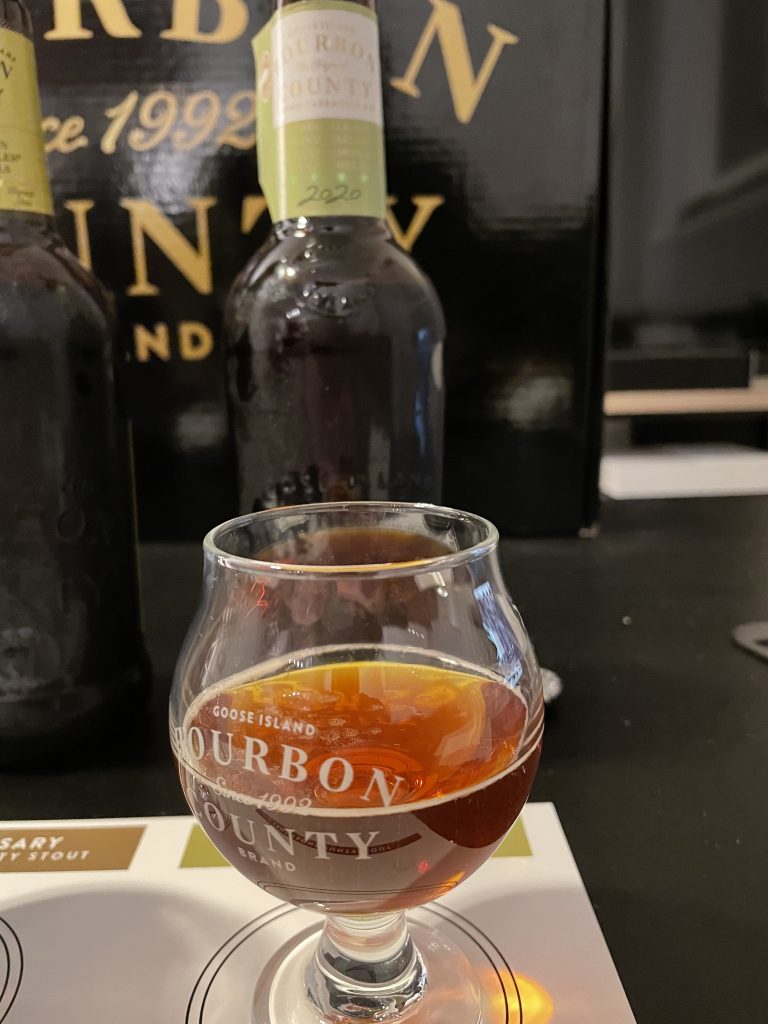 Caramella or 'candy' in Italian is a wheatwine aged in Larceny Wheated Bourbon barrels with apple, cinnamon, and natural caramel flavor added after aging. Created by Goose Island Lab Tech , Joey Tidei, this beer has rich caramel and cinnamon flavors up front with apple and vanilla sweetness on the back end. By far the sweetest variant this year, this bottle may be best when shared with friends or family after dinner. It's dessert in a glass reminiscent of fresh baked apple crisp or caramel apples.
4. Bourbon County Kentucky Fog Stout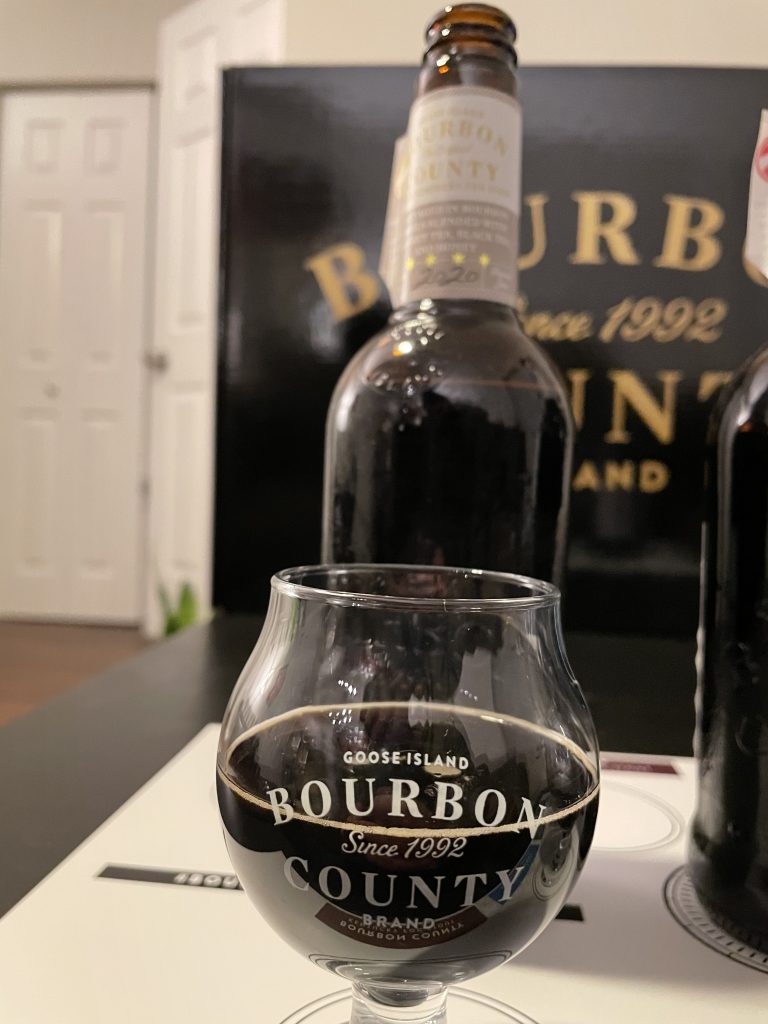 Probably the most divisive variant released this year, Kentucky Fog is the first-ever tea-inspired variant of BCS. A take on the London Fog tea drink, it utilizes Earl Grey Tea and Black Tea from Kilogram Tea, as well as clover honey from The Honey House. This is by far one of the most complex variants of BCS I have ever had, and is really unlike any variant before it. On the nose you get a big burst of tea and floral notes with some citrus aromas. On the palate, the tea and citrus notes mix with bitterness of the stout and a subtle sweetness from the honey on the back end. Overall a really well balanced and complex beer. No matter if you love it or hate it, this is one that you have to respect.
5. Proprietor's Bourbon County Stout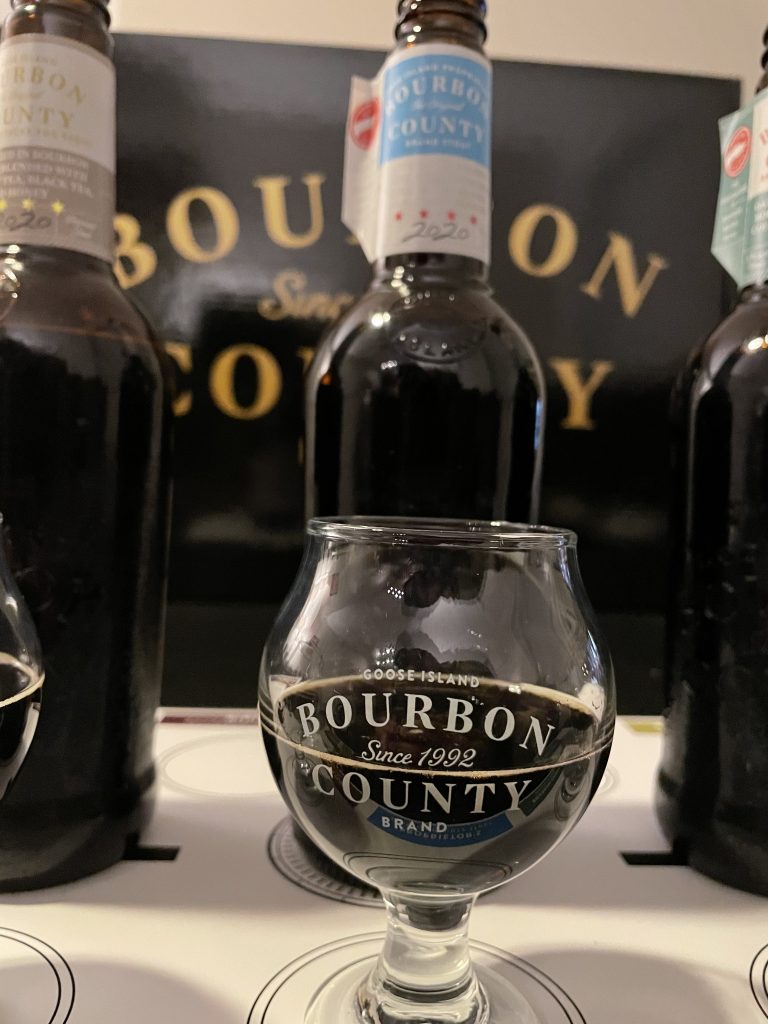 This year's Proprietor's Bourbon County Stout comes from brewer Emily Kosmal, who also created the concept for 2016 Proprietor's. She is the first brewer to have two Proprietor's concepts picked for release. 2020 Prop is blended with fresh pistachios, cacao nibs, candied Amarena cherries, and natural vanilla flavors and is inspired by spumoni, a classic Italian frozen treat. It has a lot of cherry and chocolate on the nose. The taste follows the nose with cherry and chocolate blended with dark fruit, vanilla and oak with a hint of nuttiness from the pistachios. With all of these ingredients in this year's Prop, it would be very easy for any one of them to overwhelm, but as with all of this year's lineup there is subtlety and balance throughout.
6. Birthday Bourbon County Stout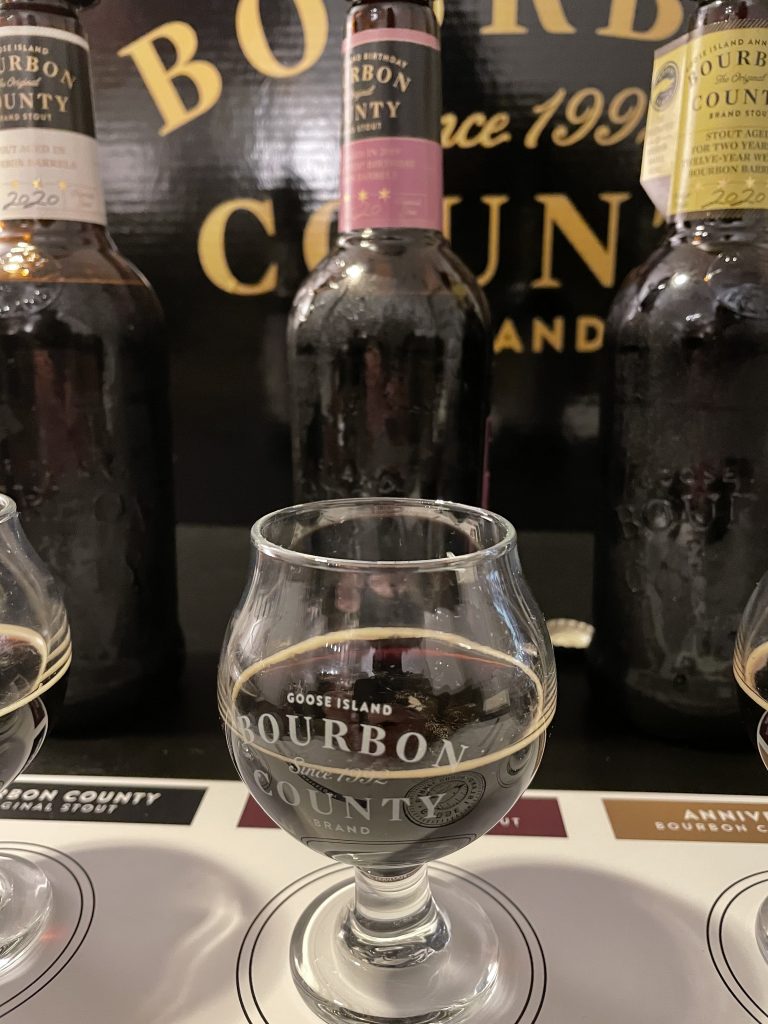 Goose Island partnered with the Old Forester Brand to pair Bourbon County Stout with barrels from one of the world's most sought-after bourbons – Old Forester Birthday Bourbon. Aged for a year in Birthday Bourbon barrels, Birthday BCS does a great job of highlighting the bourbon characters with dark fruit and rich oak spice, slightly boozy with cinnamon and caramel on the back end. This variant is like an elevated version of BCS Original in all of the best ways.
7. Bourbon County Original Stout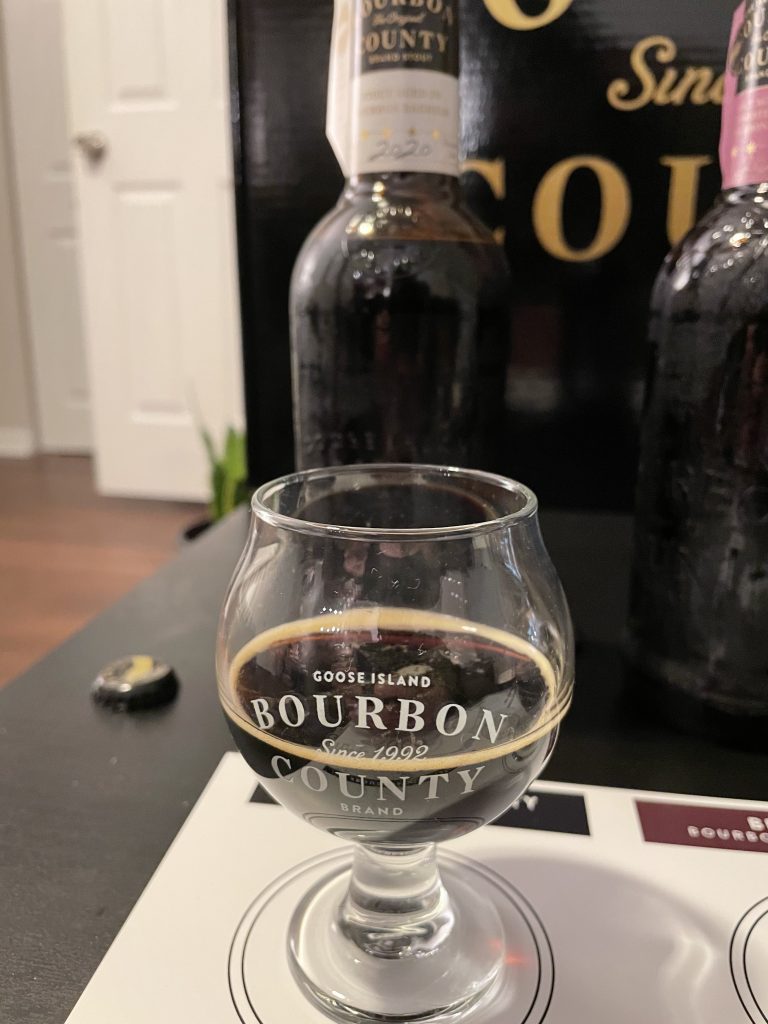 Finally, is the Original Bourbon Barrel aged Imperial Stout. This year's Bourbon County Stout is aged in a mix of bourbon barrels from whiskey distilleries like Buffalo Trace, Heaven Hill Distillery and Wild Turkey. As always this is a fantastic barrel aged stout and continues to be the gold standard for the style. This year the barrel character is even more pronounced and really speaks to Goose Island brewers being masters at blending the beer. It's hard to call this a favorite because of how unique and interesting other flavors are this year, but with this one being more widely available, you should absolutely seek it out.