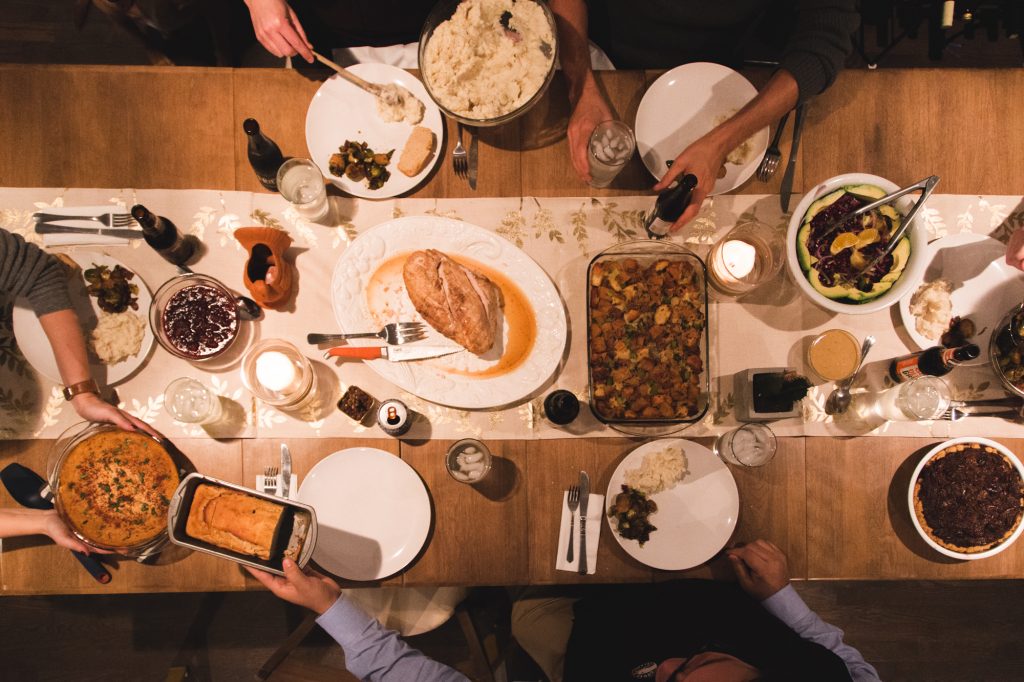 Ah, Thanksgiving. A time for family traditions, over-indulgence, and if you're like us, there's always plenty of beer.
Last year, we led you through a pairing guide for your Thanksgiving dinner. That list still holds true, and we recommend each of those offerings again. But this year we decided to take your Thanksgiving dishes to a new level: We're adding beer into them. Here are six beer-friendly Thanksgiving recipes that will satisfy any guest at your table this November.
Beer Bread Stuffing w/ Sun King Wee Mac
This classic Thanksgiving dish is sure to be a hit, though you'll need to plan a couple days in advance. For best results, we recommend making the beer bread a day or two beforehand so it has time to harden.
Wee Mac Beer Bread
Ingredients
3 cups flour
2 tbsp. sugar
1 tbsp. baking powder
1 tsp. kosher salt
2 tbsp. honey
1 can Sun King Wee Mac
3 tbsp unsalted butter, melted
Directions
Preheat oven to 350°F.  Grease a bread pan.
In a medium bowl, whisk together the flour, sugar, baking powder, and salt. Stir the beer and honey into the dry ingredients until combined. Transfer the dough to the pan, and spread it out.
Bake for 40 minutes. Remove the pan and brush the melted butter on top of the bread. Return to the oven and bake for 10-15 more minutes, until the top is golden brown and a toothpick/knife inserted in the middle comes out clean.
Beer Bread Stuffing
Ingredients
½ cup unsalted butter
1 lb. sweet Italian sausage, loose
1 yellow onion, finely chopped
4 stalks of celery, finely chopped
4 cups chicken broth
salt and black pepper
1 loaf stale beer bread
½ loaf French baguette
2 large eggs, beaten
1 bunch parsley
Directions
Preheat your oven to 375°F and spray a large baking dish with nonstick spray. Set aside.
In a large nonstick skillet, melt a tablespoon of the butter over medium heat. Add the sausage and cook until browned, about 8-10 minutes. Remove the meat from the pan and place on a plate that has been lined with a paper towel.
Leave the pan over medium heat, and add ¼ cup of the butter. Add the onion and celery. Season with salt and black pepper. Cook until the vegetables are tender, about 8 minutes. Add the broth and bring to a boil, then remove from heat.
In a large bowl, add the sausage, vegetable/broth mixture, beer bread cubes, french bread cubes, eggs and parsley. Toss all of the ingredients together until bread is moistened. Pour the stuffing into the prepared dish. Cube the remaining 2 tablespoons of butter and dollop on top of the stuffing.
Bake the stuffing for 1 hour or until golden. Remove from heat and let stand for 5 minutes before serving, or cover and place in a warmer to keep warm until ready to serve.
---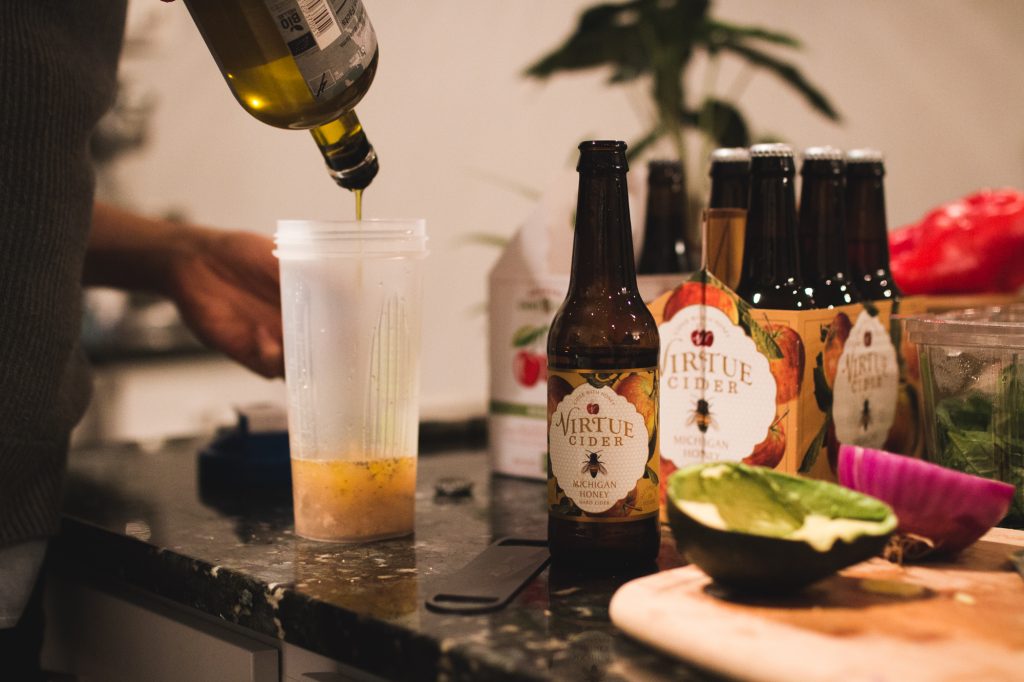 Honey Cider Dijon Dressing w/ Virtue Cider Michigan Honey
This simple salad dressing is a take on a Champagne Vinaigrette, substituting the Champagne for Virtue Cider's new Michigan Honey.
Ingredients
Juice from ½ an orange
2 tsp. dijon mustard
½ cup olive oil
1 clove garlic, minced
2 tbsp. Virtue Cider Michigan Honey
½ tsp. kosher salt
½ tsp. black pepper
Directions
Combine items into bowl and whisk together. Boom!
---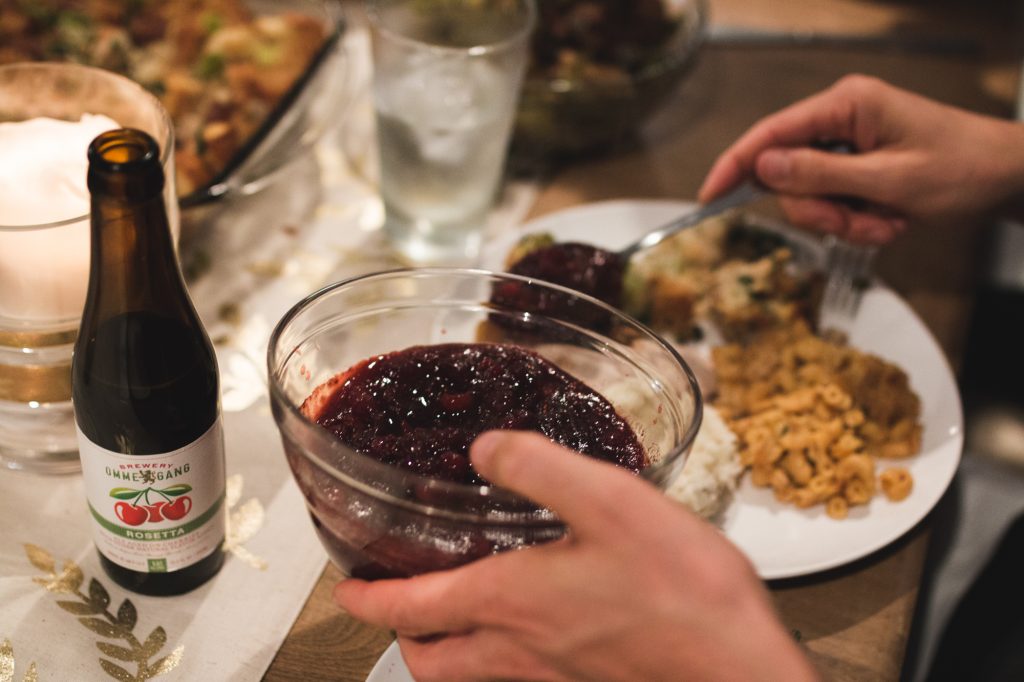 Lambic Cranberry Relish w/ Ommegang Rosetta
Utilizing the tart notes of Rosetta, this cranberry dish is unique and delicious. We know sours aren't for everyone, so be sure to adjust the sugar content to taste.
Ingredients
1.5 bottles of Ommegang Rosetta
(2) 10oz. bags frozen or fresh cranberries
1 cup brown sugar
1 pinch of salt
½ orange
2 tbsp. honey
Directions
Heat a medium to large saucepan on medium high heat.
Pour in 1 bottle of Ommegang Rosetta and reduce to half the amount of liquid (about 10 minutes)
Add cranberries, brown sugar, and salt. Bring to a boil.
Once boiling, reduce heat to low and simmer until cranberries have broken open and the mixture has thickened (about 30 minutes).
Drink the remaining ½ bottle of Rosetta during simmering.
Stir in honey and juice from orange (feel free to add more honey to taste to reduce bitterness).
Serve hot and enjoy!
---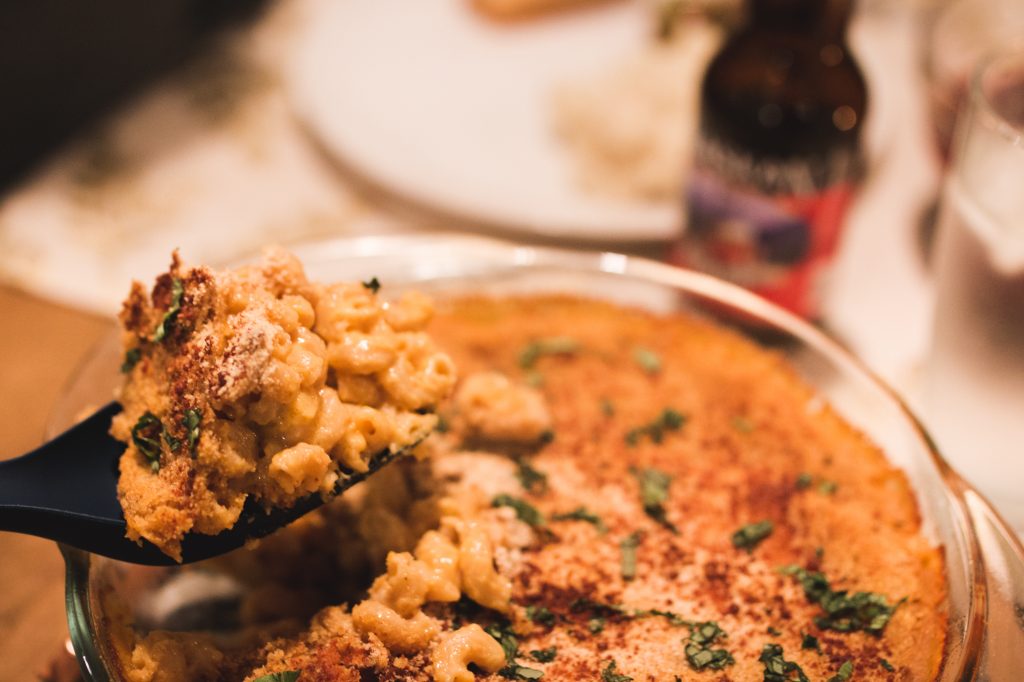 Beer Baked Macaroni and Cheese w/ Alaskan Amber
Beer…cheese…pasta…these are a few of my favorite things!
Ingredients
2 ½ cups uncooked elbow noodles
2 tbsp. butter
2 tbsp. flour
8 oz. milk
8 oz. Alaskan Amber
8 oz. freshly grated cheddar cheese
4 oz. freshly grated parmesan cheese
¼ tsp. smoked paprika
1 pinch black pepper
1 pinch nutmeg
½ bread crumbs
1o large basil leaves, chopped for garnish
Directions
Preheat oven to 375°F
Prepare water for pasta and boil according to directions, shaving 1-2 minutes off of cooking time since pasta will continue to cook in the oven.
Heat a saucepan over medium high heat and add butter. Once melted and sizzling, whisk in flour to create a roux and cook until bubbly and golden in color, about 2 minutes. Add milk and beer into saucepan whisking constantly, then add cheeses and stir until melted. Turn heat down to medium and continue to stir, cooking for 5-6 minutes while mixture thickens. It will most likely not thicken like regular mac and cheese because of the beer, but you want it to thicken a little bit. Stir in pepper, paprika and nutmeg.
Add cooked noodles to a casserole dish, then pour cheese over top, mixing gently to combine. Top with bread crumbs and an additional sprinkle of cheese if desired. Bake for 25-30 minutes or until bubbly and golden on top.
Remove from oven and let cool for 5 minutes, then top with fresh basil.
---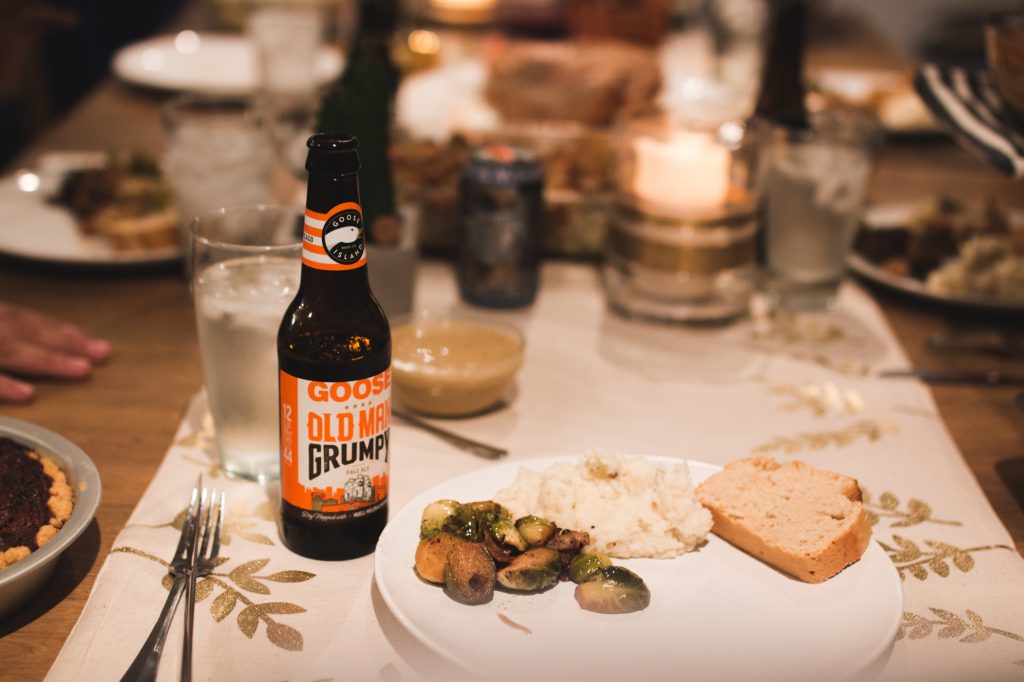 Beer Braised Brussels Sprouts w/ Goose Island Old Man Grumpy
Brussels sprouts are a Thanksgiving staple and they will, in fact, sell out at your local grocery store if you wait until the day of to buy them. Not speaking from experience or anything…
Ingredients
2 lbs. Brussels sprouts
6 oz. thick cut bacon, chopped
1 shallot, peeled and sliced
12 oz. Goose Island Old Man Grumpy
½ tsp. salt
¼ tsp. pepper
1 pinch crushed red pepper
Directions
Trim the ends of each Brussels sprouts, removing excess leaves. Cut the sprouts in half, leaving the smallest sprouts whole.
Place a large skillet over medium heat. Add the chopped bacon and sauté until crisp.
Add the sliced shallot. Sauté another 2-3 minutes to soften. Then add the Brussels sprouts. Stir and sear the sides of the sprouts for 4-5 minutes.
Pour the bottle of Old Man Grumpy into the skillet. Add the salt and both peppers. Bring to a simmer and lower the heat. Stir and simmer until the beer has reduced to a glaze and the sprouts are cooked through, 12-15 minutes.
---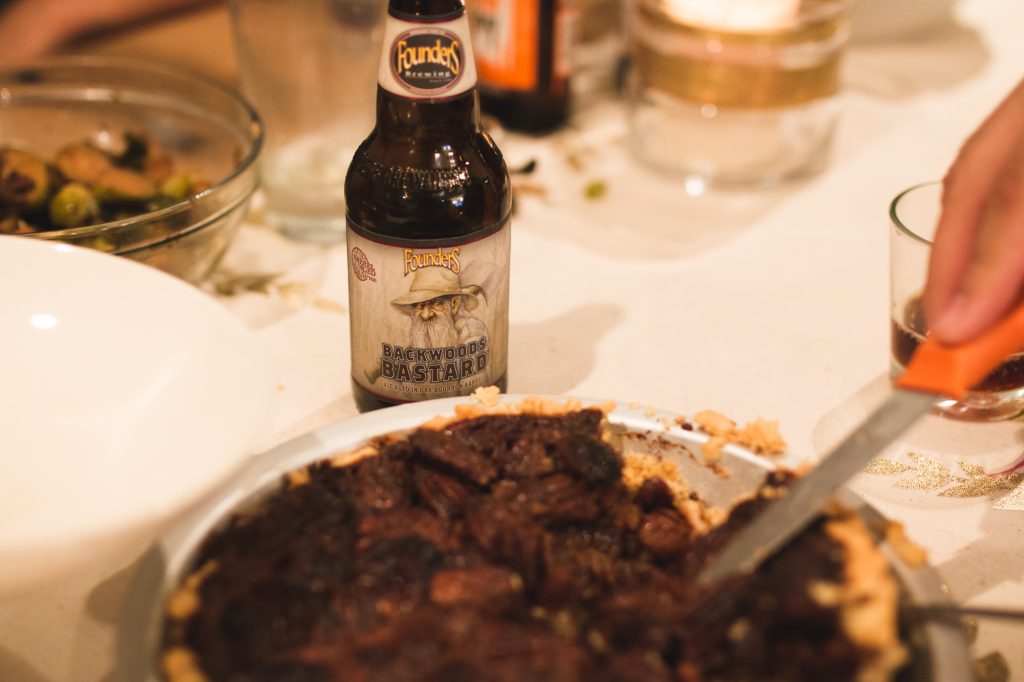 Bourbon Pecan Pie w/ Founders Backwoods Bastard
If you still have room for dessert (rookie move if you don't), here's an easy Thanksgiving recipe that incorporates Founders Backwoods Bastard Bourbon Barrel-Aged Scotch Ale.
Ingredients (crust)
1½ cups flour
½ tsp kosher salt
3/4 cup vegetable shortening
Directions
Whisk 1½ cups flour and salt in a medium bowl.
Using a fork, work in shortening until mixture is crumbly. Mix in 2 tbsp. cold water and knead until dough just comes together.
Roll out dough on a lightly floured surface until about ¼" thick.
Fold in half, then in half again (so that it's folded into quarters); roll out to a 12″ round.
Transfer to a 9″ pie dish. Lift up edges and let dough slump down into dish.
Trim, leaving about 1″ overhang. Fold edges under and crimp.
Freeze while you make the filling.
Ingredients (filling)
1 stick unsalted butter
3 large eggs
1 cup (packed) brown sugar
½ cup honey
½ cup pure cane sugar
2 tbsp. vanilla extract
1 pinch nutmeg
1 punch cinnamon
2 cups pecans, chopped
Directions
Preheat oven to 425°F and place a rack in lower third of oven.
Cook butter in a small saucepan over medium heat, stirring often, until it foams, then browns, 5–8 minutes.
Transfer to a large bowl; let cool slightly. Whisk in eggs, brown sugar, honey, cane syrup, Backwoods Bastard, vanilla, nutmeg, and cinnamon until smooth; fold in pecans.
Scrape filling into pie crust.
Bake pie 10 minutes.
Reduce oven temperature to 375°F and continue to bake until crust is golden brown and filling jiggles only slightly in the center, 40–45 minutes.
Transfer to a wire rack; let cool. Chill until firm, at least 4 hours.
---