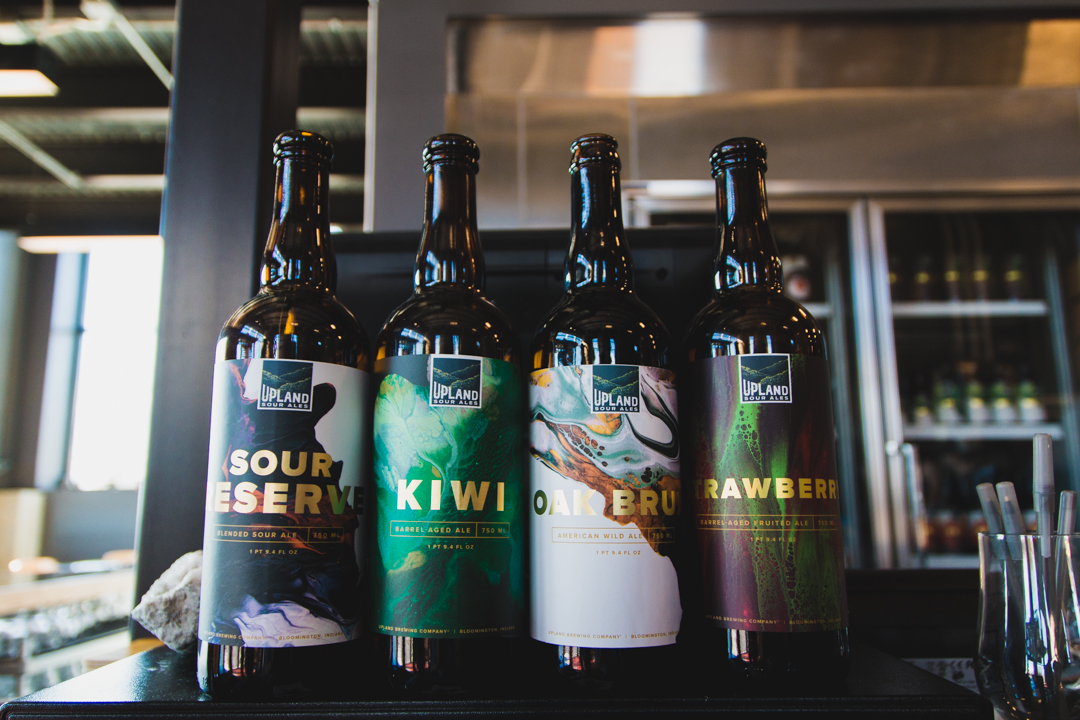 Over ten years ago, Upland Brewing Company made one of the best trades of their life: two cases of their beer for four oak wine barrels from nearby Oliver Winery. At the time they were curious about Lambic and old-world Belgian styles of beer; nothing like that was really being made in the United States back then. Little did they know they were embarking upon a completely new brand: Upland Sours.
"We were experimenting in an attempt to make a Belgian-Style lambic," recalls Caleb Stanton, Head Brewer at the time. "We brewed a batch, filled the barrels, and inoculated them with yeast and bacteria.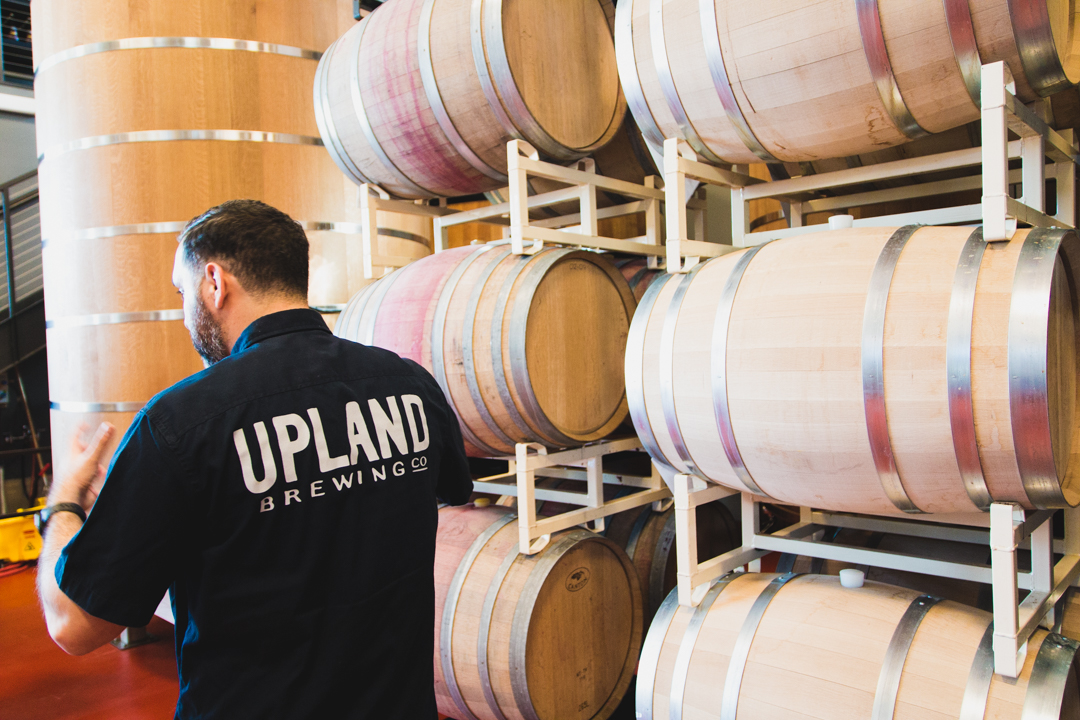 The barrels sat tucked away in a corner of the brewery for close to a year, the brewers doubtful about the outcome of the beer.
"When we opened the barrels the beer was sour, and to our surprise, amazing," says Stanton. "So we ended up fruiting the barrels with raspberry, blueberry, and strawberry and when we released them. Basically our doors got chopped down with people trying to get in here and buy them."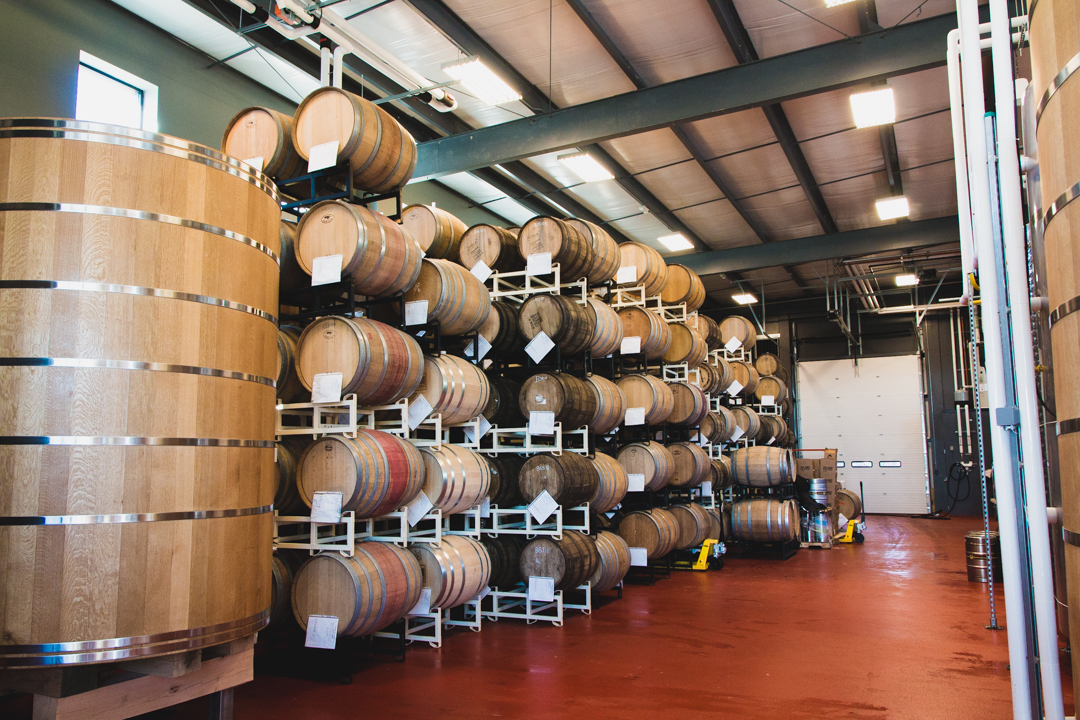 The Wood Shop
Fast forward to today. We're standing inside The Wood Shop, Upland's 6,000 sq. ft. sour-dedicated facility that sits adjacent to their original brewpub in downtown Bloomington. Outfitted with large foudres, hundreds of barrels, a sensory lab, bottling line, and a tap room, this building is one of the most beautiful and unique places to experience beer in the country.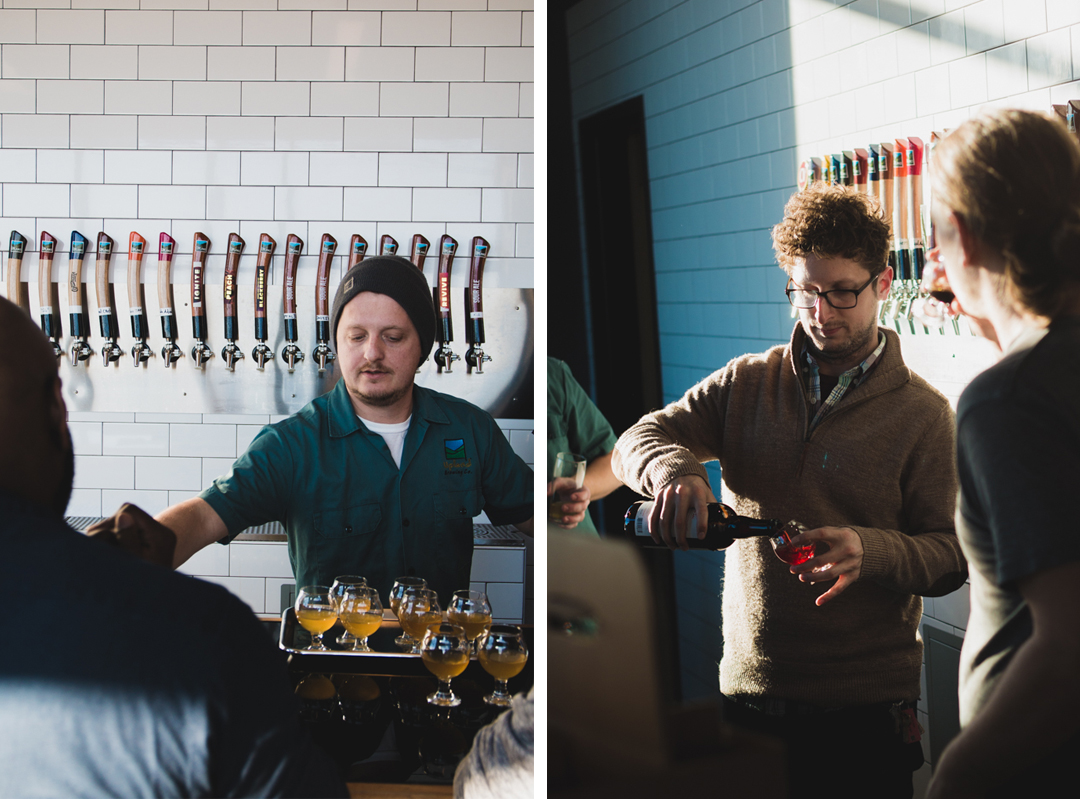 The Wood Shop's increased capacity will allow Upland to produce close to 1,000 barrels of their sought after sours annually. Select sours will still remain exclusively available for their Secret Barrel Society members and sour lottery, however other distribution markets (like Chicago) will be seeing two sour offerings per quarter. We're not complaining.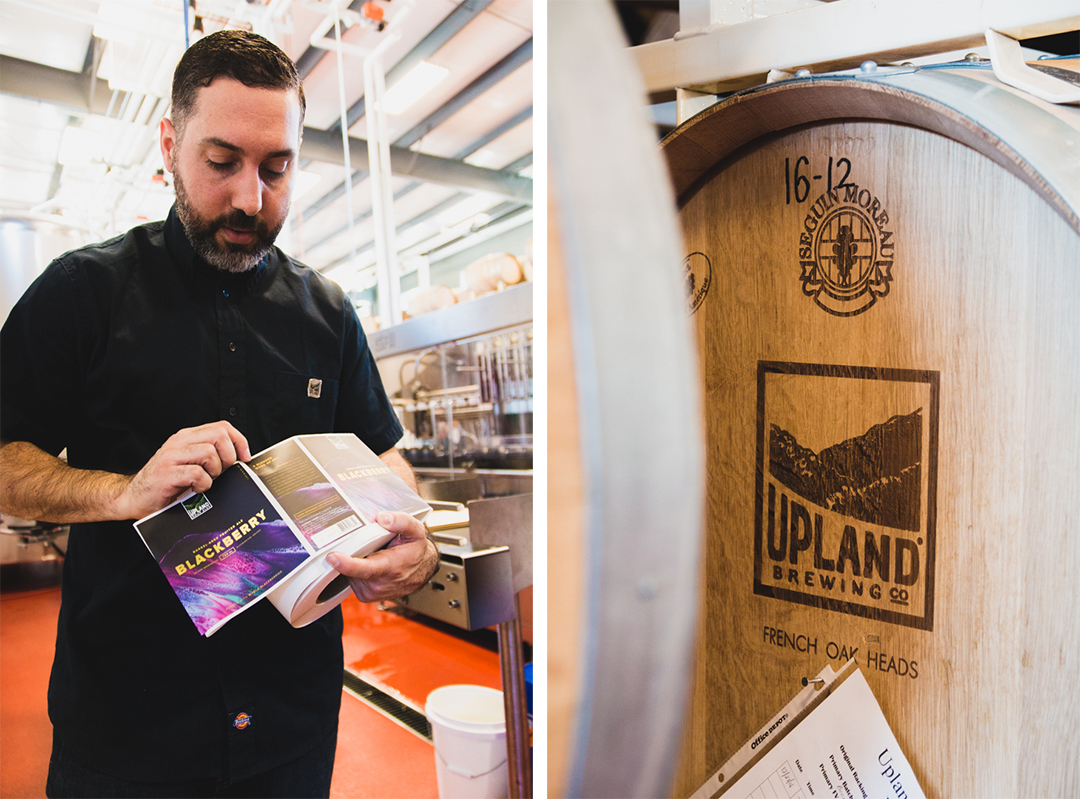 Blended Works of Art
For folks who have been following Upland Sours, you may notice a refreshed branding with their sour lineup. Upland worked with Indianapolis-based creative agency, Young & Laramore to create a new look that encapsulated this idea of "blended works of art."
"For us, a huge part of what we do is blending," says Pete Batule, Vice President of Brewing Operations. "Wood-aging, blending, and utilizing our trained palates to create combinations of really delicious flavors. We love the fact that the artwork represents the quality of the beer inside."
The branding utilizes artwork from Michael Cina, who used a combination of oils, acrylics, and watercolor paintings to create original pieces from which the labels are incorporated. For an in-depth look at the rebrand, take a look at this story from our friends over at The Hop Review.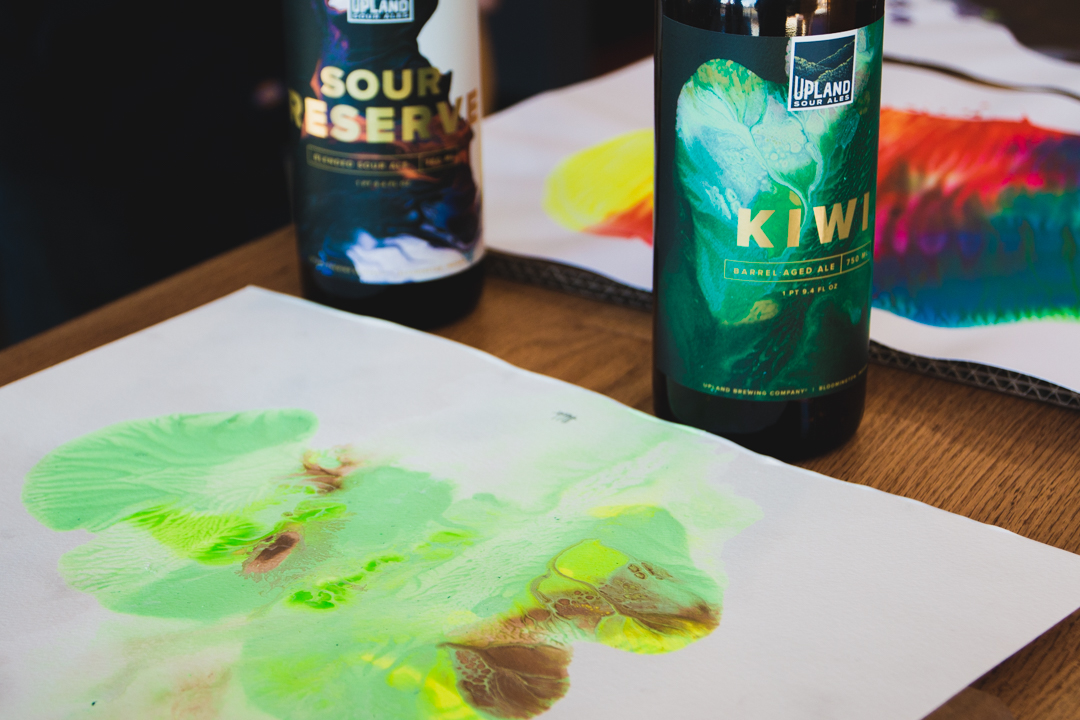 Visit Bloomington
Home to Indiana University, Bloomington is not your typical college town. Sure it has a swath of party bars for of-age students, but you might be surprised to hear it's also home to bustling music, dining, and cycling scenes. Surrounded by the rolling uplands (from which the brewery takes its name), Bloomington is a perfect weekend getaway for Chicagoans looking to experience world-class amenities without the high price tag. Head over to Visit Bloomington for a full list of suggestions on things to eat, drink, and experience.
Bloomington is an easy 3 1/2 to 4 hour drive from Chicago. Some notable places to stop along the way:
Albanese Candy Factory (5441 W Lincoln Hwy, Merrillville, IN)
Fair Oaks Farms (856 N 600 E, Fair Oaks, IN)
Luna Music (5202 N College Ave, Indianapolis, IN)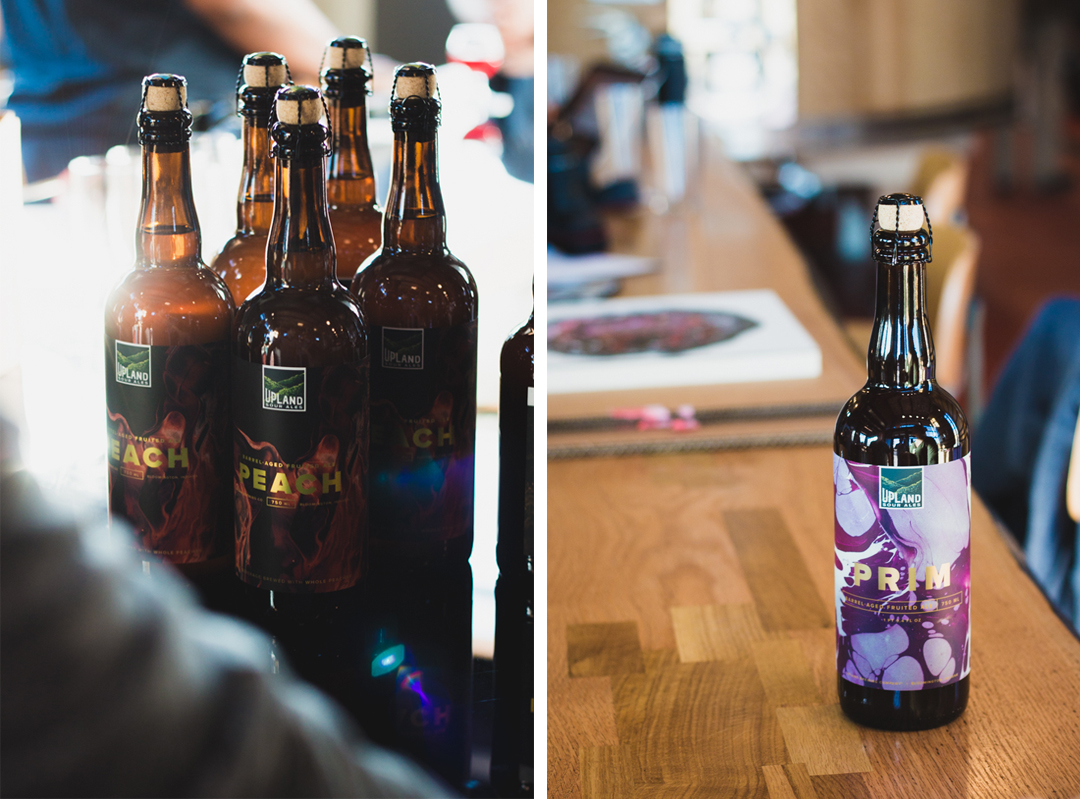 Drink Upland Sours
The week of February 27, the folks from Upland will be in town to share some of these amazing sours with Chicago. See details for each of the events at lakeshorebev.com/uplandsours
Tuesday, 2/28 — Beer With Friends at The Green Lady
Wednesday, 3/1 — Sour Hour at Pub Royale
Thursday, 3/2 — Live Screenprinting at Bitter Pops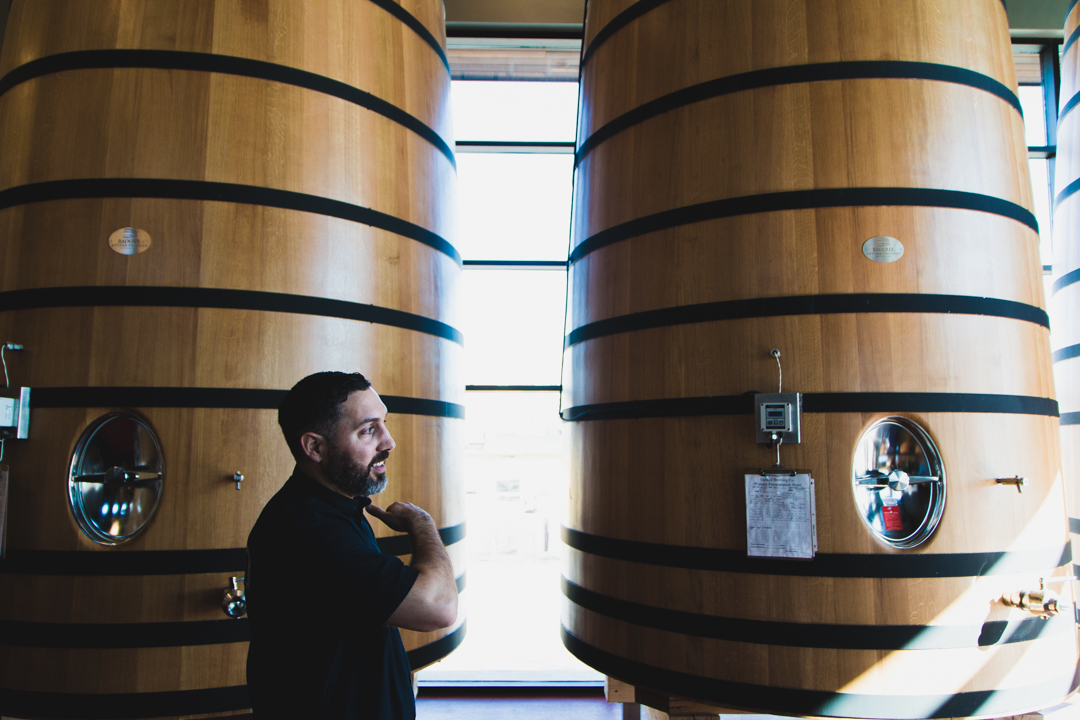 ---

---
Want to be notified of future Lakeshore Beverage Beer Blog posts? Sign up for the Lakeshore Beverage Email Newsletter!